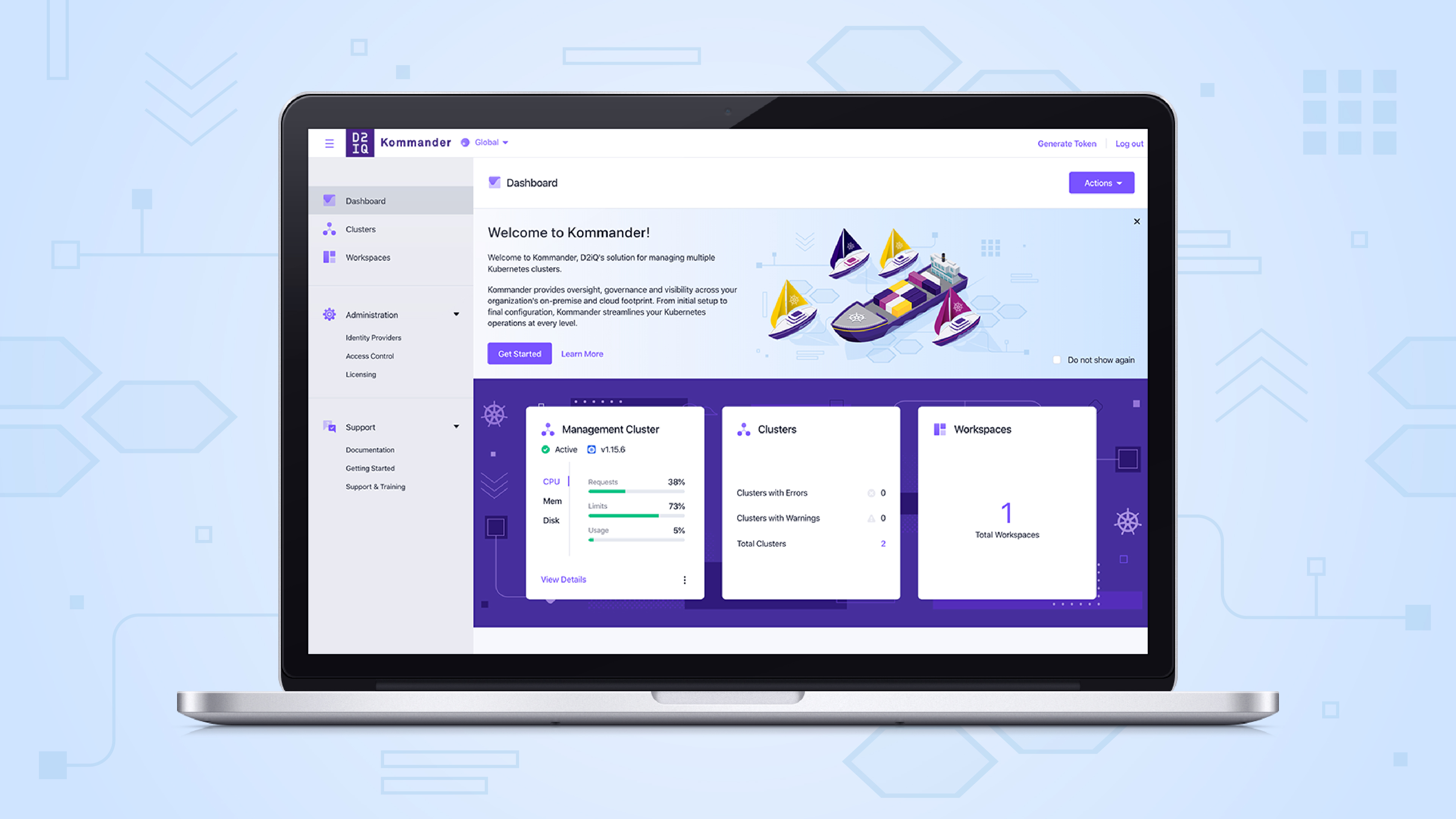 We've been pretty busy here at D2iQ expanding both the reach and the power of the
Ksphere
, so we wanted to take a minute to tell you about some of what is going on.
Here's the tl;dr version:
Operations Dashboard
Provides instant visibility and operational efficiency into Kubernetes cluster landscape, helping an organization understand resources and utilization.
Centralized Monitoring, Logging and Alerting
Enables central monitoring and alerting of issues arising in operational and application infrastructure and deep cross-cluster logging for easier troubleshooting. As issues are detected, they are resolved before they escalate, saving valuable time.
Federated Configuration Management
Simplifies and delivers consistent configuration for services and cross cluster operations and ensures conformance to sanctioned service versions, reducing security exposure and simplifying services supportability.
Services Catalog
Push button catalog of current cloud native services. This helps organizations quickly deploy services to multiple clusters. Governance-based access to data services ensures roles and responsibilities are maintained.
Service Version Control
Ensures conformance to sanctioned service versions, reducing security exposure and simplifying services supportability.
Integration with KUDO Operators
Eases the deployment of stateful data services for use in Kubernetes with push-button deployment of services and professional support offerings leveraging the
KUDO
framework.
Governance and Policy Administration
Assert centralized, delegated, role based, access control and cluster policy to govern clusters, associated services, geographic limitations and to create lines-of-separation across various project initiatives.
Centralized Authentication
Leverage existing authentication and directory services for secure access and single sign-on to broad cluster based resources.
One thing you may notice right away about the latest version is an improvement, based on your feedback (thanks!), in the UI and UX of the product—check out the screenshot above. You can try out Kommander as part of the
Konvoy free trial
, and will be able to see a video demo of the new version here soon—please check back.
But, as the late-night infomercials say, that's not all! In addition to the new version of Kommander, we have released an updated version of Konvoy, which now includes RBAC authorization for the Operations Portal addons, among many other improvements. We have done 15 customer releases since August on Konvoy alone, along with 100 new features and improvements and the incorporation of 20+ customer feature requests.
While this will be covered in more detail elsewhere, including an upcoming webinar (stay tuned!),
Dispatch
, our Enterprise-Grade GitOps CI/CD offering, is now available—check out the free trial! There's a bunch of
press
coverage
.
And one final thing (yes, we really have been busy): our
Spark operator
for KUDO is also now GA.
D2iQ is here to be your guide and partner in your cloud native journey, with the information, technology, training and support you need to achieve your objectives.
Contact us
for more information, or give one of the
free trials
a spin—it's the fastest, most effective way to achieve cloud native success.