Enterprise Kubernetes Cluster Governance and Control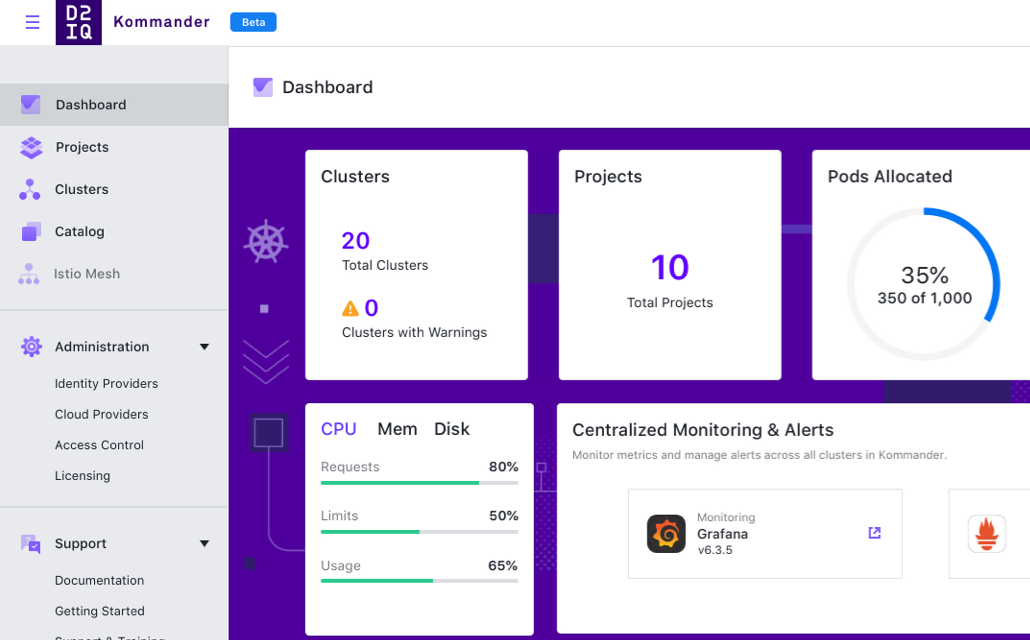 The federated management plane of DKP
Deliver centralized observability, federated management, and organizational governance of disparate Kubernetes clusters, regardless of distribution, from a single central point of control for all environments.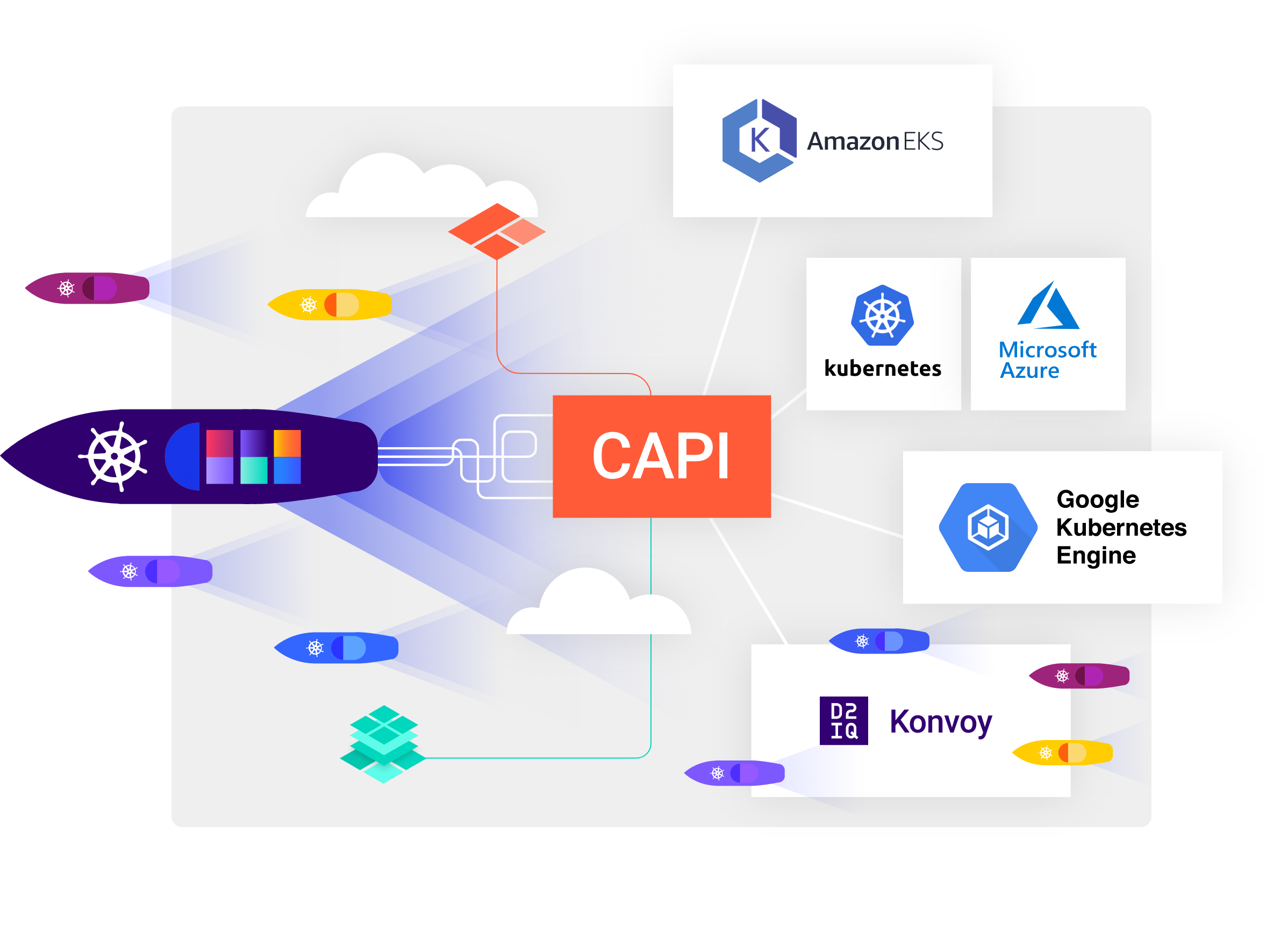 Manage Applications and Infrastructure Declaratively
Simplify Application and Cluster Lifecycle Management
DKP simplifies lifecycle management for both infrastructure (through CAPI) and applications (FluxCD) using GitOps, automating many of the formerly manual processes required to keep systems running and scaling. By embracing a declarative approach to Kubernetes, DKP makes deploying, managing, and scaling Kubernetes workloads more auditable and repeatable and less error-prone.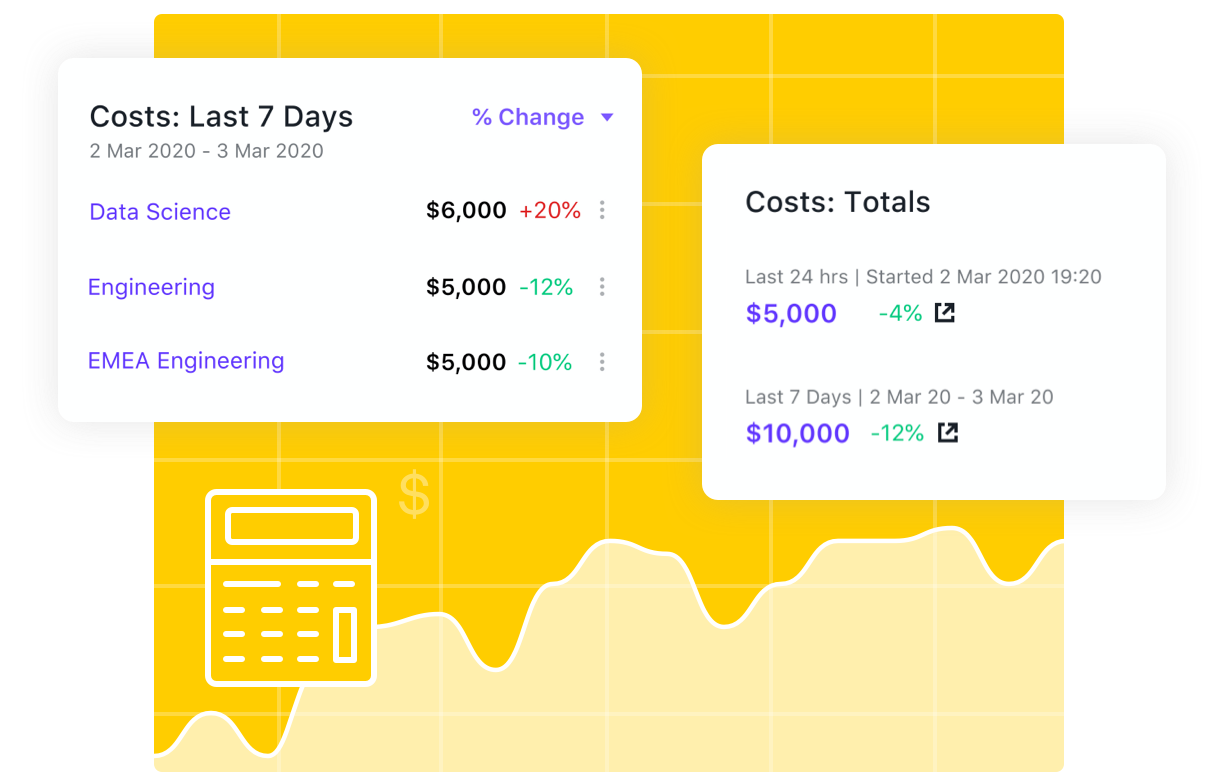 Provide Real-Time Cost Management
Lower TCO with Out-of-the-Box Kubecost
Understanding the financial impact of cluster sprawl across an organization is exceptionally difficult, especially as more users, teams, and projects spin up new clusters in different environments. Kommander's out-of-the-box Kubecost integration provides cost granularity in real-time using tools that have awareness of Kubernetes. This deep awareness allows you to attribute costs to the right departments, applications, projects, or other organizational groups, for reduced waste, better forecasting, and lower TCO.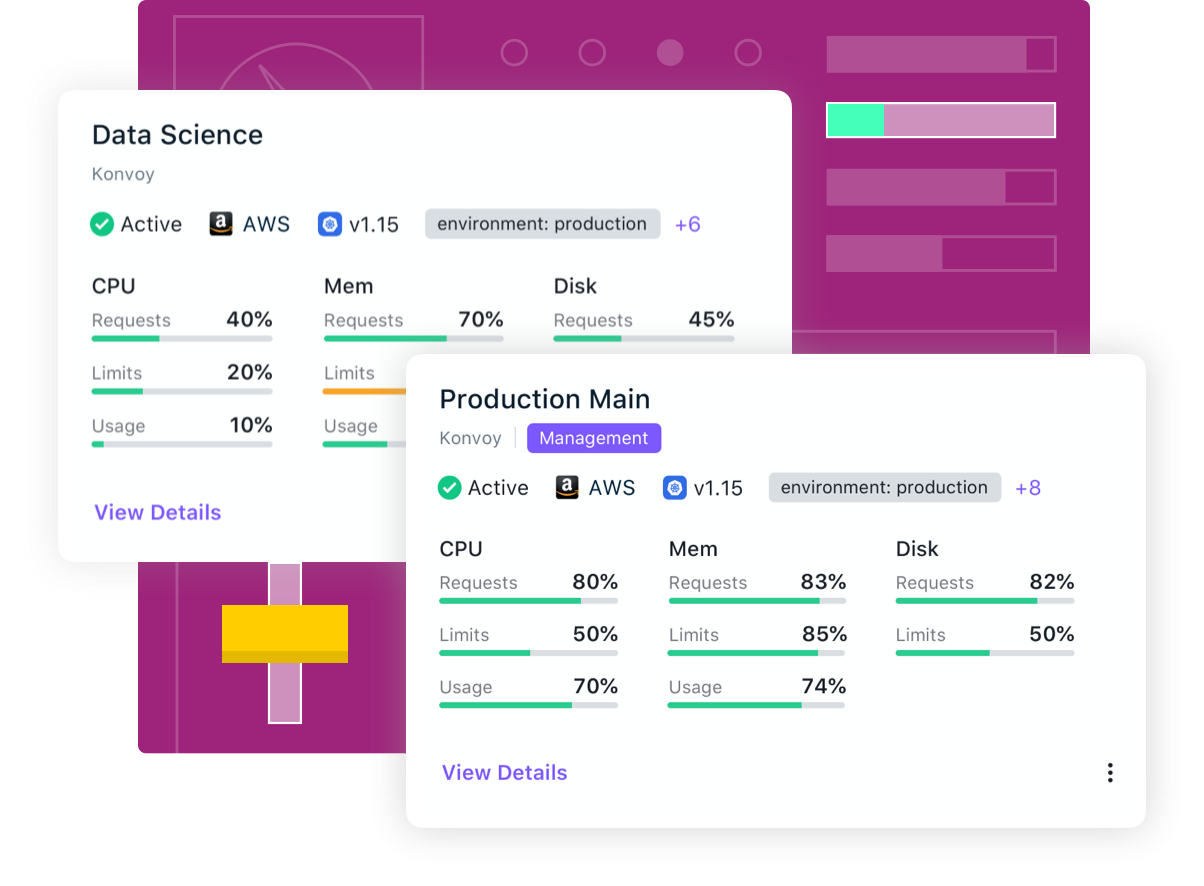 Enable Centralized Observability for Easier Troubleshooting
Enhance Logging and Monitoring Across Clusters
As various parts of the organization require new Kubernetes clusters, there is often no centralized, overarching visibility into the clusters they are monitoring. Kommander provides enhanced visibility and control from the same central point of control, with integrated logging, monitoring, and alerting across all clusters. This capability allows you to centrally review the health and performance of each cluster by region, availability zone, or cloud provider, so that monitored threats are detected and issues can be resolved before they escalate, thereby saving valuable time.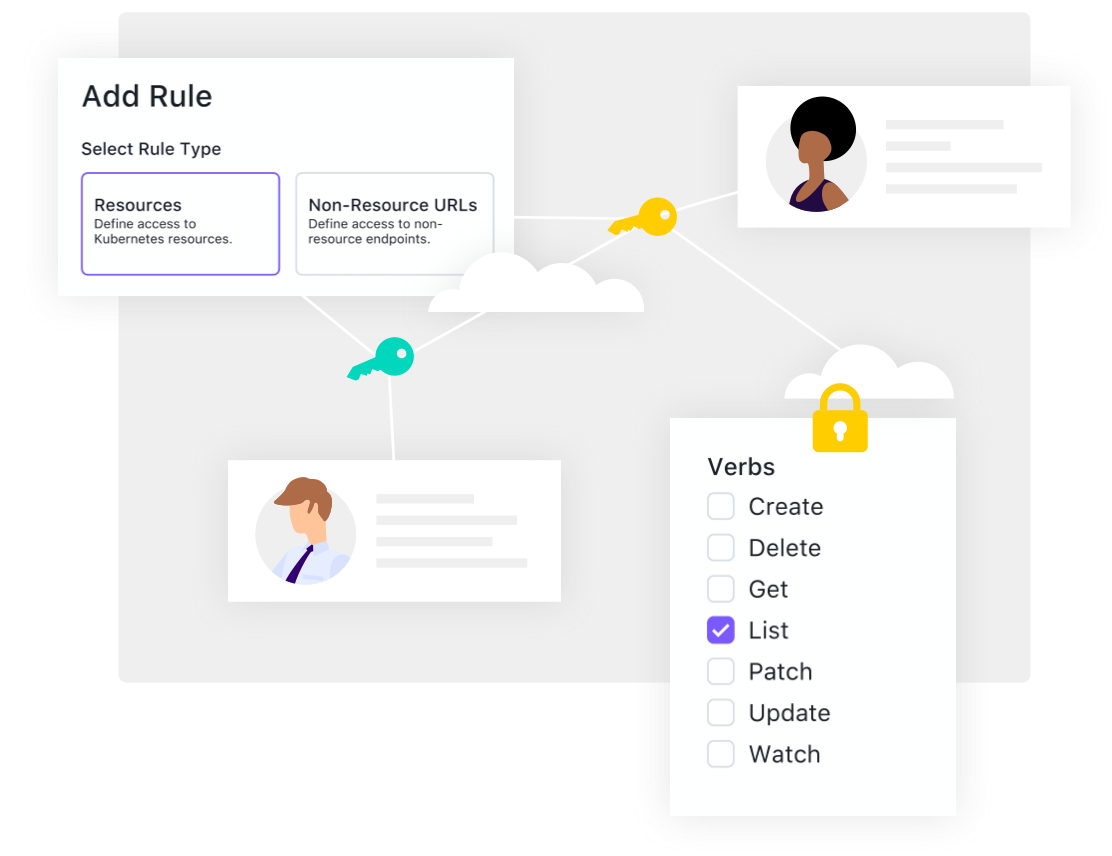 Deliver Federated Management Across a Wide Variety of Roles
Provide Enterprise Access Controls for Multi-Tenancy
Operators need the ability to create lines-of-separation across identities and access to resources. Kommander addresses these challenges by providing single sign-on and federated role-based policy across all organizational clusters. This capability helps ensure that as services are being provisioned, organizations can delegate management and operational responsibilities at various levels to those who require them.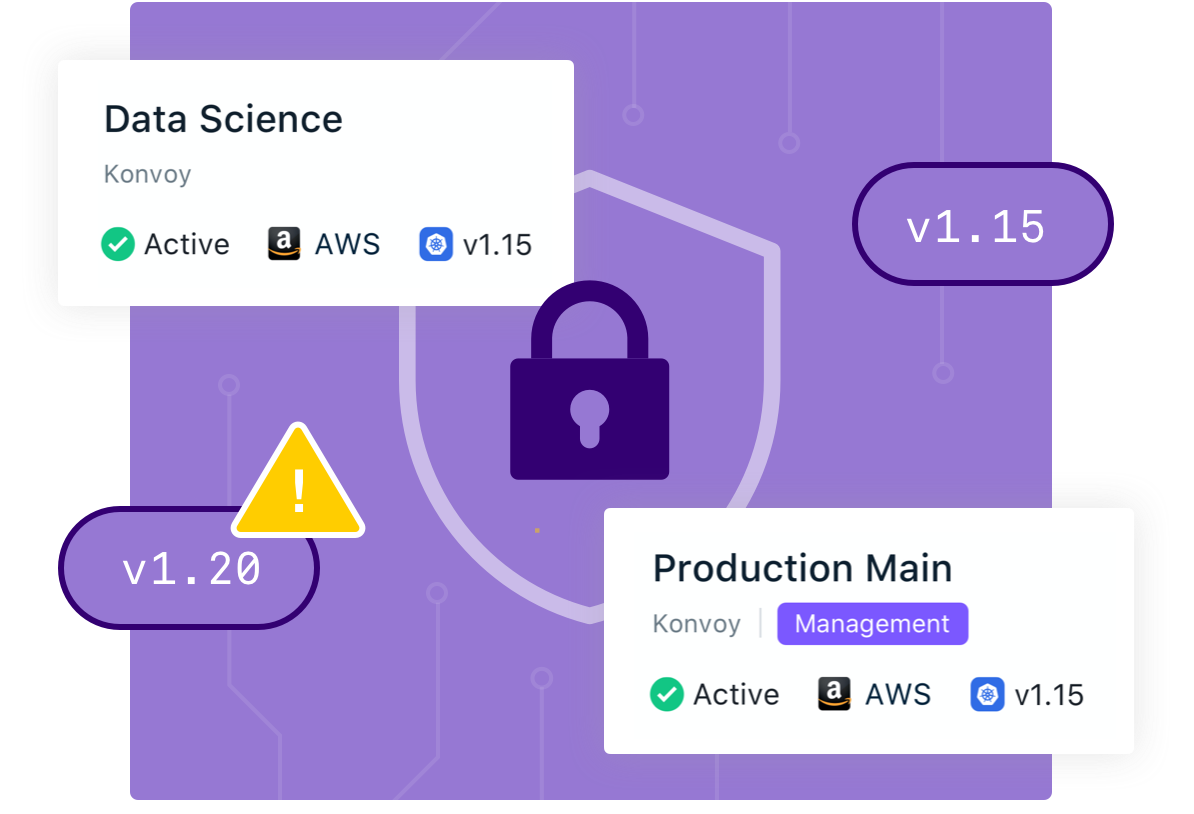 Ensure Unified Management and Governance
Manage Risk and Security Vulnerabilities
When cluster sprawl is left unchecked, it can introduce all kinds of complexities around visibility, management, and security. Kommander provides centralized governance and policy administration across cluster deployment, manageability, accessibility, and security updates so you can create standardization around how new clusters are configured and used, while meeting compliance requirements for regulatory, IP, and other unique organization needs. Kommander 2.0 is FIPS validated, for even greater confidence around security.
Operational Dashboard
Provide instant visibility and operational efficiency into the Kubernetes landscape from a single, central point of control.
Integrated GitOps Workflows
Enable declarative end-to-end application lifecycle management with built-in FluxCD, as well as canary and A/B deployments and roll-back.
Out-of-the-Box Kubecost
Provide real-time cost management and attribution of costs to the right groups, applications, or projects for better forecasting and lower TCO.
EKS and AKS Lifecycle Management
Provision, spin up, and deprovision EKS and AKS clusters in a fully automated way.
Multi-Cluster Platform Application Management
Centrally manage and deploy all Day 2 platform applications, such as logging, monitoring, networking, and more, to any CNCF-conformant Kubernetes distribution from any environment, with governance.
Service Mesh Integration
Add advanced networking capabilities, such as multi-cluster and cross-cluster service discovery, load balancing, and security, across a variety of hybrid cloud, multi-cloud, and multi-cluster environments.
Governance and Policy Administration
Assert centralized delegated Role-Based Access Control (RBAC) and cluster policy to govern clusters and services and create lines-of-separation across various project initiatives.
Centralized Authentication
Leverage existing authentication and directory services for secure access and single sign-on to broad cluster-based resources.
Service Version Control
Ensures conformance to sanctioned service versions of both Kubernetes and its supporting platform services to help reduce security exposure and provide simplified supportability of services.
Data Pipeline Provisioning
Provision Spark, Cassandra, and Kafka automatically from the Kommander catalog of platform applications.
Node Pool Management
Reduce complexity with single command cluster creation and removal.
D2iQ Resources for Enterprise Kubernetes Success
Because DKP comes with a dashboard that enables all of these services on any cloud platform, it really helps our customers focus on the applications they want to develop.