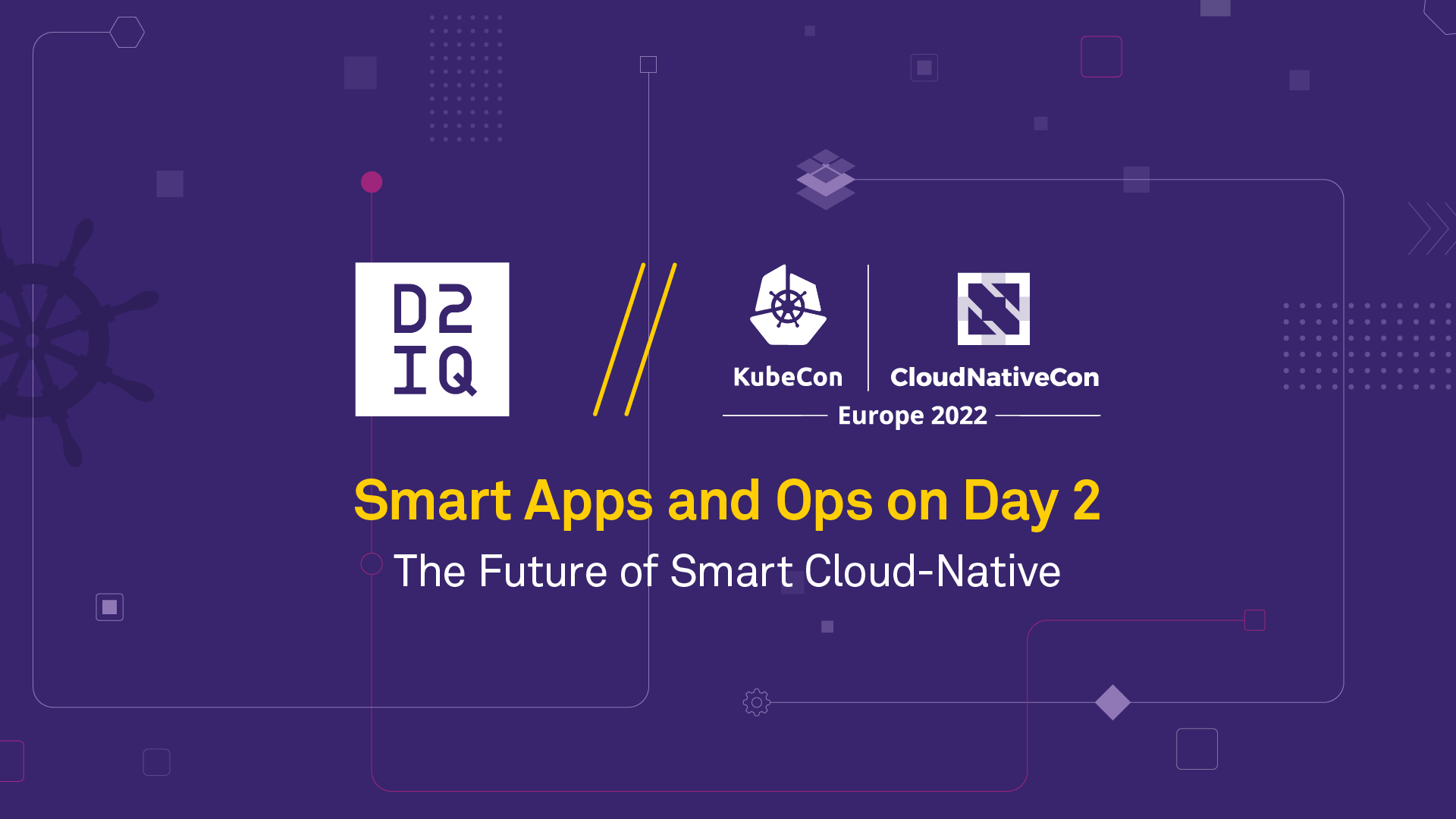 9 min read
EXECUTIVE BRIEFINGS
LIVE DEMOS
SHOW PASSES
Join D2iQ in the Cloud-Native Revolution
The Cloud Native Computing Foundation's flagship conference, KubeCon Europe is right around the corner and the D2iQ Team is excited to meet you in Valencia, Spain! If you didn't already know, this conference gathers adopters technologists from leading open- source and cloud-native communities who are ready to collaborate and gather for education and advancement of cloud-native computing.
In today's modern world that is continuously changing, KubeCon + CloudNativeCon is an important forum for the cloud-native communities to share relevant information and insights to stay ahead of the curve on Kubernetes and DevOps trends. During this conference we will discover ways to transform the way organisations operate to quickly and efficiently realise their goals in the modern world, allowing for massive business impact by bringing ideas to market at lightning speed.
With this in mind, here are five ways you can supercharge your KubeCon + CloudNativeCon experience.



KubeCon + Cloud NativeCon Europe 2022
Your Guide to What's Driving the Cloud-Native Boom
What's next in the cloud-native revolution?
If you are the least bit of a curious George like myself, let's dig into what is driving the cloud-native boom. Because this digital revolution is in full swing and is fundamentally reinventing the direction of cloud, Kubernetes, artificial intelligence (AI), and intelligent automation, causing a tsunami of disruption, which is referred to as smart cloud native.
Why is this important? Cloud-native technologies and applications will have AI at their core, which will be the foundation for next-generation infrastructures and products. It's important now more than ever for organisations to master these technologies so they can acquire the agility they need to stay ahead of their competition. Mastering smart cloud native will be a marker of enterprise IT maturity.
Interested in learning more? Try filtering the conference agenda by searching on "Machine Learning + Data" or "Application + Development" for some useful sessions to supercharge your learning experience with cloud-native!
The smart cloud-native revolution is here and we invite you to join!
Learn How to Manage Clusters With GitOps and Flux, a Key Smart Cloud-Native Enabler
Smart cloud-native apps require a smart cloud-native platform, and Kubernetes is the ideal platform for building and running AI applications. Running smart cloud-native apps on Kubernetes also requires the ability to manage clusters at scale.
Applying GitOps principles with Flux simplifies provisioning clusters and managing workloads deployed onto them, including tenant and role-based access control (RBAC) management. You can learn all about the advantages and best practices for applying GitLabs principles using Flux in a talk and demonstration by Max Jonas Werner, Kubernetes and GitOps Evangelist and Engineer at D2iQ.
While GitOps is gaining more and more traction, public working examples and best practices are still rare. Max will demonstrate a working example of applying GitOps principles in accordance with the Cloud Native Computing Foundation (CNCF) Flux incubating project for multi-cluster management. The Flux project provides a complete continuous delivery (CD) platform on top of Kubernetes, supporting standard practices and tooling in the cloud-native open-source ecosystem.
This talk is targeted at infrastructure engineers and product engineers alike that need to implement a smooth and secure multi-cluster Kubernetes experience using GitOps.
Subject: How to Implement Advanced Deployments
Cloud Native Computing Foundation (CNCF)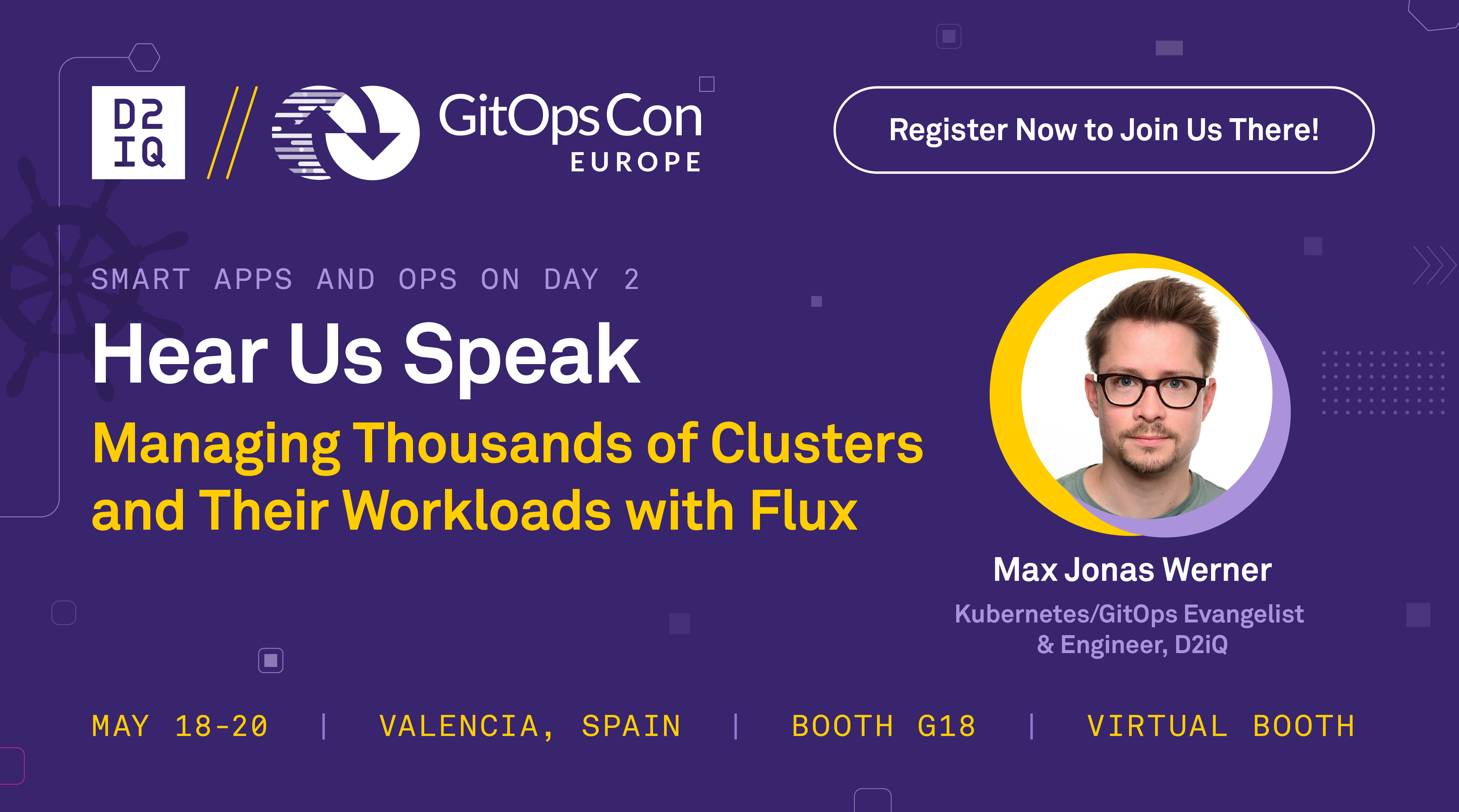 Hear Us Speak: Managing Thousands of Clusters and Their Workloads with Flux
Max Jonas Werner Kubernetes/GitOps Evangelist and Engineer at D2iQ
I'm a Kubernetes/GitOps Evangelist and Engineer at D2iQ. After more than a decade as a fullstack developer in various positions, my passion for infrastructure engineering continued expanding, which eventually sealed the deal on my love for Kubernetes and its truly RESTful API. I work primarily on D2iQ's multi-cluster management offering, integrating various Open Source components like Kubefed and Flux. I'm also one of the maintainers of the Flux project. When not working on these projects I enjoy spending time with my kids or creating furniture in my woodshop.
Contact Me: Twitter or LinkedIn
Meet Us Here
Managing Thousands of Clusters and Their Workloads with Flux
Subject: How to Implement Advanced Deployments
17 May 2022 at 14:55–15:25 CEST
In-person / Live Stream
Get Your Free Pass to KubeCon
Stop by our in-person or virtual booth to learn more about how D2iQ can eliminate roadblocks to success, such as lack of skills, via our Kubernetes and cloud-native expertise, alleviate operational complexity with a simpler and easy-to-use platform, and address security concerns with military-grade security. You also don't miss your chance to win awesome prizes.
We are giving our FREE virtual passes and 20% off KubeCon + CloudNativeCon passes!!
FREE virtual passes: KCEU22D2I@VIRTUAL
20% Discount on in-person passes: KCEU22D2I@ONSITE20
Meet Us Here
KubeCon Europe
May 18-20, 2022
Booth G18
BOOK YOUR CUSTOM PRODUCT DEMO
Sign up now for a customised product demo and learn how the D2iQ Kubernetes Platform (DKP) includes everything you need to adopt Kubernetes easily with the ability to expand Kubernetes use to multiple clusters across any infrastructure. Virtual and in-person demos are being booked today. Save your spot.
CUSTOMISED C-LEVEL ENTERPRISE BRIEFINGS
Calling all high-level enterprise Kubernetes innovators and enthusiasts! Book your executive meeting today for a customised briefing where you will hear about our product roadmap, long-term strategic vision, and how our platform accelerates Day 2 success for smart cloud-native applications on enterprise Kubernetes. In-person only, space is extremely limited.
Meet Us Here
KubeCon + CloudNativeCon Europe
May 18-20, 2022
Booth G18
We can't wait to see you at KubeCon + CloudNativeCon Europe!
As always, don't forget to pass this on. Tell a friend, tell your colleagues, and mark your calendars and meet us at KubeCon + CloudNativeCon Europe 2022!
If you like what you saw here, be sure to share this post with your co-workers and friends because we want to hear from you! Follow us on Twitter @D2iQ, find us on LinkedIn, or subscribe to the D2iQ YouTube Channel.
#KubeCon
#CloudNativeCon
#teamcloudnative