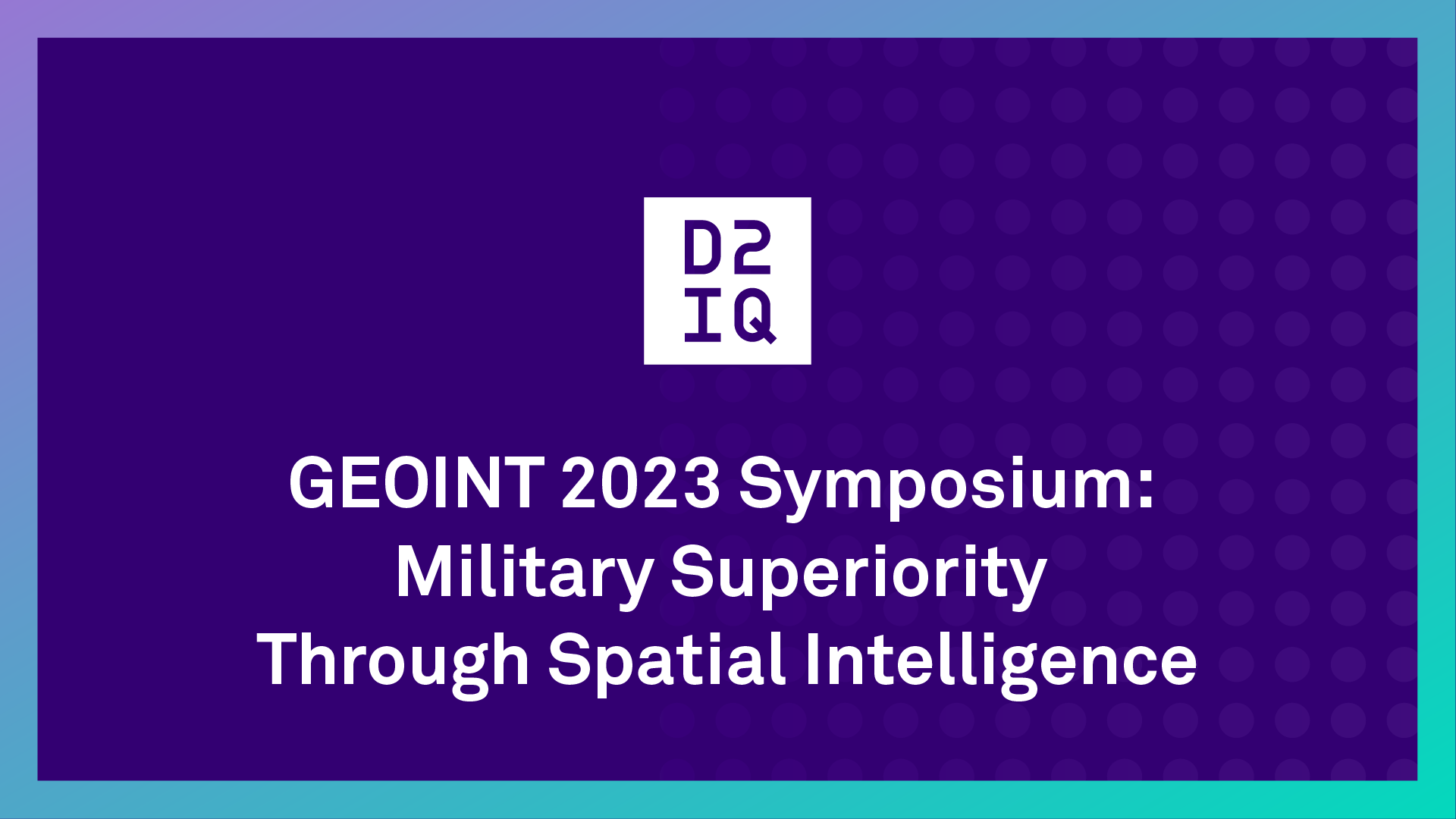 D2iQ is pleased to announce that we will be exhibiting at the
GEOINT 2023 Symposium
, the annual gathering of geospatial intelligence professionals, May 21-24, in St. Louis, Missouri.
Geographic information systems (GIS) are used to track troop movements, locate resources, and plan military missions. As
GIS Lounge points out
, military operations are dependent on the availability of accurate spatial information to arrive at quick decisions for operational orders.
Because artificial intelligence (AI) plays an increasingly important part in modern geospatial applications, this year's GEOINT agenda is focused heavily on AI technology.
The theme of this year's conference is "GEOINT: From Maps to Metaverse," and speaking session include the following topics:
"Talking 'Bout My Generative AI"
"Automating Image Exploitation with Deep Learning"
"Efficient and Effective Data Fusion of Open and Intelligence Data Sources to Protect U.S. Interests"
Leveraging AI to achieve military superiority is a strategic imperative for the U.S. Department of Defense (DoD). To this end, U.S. Deputy Secretary of Defense Kathleen H. Hicks
issued a memorandum
in February 2022 establishing the formation of the DoD Chief Digital and Artificial Intelligence Officer (CDAO).
"The Department of Defense," Hicks wrote, "must become a digital and artificial intelligence (Al)-enabled enterprise capable of operating at the speed and scale necessary to preserve military advantage."
D2iQ at the Forefront of Military Modernization
The demand for D2iQ Kubernetes Platform (DKP) solutions among government agencies led D2iQ to create
DKP Gov
, a Kubernetes management platform that is optimized for deployment in the public sector.
DKP Gov is optimized to support the advanced AI workloads that GIS requires to enable the U.S. military to achieve strategic and tactical superiority, including the ability to train in the cloud and run at the edge.
As D2iQ CEO Tobi Knaup explains,
Kubernetes is a natural fit for running AI and ML workloads
for a number of reasons, including Kubernetes' ability to easily scale to meet the resource needs of AI and machine learning (ML) training and production workloads as well as the continuous development nature of AI/ML models.
D2iQ Sees Widespread Military Adoption
U.S. Intelligence agencies were among the first to adopt D2iQ Kubernetes solutions to modernize their infrastructure, followed by the DoD and a broad array of government agencies that includes the U.S. Air Force, U.S. Navy, U.S. Missile Defense, U.S. Space Force, U.S. Department of Homeland Security, and more.
Major government system integrators like Northrop Grumman, GDIT, Lockheed Martin, and SAIC also have made DKP the Kubernetes management platform on which they are building container-management solutions for their government clients.
These agencies have chosen D2iQ for their modernization initiatives and mission-critical apps because of D2iQ's unique Kubernetes management capabilities, including full-featured automation, ease of deployment, ease of management, ease of air-gapped deployment, edge/IoT capabilities, and more.
Meet Us in St. Louis
If you are attending
GEOINT 2023 Symposium
, drop by our booth (#2307) to learn more about DKP's reliability, ease of management, military-grade security, and advanced AI and edge capabilities.
Want to set up a personal one-on-one meeting with D2iQ experts at GEOINT 2023 Symposium? Let's
get you on the calendar
.