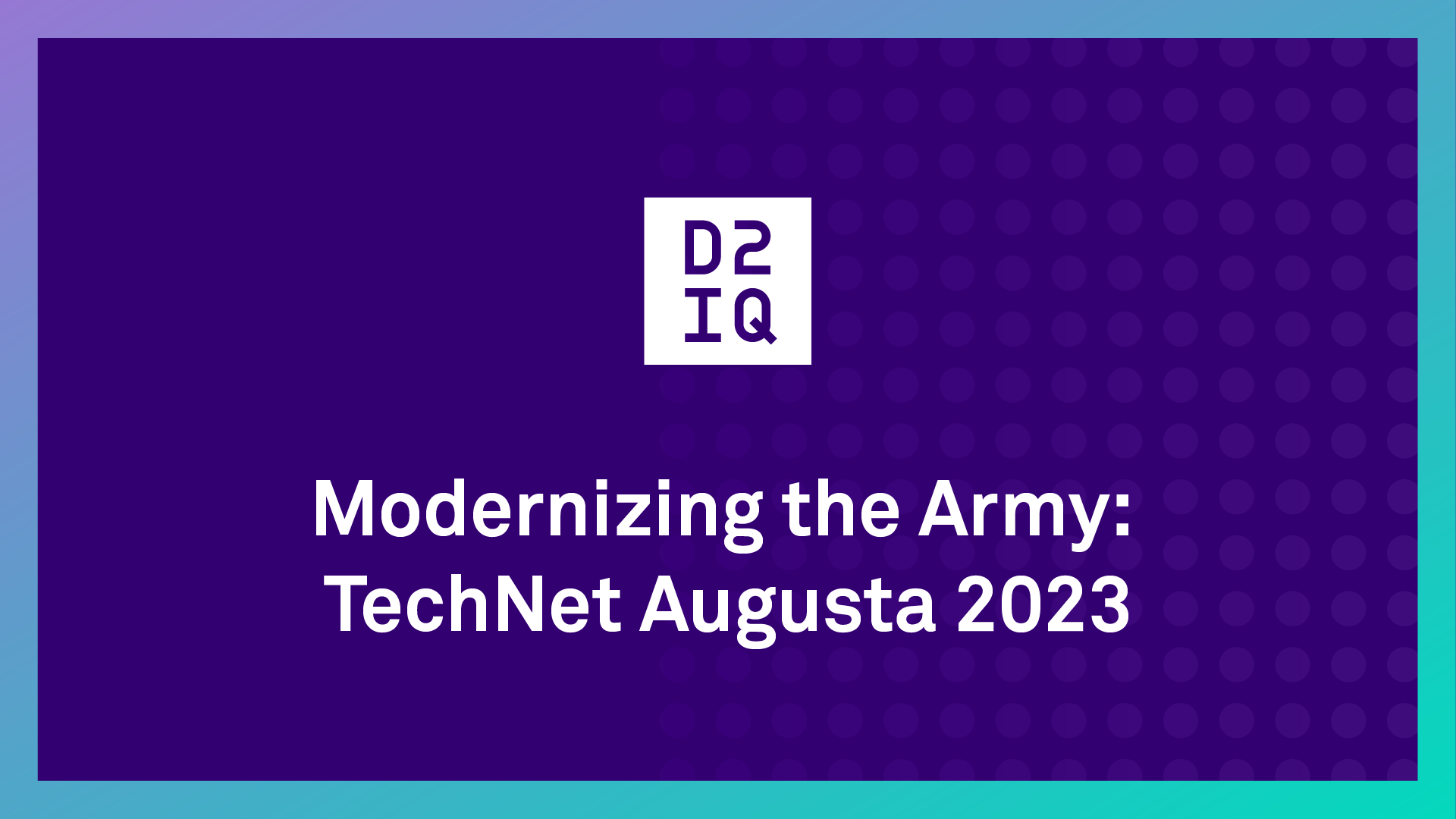 D2iQ is excited to be participating in TechNet Augusta 2023, the annual military and government conference sponsored by the AFCEA, taking place in Augusta, Georgia on August 14-17.
TechNet Augusta 2023 is organized with the assistance of the U.S. Army Cyber Center of Excellence, and the theme of this year's event is "Enabling a Data-Centric Army."
Cyber security is a major focus of the conference, including zero trust and the application of AI to strengthen military and government security. Session topics include:
AI for Cyber Operations: How AI Can Be Utilized to Improve Cybersecurity
The Importance of Security Controls in the Age of AI
Achieving Zero Trust Mission Excellence Through Agility
AI for the Mission
According to a SiliconAngle report, AI has given cyber attackers an advantage. "The increasing complexity of cloud systems, the proliferation of tools and the rise of AI have significantly tilted the advantage toward cyber attackers," says the report.
To enable the U.S. Department of Defense (DoD) to gain an AI advantage, U.S. Deputy Secretary of Defense Kathleen H. Hicks issued a memorandum in February 2022 establishing the formation of the DoD Chief Digital and Artificial Intelligence Officer (CDAO).
Hicks recently released a memo about the CDAO's progress to date. "I've seen clearly over the last year that our investments in data and AI are yielding returns much faster than most new defense capabilities," said Hicks. CDAO progress, she noted, includes the creation of a data integration layer for the Combined Joint All-Domain Command and Control (CJADC2) initiative.

Zero Trust Imperative
The U.S. government's next-generation security strategy also centers on achieving zero trust. The strategy was initially described in May 2021 in Executive Order 14028: Improving the Nation's Cybersecurity.
The strategy was updated in a White House memorandum in January 2022 that set forth "a Federal zero trust architecture (ZTA) strategy" that required agencies to meet specific cybersecurity standards and objectives by the end of Fiscal Year 2024. The strategy was further refined in a National Cybersecurity Strategy document released in March 2023.

DKP Gov: Mission-Ready for Military Modernization
Attendees at TechNet Augusta 2023 can learn why the D2iQ Kubernetes Platform (DKP) is being so widely adopted among system integrators and government agencies, including the U.S. Army, Navy, Air Force, and Space Force. The demand for D2iQ solutions led D2iQ to create a dedicated DKP Gov Kubernetes solution optimized for the government sector.
Military-grade security, including easier air-gapped deployment, are among the reasons so many system integrators and government agencies are choosing DKP as the basis for their modernization projects.
DKP Gov's advanced capabilities, including edge and AI workload support, also make it uniquely capable of supporting the CJADC2 initiative.
D2iQ security experts have made available a host of briefs, articles, cheat sheets, and videos that provide best practices for achieving zero trust, air-gapped deployment, shift-left security, successful DevSecOps, and more, all of which can be found on the D2iQ Security Hub.
Meet Us at Our Booth
If you are attending TechNet Augusta 2023, be sure to stop by booth #T10 to speak with some of the best minds in the Kubernetes space and learn why so many government and military agencies are choosing the D2iQ Kubernetes platform for their modernization initiatives. In addition, you are cordially invited to join us for an evening of socializing at our Tuesday evening reception (see details below).

Enjoy Some Social Recreation at Our Networking Event!
If you are attending TechNet Augusta 2023, join us for a networking reception hosted by D2iQ and strategic partners Norseman Defense Technologies, Harness, Racktop, D2iQ, Axonius, and Illumio on Tuesday, August 15, 5-8 pm, at the Draft Society Taproom, 875 Broad Street, Augusta GA 30901. Light fare will be provided by Laziza Mediterranean Grill. We look forward to seeing you there!