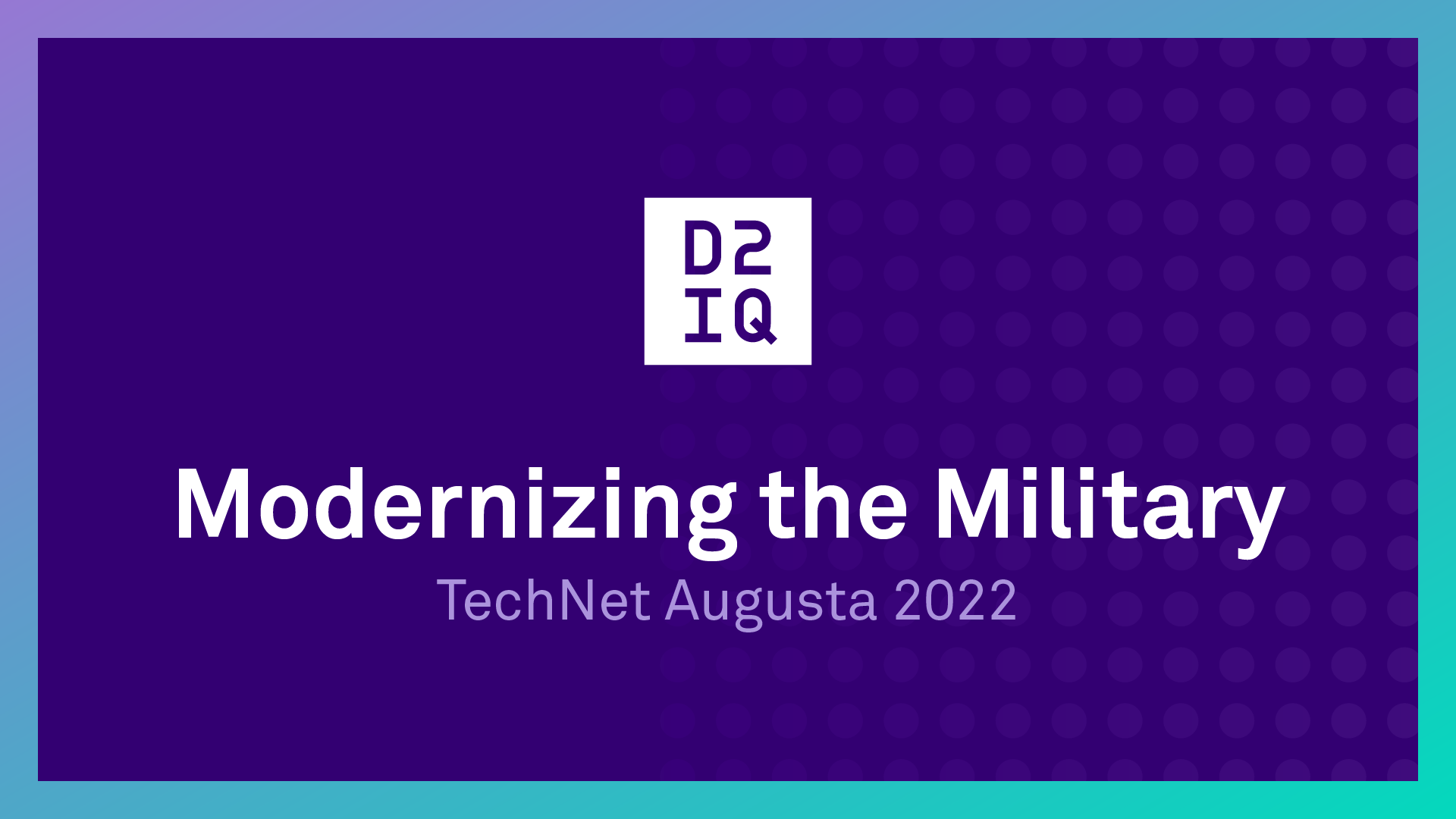 5 min read
Meet Us Here

TechNet Augusta
August 15-18, 2022
Booth T10
Partner Happy Hour
August 16, 2022
Draft Society Taproom
D2iQ is pleased to be participating in TechNet Augusta 2022 as a sponsor. This event is largely a government and military technology expo and symposium organized with the assistance of the U.S. Army Cyber Center of Excellence.
The military focus of TechNet Augusta is reflected in its sponsorship by the AFCEA (Armed Forces Communications and Electronics Association) and SIGNAL magazine, an AFCEA publication that covers communications and information technology within the defense, intelligence, and global security communities.
This is a natural setting for D2iQ, as reflected in our roster of military, government, and system integration customers, including the U.S. Air Force, U.S. Navy, U.S. Department of Defense, Department of Homeland Security, National Reconnaissance Office, Missile Defense Agency, Argonne National Laboratory, and more.
D2iQ's system integrator customers–which include Science Applications International Corporation (SAIC), Norseman Defense Systems, and Empower AI– chose the D2iQ Kubernetes Platform (DKP) as the basis for providing Kubernetes solutions to their government and military customers.
In a
recent webinar
, SAIC explains why it chose D2iQ as a strategic partner for its broader company vision while sharing its formula for digital transformation and describing the ease with which DKP enables military-grade security to be set up.
Air-Gapped and Zero Trust Security: State of the Art
Surveys show that security is a top concern of organizations adopting Kubernetes. It is a given that government, military, and intelligence agencies demand the highest levels of security. DKP has become the Kubernetes platform of choice for government customers not only because of its ease of deployment and management, but for built-in military-grade security capabilities that meet all
NSA/CISA Kubernetes security hardening guidelines
.
Air-gapped security, in which systems and sensitive data are isolated from the internet, is the state of the art in securing Kubernetes environments. As
SAIC CTO Bob Ricci notes
, D2iQ is unique in its ability to enable an air-gapped environment to be easily deployed. Says Ricci, "That's been my firsthand experience with D2iQ, where it went from having an air-gapped binary distribution to getting a cluster up in an air-gapped ecosystem in less than an hour that's fully operational."
Another state-of-the-art security methodology is
zero trust
, which has displaced "trust but verify" as a more effective method of securing an organization. In this
recent article
, D2iQ CTO Deepak Goel offers his expert insights into zero trust security for Kubernetes. As Deepak notes, securing Kubernetes requires not only technology, but also employee awareness and adherence to security best practices.
Mission-Ready Kubernetes
As the military undergoes modernization, Kubernetes is being adopted to meet the challenges associated with wartime activities, including the deployment of advanced technologies like artificial intelligence (AI) and Kubernetes at the edge. As this
solution brief
explains, D2iQ is unique in its ability to support the advanced capabilities required for the highly secure, mission-critical JADC2 initiative.
This
companion brief
describes how D2iQ meets the tactical edge communications requirements of the Space and Missile Defense mission to deliver synchronized communications to joint operations during battlefield conditions.
GitOps + Declarative APIs = Kubernetes Done Right
Having participated in cloud, container, and Kubernetes conferences worldwide during 2022, among the key trends that we see is the transformation of DevOps into GitOps. This has led us to adopt the mantra "GitOps + declarative APIs = Kubernetes done right."
GitOps eases the management of Kubernetes and makes DevOps teams more productive. This is why D2iQ has integrated GitOps workflow into DKP based on FluxCD and extended declarative programming throughout the entire DKP platform through Cluster API (CAPI).
The critical nature of DevOps to achieving the goals of container management also is stressed by Gartner in its latest
2022 Market Guide for Container Management
. As Gartner notes, "The combination of DevOps and container technology can be a powerful enabler for application development agility and speed, making DevOps skills the critical factor to deployment success."
Enabling their DevOps teams to manage Kubernetes through an easy-to-use platform and expert training are among the key reasons customers cite for choosing D2iQ, including
Cerved
,
Lavego AG
,
Multitude
, and
TrustedChoice.com
.
Meet Us Here
If you are attending the TechNet Augusta, be sure to stop by the D2iQ booth (T10) to learn more about why so many government and military agencies are choosing the D2iQ Kubernetes platform and how D2iQ can help you make your project a success. Don't miss this opportunity to speak with some of the best minds in the public sector Kubernetes space. In addition, you are cordially invited to join us for an abundance of drinks, food, and good company at our Happy Hour (see details below).
Socialize, Celebrate, and Network at Our Happy Hour!
If you are attending TechNet, join us for a
Happy Hour
hosted by D2iQ and strategic partners Norseman Defense Technologies, AWS, and GitLab, on Tuesday, August 16, 5:30-7:30 pm at the Draft Society Taproom, 875 Broad Street, Augusta GA 30901.