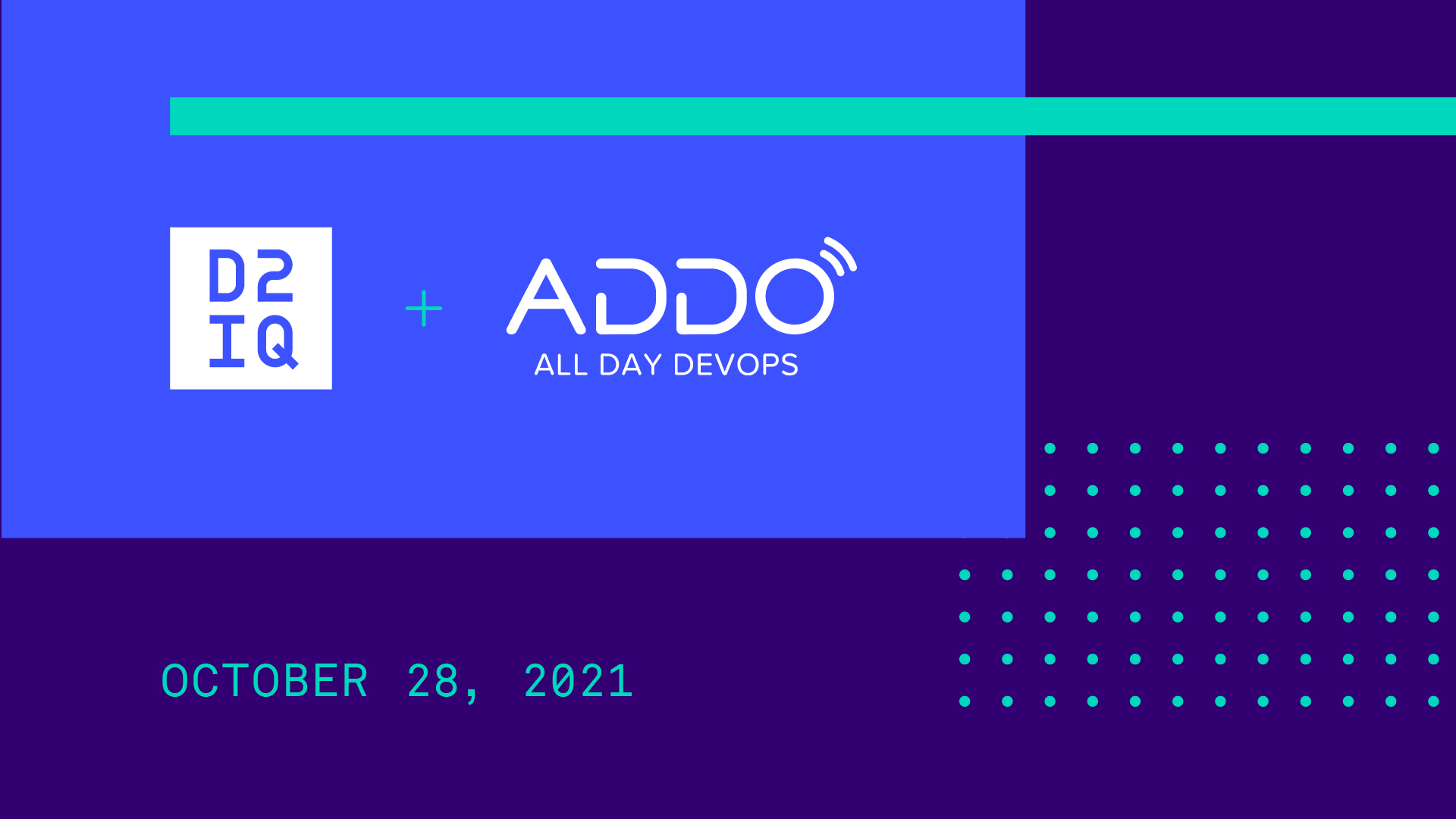 5 min read
Meet us There
All Day DevOps (ADDO)
October 28, 2021
The
All Day DevOps (ADDO) Conference
is back for the 6th year in a row and D2iQ is proud to sponsor and support this conference for the DevOps and cloud-native communities, starting at 3 AM ET on October 28, 2021. This virtual gathering will be attended by more than 25,000 DevOps professionals, with more than 180+speakers, and plenty of time for peer-to-peer insights and networking with professionals worldwide.
With an overwhelming amount of sessions, speakers, and tracks to choose from, we wanted to share our insights on the top four trends to look out for at this year's online event. 'Cause isn't it nice to get the inside scoop?
And don't forget to mark your calendars and
connect
with D2iQ in advance.


DevOps is Here to Stay
DevOps, and DevSecOps, are here to stay. The DevOps approach isn't a fad, it's simply a better way to build software and is transforming application architectures as IT shops are striving to align technology and business value.


Today's focus on microservices and containerization has brought sweeping changes to the application lifecycle—from development, to integration, to testing, deployment, and operating. This also equates to tremendous growth in complexity, which means continuous learning within DevOps is a must for DevOps teams hoping to realize their business value of digital transformation to provide outstanding value and experiences.


Six All Encompassing Topic Tracks Relevant to You
All Day DevOps divides sessions into six tracks – CI/CD Continuous Everything, Cultural Transformation, DevSecOps, Modern Infrastructure, Site Reliability Engineering, and Government. Get inspired and learn what you need to stay ahead of the game from DevOps experts with a range of perspectives from all over the world. You will be sure to learn something new from these sessions that are focused on sharing, collaborating, and learning.
The conference will also feature keynotes from:
Demi Ajayi, Open Source Community Manager for Call for Code for Racial Justice at IBM
Daniel Krook, CTO, Call for Code at IBM
Liz Fong-Jones, Developer Advocate at Honeycomb
Sina Bahram, Accessibility Evangelist and Founder at Prime Access Consulting


Diverse Content from the Global Industry's Best and Brightest
Keynotes from
Daniel Krook and Demi Ajayi
(IBM Call for Code),
Sina Bahram
(Prime Access Consulting/Accessibility Evangelist), and
Liz Fong-Jones
(Honeycomb.io) — with more to be announced. Along with
180 in-depth DevOps sessions
from
leading experts and brands
, including
Amazon Web Services, Eventbrite, IBM, Mastercard, Microsoft, Sonatype
— as well as
Max Werner
our Senior Kubernetes Evangelist and Engineer here at
D2iQ
!

D2iQ's Speaker Spotlight


Max Werner, Sr Kubernetes Evangelist & Engineer at D2iQ
Top Three Benefits of Using GitOps Driven Multi-Cluster Workload Management via Flux
Oct 28 at 6:00AM ET // 11:00 AM BST
Register Now, its FREE
With Kubernetes becoming more and more popular every day, so is managing clusters at scale. Managing Kubernetes clusters the GitOps way via Flux you can manage thousands of clusters, each with dozens or even hundreds of nodes.
GitOps works by using Git as a single source of truth for declarative infrastructure and applications. For a Kubernetes cluster the Git repository hosts all resource manifests making up an application. Flux leverages this principle with a set of controllers watching one or more Git repositories for such manifests and automatically applies them.
Join this session, to learn the benefits of managing Kubernetes clusters at scale, the GitOps way:
Creates a simplified way to declaratively define thousands of clusters and perform operations on those clusters, as you would the workloads on the clusters
Makes it easy to have a multi-tenancy approach where each team or group of applications gets their own cluster
Allows operations against clusters to be fully audited and attributable, simplifying the reversal of changes

Up next, you will also hear from D2iQ's CEO, Tobi Knaup in an exclusive interview about the future of cloud native from an AI perspective.


Tobi Knaup, CEO at D2iQ
CEO Interview: The Future of Cloud Native From an AI Perspective
Watch now on YouTube
Now that cloud-native is the new normal, it is essential organizations also become AI-driven businesses to continue operating faster, with more flexibility, and in real-time. According to Gartner, "Accepting cloud-native and a multi-cloud approach as the new normal means avoiding cloud vendor lock-in so that companies can deliver an above five 9s response rate (99.999%) to avoid downtime of services that cost millions."


During this interview, Tobi will share advice, common pitfalls, and best practices on the future of cloud-native when adopting AI, as well as where he sees the future of cloud-native going.
Exclusive Resources, Blogs, and Videos
Check out the
resources
,
blogs
, and
videos
that offer informative assets, awesome career opportunities, and free playbacks of previous year's conference sessions. The exclusive resources include topics relevant to your growth and learning in
DevOps, DevSecOps, Open-Source, Cloud-Native, Digital Transformation
, Oh My...
See the full program and speaker list at
alldaydevops.com
, and grab your free tickets today.
Meet Us There
All Day DevOps (ADDO)
October 28, 2021
About D2iQ
D2iQ is the leading provider of enterprise-grade cloud platforms that enable organizations to embrace open source and cloud native innovations while delivering smarter Day 2 operations. With unmatched experience driving some of the world's largest cloud deployments, D2iQ empowers organizations to better navigate and accelerate cloud native journeys with enterprise-grade technologies, training, professional services and support. Whether you are deploying your first Kubernetes workload, optimizing your business analytics with Spark or Jupyter, or looking to educate your developers on the benefits of cloud native, D2iQ has the expertise, services and technology to enable you on the journey. D2iQ is headquartered in San Francisco with additional offices in London and Hamburg. D2iQ investors include Andreessen Horowitz, Hewlett Packard Enterprise, Khosla Ventures, Koch Disruptive Technologies, Microsoft, and T. Rowe Price Associates, Inc. Find us at
https://d2iq.com/
.
So, tell a friend, tell your colleagues, and mark your calendars to attend.
Register
for the virtual event, then connect with the community via
Slack
or across all social channels using #AllDayDevOps!
If you like what you saw here, be sure to share this post with your co-workers and friends because we want to hear from you! Follow us on Twitter @
D2iQ
, find us on
LinkedIn
, or subscribe to the
D2iQ YouTube Channel
, and be sure to use the event hashtag #AllDayDevOps when posting!