Kubernetes, Cloud Native, Machine Learning, Hybrid Cloud, Multi-Cloud, Enterprise Kubernetes, Air-Gapped Deployments, Edge/IoT, Fast Data Pipelines, Kubernetes Adoption, Artificial Intelligence
D2iQ Kubernetes Platform and Amazon EKS: Better Together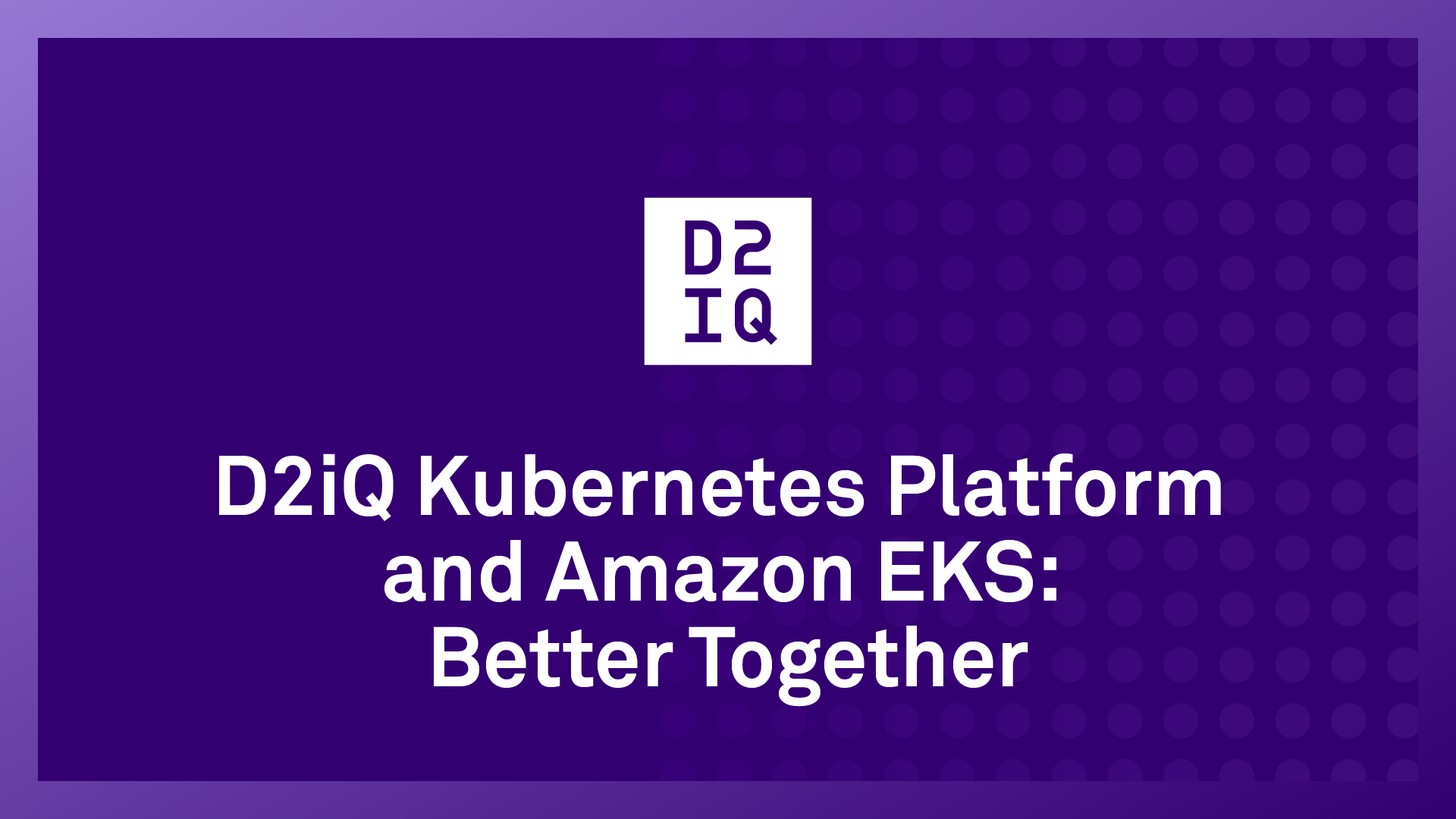 Amazon Web Services (AWS) Elastic Kubernetes Service (EKS) offers a great foundation to build cloud-native applications by minimizing the expertise needed to operate Kubernetes. However, production-grade enterprise platforms require more than Kubernetes and need to be augmented with additional capabilities to meet requirements. These additional services can be added easily by D2iQ, which is a close AWS partner.
Although EKS Blueprints enables this vision, the deployment of clusters and add-ons is driven by opinionated tooling meant to be effective for an AWS-only ecosystem. DKP enables this vision on any cloud and any infrastructure leveraging open-source, community-driven projects such as ClusterAPI, Helm, and FluxCD.
EKS is a managed service that enables customers to set up, run, and scale Kubernetes clusters with minimal operational overhead. The
D2iQ Kubernetes Platform (DKP)
adds value to AWS EKS managed Kubernetes clusters by providing a rich ecosystem of supported, open-source platform applications for Day 2 readiness. Platform teams can focus on building developer experiences to solve business challenges without compromising innovation and security.
Amazon EKS Enables Success While Helping Overcome Kubernetes Challenges
Amazon EKS
focuses on developers easing their path to developing cloud-native applications. It's easy to get started using
Amazon EKS with 5 steps in about 30 minutes
to get a developer up and running. Amazon EKS is integrated into a full cloud-native stack offering the tools and frameworks, such as Amazon Redshift and Rekognition, to build cloud-native applications.
Going beyond developers, deploying an AWS Kubernetes cluster is fairly easy. These offerings appear in the cloud provider's catalog alongside a myriad of other platforms and software services. They are tightly integrated with other services provided by the cloud vendor, including networking and storage components that are essential for running a cloud-native platform. AWS also provides some level of lifecycle management support for the customer, reducing the operational burden.
Providing configuration expertise in code and documentation to configure VPC, ALB, EC2 Kubernetes worker nodes, and Amazon EKS.
Reduce costs (and time lost in operations) with efficient compute resource provisioning and automatic Kubernetes application scaling
Ensure a more secure Kubernetes environment with security patches automatically applied to your cluster's control plane
Amazon highlights these
use cases
and optimizes for them:
Deploy across hybrid environments
Model ML workflows
Build and run web applications
DKP Adds Value to Amazon EKS to Meet Day 2 Challenges and Beyond
As a founding member of the CNCF, D2iQ has a rich history and deep experience in container and Kubernetes deployments in production environments and complex deployment topologies. To help our customers unlock their future with smart cloud-native applications, D2iQ helps customers adopt Kubernetes on Amazon EKS, expand Kubernetes to hybrid, multi-cloud, and edge environments, and enable smart cloud-native applications and advanced use cases.
DKP adds value to Amazon EKS through:
Cloud-Native Expertise eliminates the lack of skills issue. Our industry-leading expertise closes skill gaps on the customer side, avoids costly mistakes, transfers skills, and improves project success rates while shortening timelines.
Simplicity mitigates operational complexity. We focus on a great user experience and automate the hard parts of cloud-native operations to get customers to Day 2 faster and meet all Day 2 operational challenges. This frees up time on the customer side to build what differentiates them, instead of reinventing the wheel for Kubernetes operations.
Military-Grade Security alleviates security concerns. The D2iQ Kubernetes Platform can be configured to meet NSA Kubernetes security hardening guidelines. D2iQ Kubernetes Platform and supported add-on components are security scanned and secure out of the box. Encryption of data-at-rest, FIPS compliance, and fully supported air-gapped deployments round out D2iQ offerings.
Time to Value in hours/days to get to production, instead of months/years, or even failure. Particularly in complex environments like air-gapped, customers tried our competitors and even after spending millions did not see success. We delivered results in hours/days.
DKP Adds Value to Amazon EKS in Common Use Cases
DKP adds significant capability and value to a broad range of major use cases with Amazon EKS:


AWS and D2iQ partner to bring the best skills, software, and solutions to solve even the toughest Kubernetes Day 2 challenges, accelerating your smart cloud-native applications success.
Better Together Summary and Wrap-up
D2iQ works closely with AWS to enable customer outcomes and accelerate transformation initiatives. D2iQ was selected as a
Launch Partner for AWS Enterprise Container Management Solutions Category
of the Container Competency. DKP Enterprise is a solution AWS customers can use to manage their container infrastructure and workloads across multiple locations with proper security, compliance, and operational controls.
To summarize the value of Amazon EKS and D2iQ DKP together:
Amazon EKS enables deployment, operation and scaling of Kubernetes clusters while providing tight integration with the AWS catalog of services.
D2iQ brings additional cloud-native expertise, a simple platform that is optimized to manage across a wide variety of deployment options, and military-grade security experience to complement and augment EKS managed clusters.
Better together to accelerate time to market, reduce risk and cost, and drive success in getting smart cloud-native applications to Day 2 and beyond!