Kubernetes, Cloud Native, Machine Learning, Kaptain, Multi-Cloud, Multi-tenancy, Container Management, Enterprise Kubernetes, Multi-cluster Management, AI/ML, Air-Gapped Deployments, Edge/IoT, Kubernetes Adoption, Artificial Intelligence
Surveys Show Kubernetes Crossing the Chasm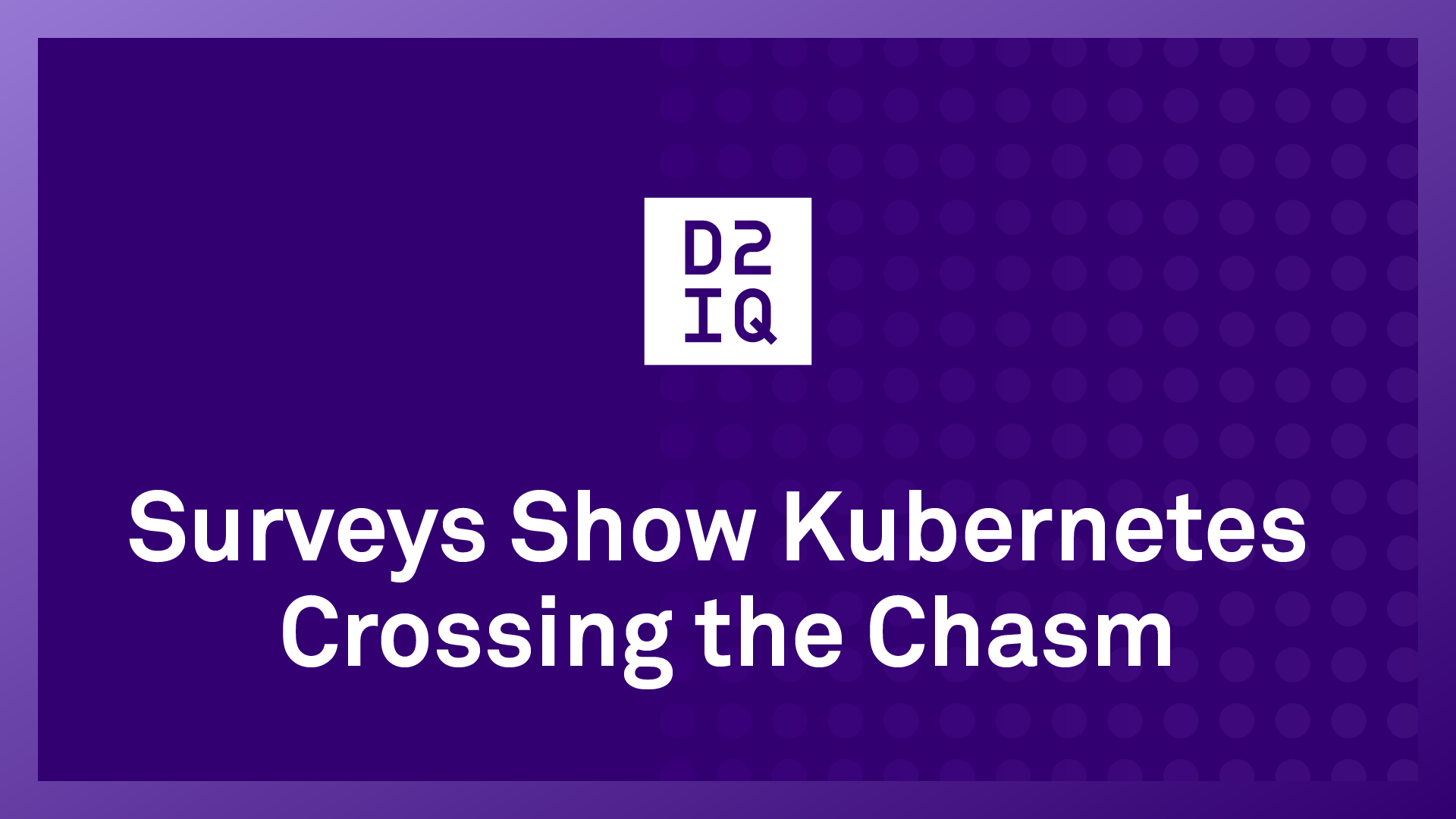 8 min read
Survey insights on Kubernetes, the most widely used container orchestration program.
This adoption rate came only seven years after Google introduced Kubernetes, a cloud-native open-source container orchestration program for deploying, managing, and scaling applications. The origins of Kubernetes lie in Borg, a large-scale internal cluster management system that Google created in 2003-2004 to handle its many thousands of jobs, applications, clusters, and machines. Google was using Linux containers to package and ship its application code and dependencies, and Borg made the process more efficient, enabling Google to achieve high utilization of its data centers.
Pandemic Accelerates Adoption
The impact of COVID-19 on how we work accelerated the timeline for enterprises to move to cloud-native technologies. With its ability to speed development and deployment, Kubernetes played an increased role as businesses took advantage of containers to roll out new apps to streamline internal work and better serve customers in a fast-changing, uncertain world.
In its 2021 Kubernetes Adoption Survey, PureStorage found that 68% of respondents had increased their use of Kubernetes during the pandemic and that 89% expected Kubernetes to play a larger role in the management of their infrastructure over the next 2-3 years.
AI and Kubernetes a Perfect Match
Military Modernization
The same modernization trends that are driving the private sector to adopt cloud-native Kubernetes environments are occurring in the public sector. In 2019, the U.S. federal government moved from a "Cloud First" strategy that granted federal agencies broad authority to adopt cloud-based solutions, to "Cloud Smart," which offers those agencies practical implementation guidance.
Edge and Serverless Show Big Gains
The report, which is a survey of 19,000 developers, found that among edge developers only, Kubernetes usage increased year to year by 11 percentage points to 63%. Serverless architecture also was found to be appealing to edge developers, with 48% of all edge developers reporting using serverless compared to just 33% of all backend developers.
DataDog found that more than one-half of all organizations were using serverless computing on one of the three major public cloud providers. Many of these organizations are using containers in their application development, taking advantage of serverless computing's automated resource deployment along with Kubernetes orchestration.
Zero Trust Security Takes Hold
As the zero trust security model gains popularity, it is being applied to Kubernetes environments. As in the private sector, open source and cloud-native security is emphasized throughout the DoD Software Modernization Strategy, including the imperative that the new software capabilities "must augment and integrate with other infrastructure components to include Zero Trust Architectures (ZTA)."
Kubernetes Maturity Drives Innovation
Key takeaways from the annual CNCF Survey were that Kubernetes has gone mainstream and organizations are adopting less mature but innovative projects to tackle challenges, including monitoring and communications.
One growth area, in particular, Casey notes, is the natural pairing of Kuberntes with artificial intelligence (AI) and machine learning (ML), which he calls a "star duo." With Kubernetes playing a central role in next-generation infrastructure, the only thing hotter than Kubernetes, he concludes, is Kubernetes talent.
Cloud Native Is the Next-Generation Data Center
"By 2025, Gartner estimates that over 95% of new digital workloads will be deployed on cloud-native platforms, up from 30% in 2021."
"More than 85% of organizations will embrace a cloud-first principle by 2025 and will not be able to fully execute on their digital strategies without the use of cloud-native architectures and technologies."