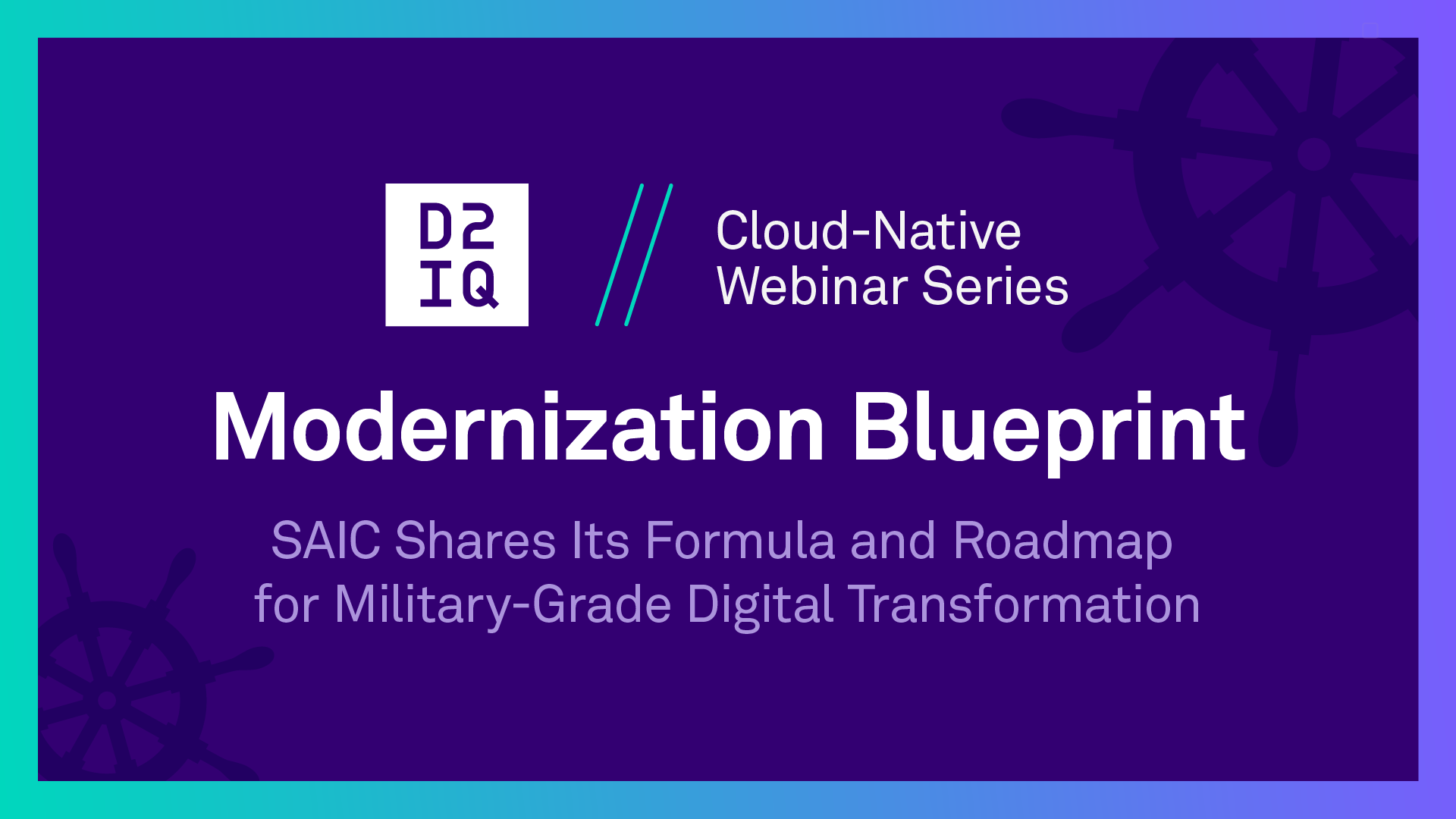 You won't want to miss our upcoming webinar, a must-see event in which Science Applications International Corporation (SAIC) will share its formula and roadmap for digital transformation, including best practices for achieving military-grade Kubernetes.

With cloud-native containerized infrastructures becoming the de facto model for IT modernization, the adoption of Kubernetes is skyrocketing among civilian and government organizations.


As SiliconAngle reported, the military's use of Kubernetes and associated open-source technologies has become so pervasive that the Department of Defense was obliged to issue a service-wide advisory to remind all branches of the guidelines for evaluating and acquiring open-source Kubernetes software.


As a system integrator needing to create highly secure mission-critical solutions for clients that include the U.S. Department of Defense and intelligence communities, SAIC required a repeatable process and secure platform that could be quickly and easily deployed. SAIC chose to partner with D2iQ for its unique ability to simplify Kubernetes and advanced cloud-native deployments.
Armed and Ready with Kubernetes
By partnering with D2iQ, SAIC obtained a production-ready solution that could be deployed in minutes rather than weeks and months, and that provided military-grade security for highly classified environments.
Adopting the D2iQ Kubernetes Platform (DKP) as the basis for its Kubernetes deployments enabled SAIC to:
Simplify deployment
Improve consistency in terms of governance and federation
Avoid one-offs to improve repeatability and scalability
Meet customer demands through a resilient and easily extensible Kubernetes foundation
The Insider Scoop
In this webinar, you will learn insider tips and best practices for:
Evaluating and selecting a Kubernetes platform that is easily manageable and can accommodate continual innovation that arises from the open-source community
Eliminating Day-2 operational barriers that include security, observability, stability, upgradeability, resilience, and governance
Overcoming Kubernetes skills gaps
Establishing a Kubernetes foundation for smart cloud-native applications, including AI, edge, and IoT deployments
Ensuring and maintaining military-grade Kuberntes security across all environments–including cloud, multi-cloud, on-premise, edge, and air-gapped
Meet Us Here
June 30, 2022 at 1:00 PM EST
SAIC Shares Military-Grade Kubernetes Best Practices for Digital Transformation
Presenters:

Tobi Knaup, D2iQ Founder and CEO
Bob Ritchie, SAIC VP of Software
Adam Hesch, Amazon Web Services (AWS) Principal Solutions Architect

Moderator: George Seffers, Editor in Chief of SIGNAL Magazine
As always, don't forget to pass this on. Tell a friend, tell your colleagues, and mark your calendars and meet us at a screen near you!
If you missed our previous webinar, "Three Trends Driving Cloud-Native Adoption" featuring special guest speaker Lee Sustar, Forrester Research Principal Analyst, you can view it in its entirety on demand.

Get started with D2iQ Kubernetes Platform in AWS Marketplace.