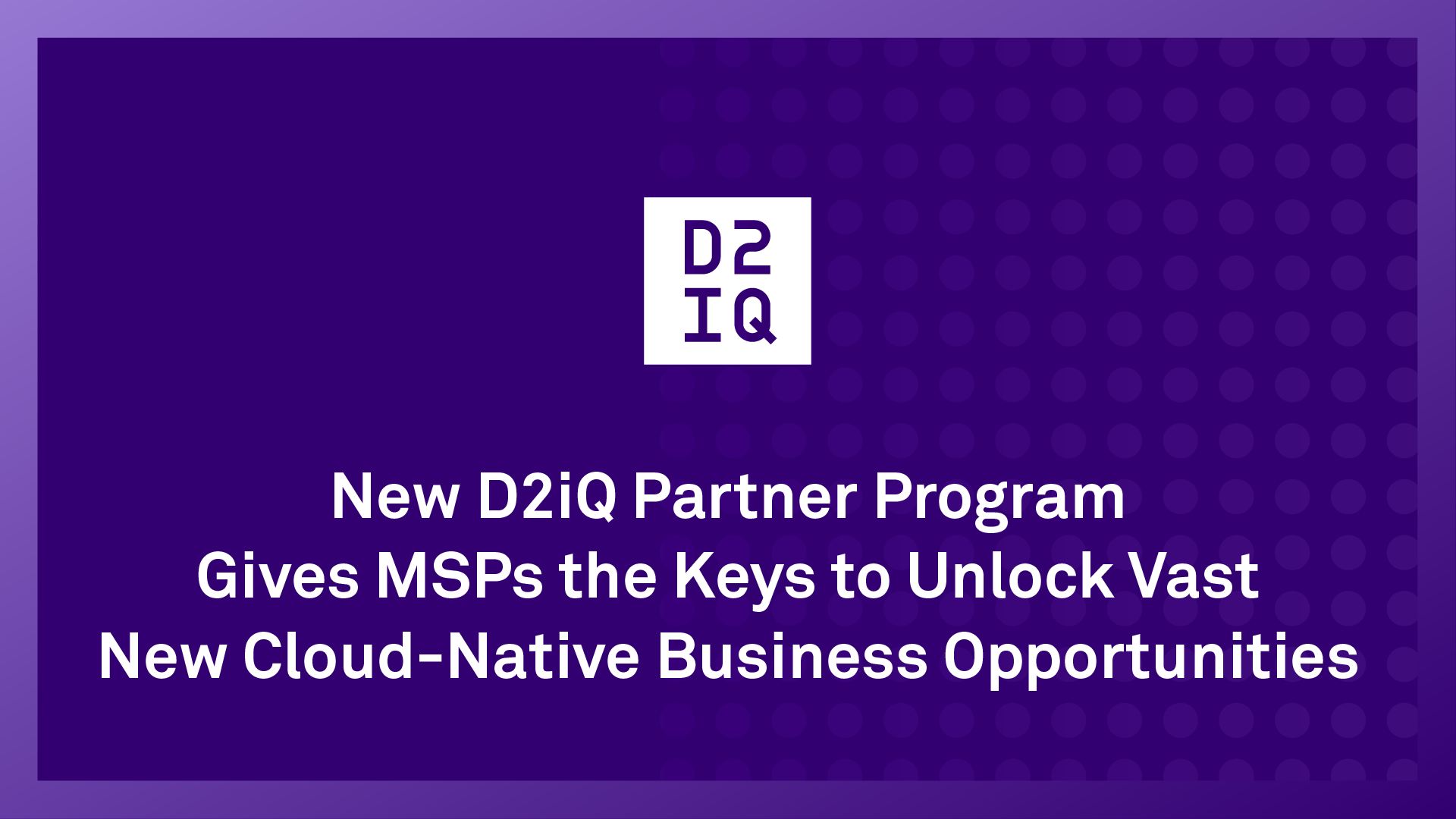 D2iQ is pleased to announce the introduction of a new MSP Program that enables MSPs to capitalize on the vast new business opportunities that are being ushered in by the movement to cloud-native Kubernetes infrastructures.
With Kubernetes establishing itself as the infrastructure of the future, MSPs must provide cloud-native services or risk falling behind more nimble competitors.
Because Kubernetes talent is scarce, a lack of Kubernetes skills can prevent MSPs from providing cloud-native container management services. By partnering with D2iQ, MSPs can gain the Kubernetes technology and expertise needed to provide the cloud-native services that are the foundation of customers' digital transformation and modernization initiatives.
Cloud-Native Kubernetes Challenges
The D2iQ MSP Program enables MSPs to overcome the hurdles they face in deploying and maintaining cloud-native Kubernetes solutions, including:
Lack of expertise in cloud-native technologies. Cloud-native and Kubernetes technologies require specialized skills, including integration with existing systems. This can be an issue for MSPs who lack the necessary expertise or resources to provide the required level of support.
Difficulty in scaling services. The complexity of cloud-native and Kubernetes solutions can create challenges in scaling services to meet the needs of customers.
Security challenges. Implementing cloud-native technologies can introduce additional security vulnerabilities. MSPs must ensure that their solutions meet the necessary security and compliance standards.
Managing costs. MSPs must be able to manage costs associated with providing Kubernetes and cloud-native solutions to remain competitive. Without a deep understanding of the underlying infrastructure and application components of Kubernetes and cloud-native solutions, MSPs will find it difficult to effectively manage and monitor services.
Meeting quality-of-service levels. MSPs must be able to ensure that their solutions meet customer quality-of-service requirements.
Supporting AI and other advanced applications. MSPs face a host of challenges in supporting AI, fast data pipeline, edge/IoT, and other advanced solutions. This is especially difficult for providers with limited resources or expertise.
A Golden Path for MSPs
The D2iQ Managed Service Provider Program is designed to meet the technology and business needs of MSPs through the following features:
Flexible billing packages
Enhanced customer support experience
Convenient contracting terms
Co-marketing opportunities
By partnering with D2iQ, MSPs can offer their customers the most advanced, reliable, secure, automated, and easy-to-manage solutions based on the best-in-class D2iQ Kubernetes Platform (DKP).
To learn more about the D2iQ MSP Program, read the full press release.

To learn how you can expand revenue opportunities by partnering with D2iQ, speak with the experts at D2iQ.