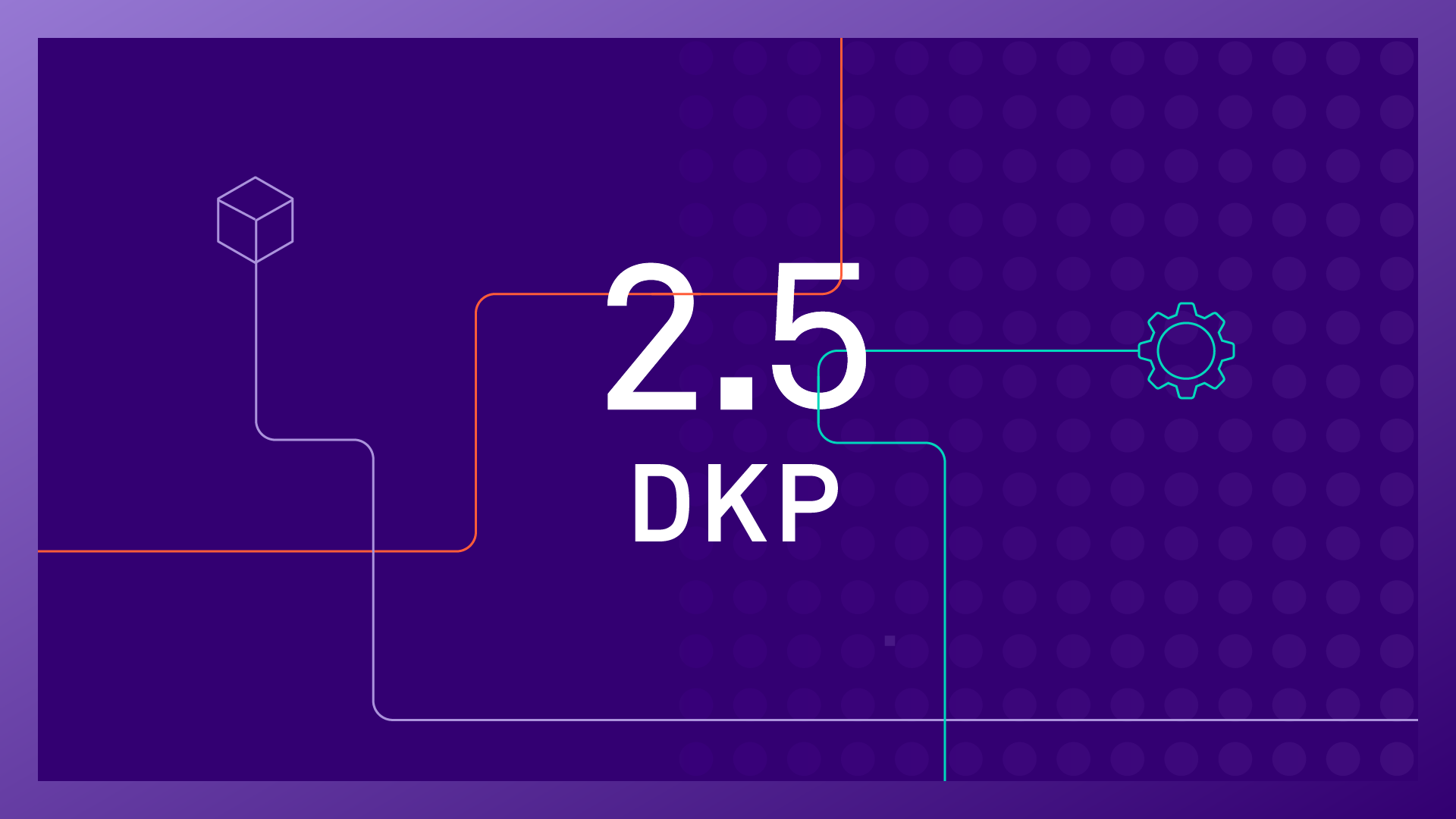 The latest release of the D2iQ Kubernetes Platform (DKP), version 2.5 shows multi-cloud and multi-cluster management reaching greater levels of centralized control. Enhancements include centralized multi-cloud, multicluster fleet management and the ability to easily expand DKP from single-cluster management platform to multi-cluster fleet management platform.
DKP Enterprise 2.5 enables customers with multi-cluster deployments to more easily manage fleets of clusters by federating application management. DKP 2.5 also enables customers to easily move from managing individual clusters to managing an entire fleet of clusters. This includes the ability to easily manage clusters running on other distributions, including managed Kubernetes instances such as Amazon Elastic Kubernetes Service (EKS), Microsoft Azure Kubernetes Service (AKS), and Google Kubernetes Engine (GKE).
Other key enhancements in DKP 2.5 include:
Enhanced DKP Insights for intelligent troubleshooting
Enhanced monitoring, security, and networking with Istio service mesh
Continual Kubernetes Management Refinement
A great deal of engineering effort goes into making DKP easy to manage. If we trace DKP's evolution, we can see a significant leap was made in version 2.0 in which top-to-bottom declarative APIs and simplified cluster lifecycle management were achieved through the addition of Cluster API (CAPI) and Flux.
DKP is designed around Cluster API, which together with FluxCD enables GitOps workflows and provides
instant platform engineering
. This simplifies Kubernetes platform management, enabling you to manage a fleet of clusters across multiple infrastructure providers with a consistent API. This is superior to solutions that use infrastructure-specific, imperative, and brittle scripted deployments.
Getting Cloud and Cluster Sprawl Under Control
Many organizations have different clusters that are managed by different teams, which creates problems stemming from an inability to consistently manage policy, maintain security, ensure compliance, and monitor overall cost and performance.
This type of cloud and cluster sprawl plagues many organizations, resulting in wasted resources and excessive cost. As a
Nutanix survey
showed, "the complexity of managing across cloud borders remains a major challenge for enterprises, with 87% agreeing that multicloud success requires simpler management across mixed-cloud infrastructures."

DKP 2.5 solves these problems by enabling you to seamlessly manage multi-cloud and multi-cluster environments through a centralized management console, giving you true fleet management capability that provides consistency, visibility, security, and compliance.
True Universal Multi-cloud Management
Among the centralized management capabilities DKP 2.5 provides is the ability to manage clusters running across all the major cloud provider services (Amazon Web Serices, Microsoft Azure, Google Cloud Platform) in a seamless and fully automated way. A customer deploying Kubernetes on AWS, for example, can easily deploy and manage clusters not only running on AWS, but on Microsoft Azure, Google Cloud, and on-premise deployments. Clusters can be deployed from any of these services across all the other cloud services with a single click.
The result is a consistent, repeatable approach to managing the end-to-end lifecycle of EKS, AKS, and GKE clusters from a centralized point of control. D2iQ also adds all the supplementary services required to
elevate cloud-managed Kubernetes clusters
to production-ready Kubernetes platforms via an easy-to-deploy turnkey solution.
This multi-cluster, multi-cloud fleet management capabilities is unique to DKP, and is made possible through DKP's centralized management console. Centralized observability and cost management are also made possible through the DKP management console.
Better Insights
DKP Insights is an intelligent troubleshooting capability that has been steadily enhanced since its introduction. DKP Insights analyzes clusters and ensures that best practices are being followed. It can analyze root causes and spot problems in advance, preventing costly downtime and speeding time to resolution.
Enhancements in In DKP 2.5 include an improved user experience, refined workflows, and validating workloads against the Center for Internet Security's CIS Benchmark to verify that your Kubernetes clusters are running securely. Insights is a valuable time-saving, cost-saving, and resource optimization feature that will continue to provide expanded troubleshooting and resolution capabilities as artificial intelligence is infused into the solution.
The D2iQ engineers who continue to refine the management capabilities of DKP are among the most talented Kubernetes engineers in the world, and they share their expertise in the
D2iQ Engineering blog
.
You can read the full DKP 2.5 press release
here
.