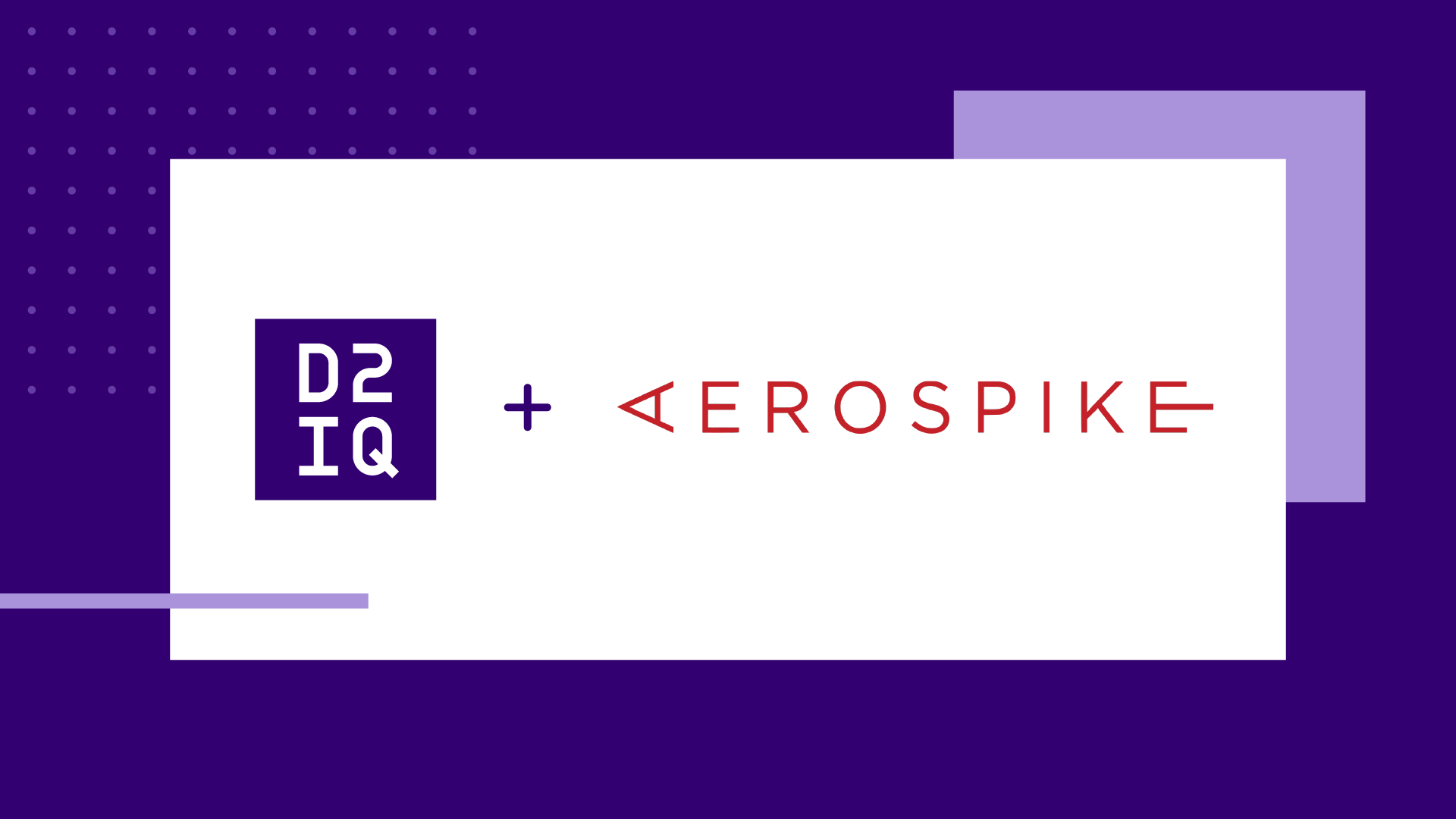 D2iQ and Aerospike have partnered to help developers and data architects spend less time managing and maintaining their infrastructure and more time delivering mission-critical applications that provide business value at scale. The Aerospike Kubernetes Operator has been certified on the D2iQ Kubernetes Platform (DKP) to enable organizations to efficiently deploy and operate Aerospike clusters.


Aerospike is a high-performance NoSQL database that enables high-speed data processing at scale. The solution handles large real-time transactional workloads that support mission-critical applications.


The Aerospike Kubernetes Operator lets you efficiently deploy and operate your Aerospike clusters deployed on DKP. It automates the management of common tasks such as the configuration, provisioning, scaling, and recovery of Aerospike clusters, thereby reducing the complexity of manual deployment and lifecycle management.


Need for a Higher-Performance NoSQL Database
As organizations adopt a microservices architecture or transition between cloud providers to create real-time applications to deliver new business services and enhance customer experiences, they use on-demand, pay-as-you-go, fully elastic, resilient cloud resources. A do-it-yourself approach can be cumbersome without the right tooling. As the number of microservices increases, organizations can expend an enormous amount of effort deploying, integrating, monitoring, maintaining, and updating their various tools and applications.


In addition, many applications need to process and analyze petabytes of data faster, while minimizing end-user friction. Legacy NoSQL databases cannot deliver without deterioration in performance. Modern data-intensive applications can present the following challenges:


Applications need to quickly process and analyze large amounts of diverse sets of data for real-time decision-making to identify threats and take appropriate actions quickly.
Data and platform teams struggle to deliver personalization at the necessary scale. For example, processes can involve hundreds of microservices delivering millions of requests per second, more than 100 billion events per day, and many database clusters in multiple regions.
Product teams struggle to reduce time to market and deliver faster customer value because of too many handoffs and the resulting friction, siloed visibility, and broken feedback loops.


How DKP + Aerospike Add Value
To achieve agility and scalability, organizations need a delivery platform that eliminates management complexity and toolchain siloes while improving the developer experience across multiple product teams.


DKP provides a fully automated and integrated Kubernetes platform for developing and managing container deployments. Through automation that includes Cluster API (CAPI) and GitOps, DKP reduces the operational loads on developer teams. From a user-friendly control plane, DKP enables a variety of development approaches using GitLab. For example, DevOps teams can easily deploy a web application from DKP via FluxCD using GitLab as a repository. In the DKP dashboard, developers can navigate to the cluster to which DKP will deploy.


Aerospike delivers an optimized, resilient, low-latency, high-scalability, real-time data platform that enables organizations to focus on their business applications rather than complex database management issues. A combined DKP and Aerospace solution enables DevOps teams to more easily manage and maintain their infrastructure.


Performance and Manageability Benefits
Deploying Aerospike and DKP together enhances an organization's cloud-native application development capability by providing a more powerful data pipeline platform. Benefits include:


Faster Time-to-Value — Built-in planning, monitoring, and reporting secures your public, private, and hybrid deployments on DKP, and enables you to iterate and innovate faster.

DKP automates many of the manual operational tasks, including Kubernetes cluster management and posture management. It uses a complete declarative approach to automate many formerly manual processes that keep systems running and scaling, resulting in increased uptime and productivity. With Aerospike, you can instantly launch new services at scale with massive device connectivity across highly distributed networks. The combined solution also helps reduce total cost of ownership (TCO).
Superior Reliability at Scale — Organizations have experienced 99.999% uptime for business applications with zero downtime over 10 years. Aerospike enables you to leverage dynamic cluster management and multi-site clustering with strong consistency even at petabyte scale, including globally distributed transactions.


Reduced Server Requirements – Aerospike's hybrid memory system enables a dramatic reduction in node count, usually requiring fewer than one-fifth the number of servers typical of NoSQL and relational database implementations.


Reduced Operational Complexity — Together, Aerospike and DKP reduce the operational load on developer teams. From a user-friendly control plane, DKP enables easy deployment of applications with GitLab as the repository. The Aerospike data platform can provide sub-millisecond latency responsiveness and performance. Highly scalable from tens to hundreds of millions of subscribers per application, Aerospike supports high data ingestion rates with real-time machine learning-based decisioning and can handle 300% application traffic growth with ease.


Bottom Line
In today's demanding cloud-native environments, organizations need cloud-native applications and tools that enable quick builds, on-demand scaling, and secure configurations. Automated tooling is needed to enable DevOps and data teams to accelerate delivery speed and lower management costs for resilient applications at scale.


DKP is the leading Kubernetes platform for developing and managing containerized workloads. While it has many automation capabilities, the addition of Aerospike Kubernetes Operator to manage Aerospike data clusters deployed on DKP further enables DevOps teams to build aggregated, curated data sets with greater resiliency, consistency, and scalability to deliver personalized customer experiences at a low cost of ownership.


DKP automates the management of common tasks such as the configuration, provisioning, scaling, and recovery of Aerospike clusters, thereby reducing the complexity of manual deployment and lifecycle management. The combined solution helps to accelerate deployment of cloud-native applications, reduce cloud footprint and costs, and improve availability and application performance at any scale. Organizations can focus on business applications rather than complex container management infrastructure and database management issues.


To learn more about how your organization can benefit from a combined D2iQ + Aerospike solution, speak with the experts at D2iQ.