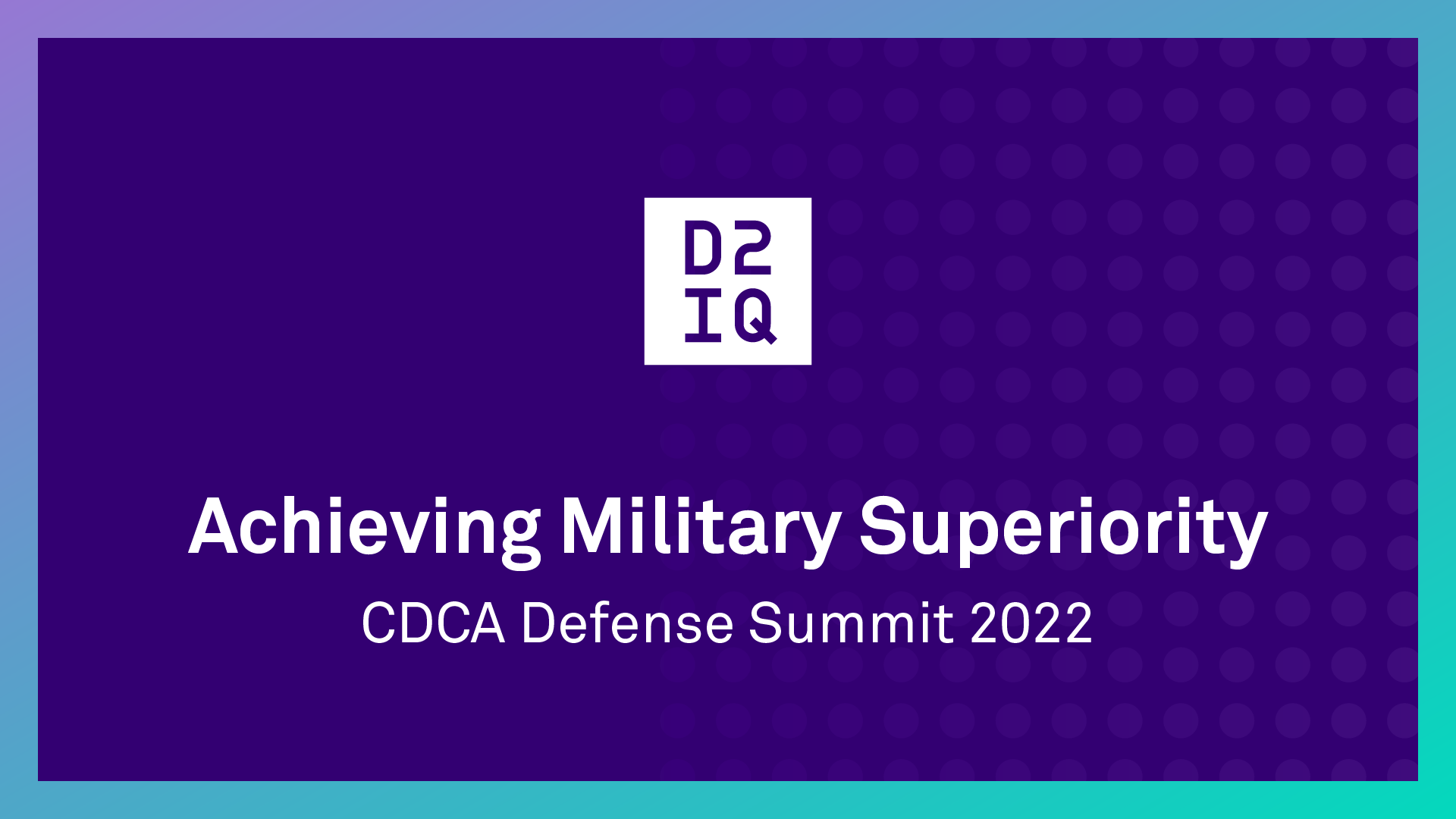 D2iQ is pleased to announce that we will be exhibiting at the 2022 CDCA Defense Summit in Charleston, on December 7-8.
As we have seen in military conferences throughout the year, a consistent theme has been the need to adopt emerging technologies to maintain a strategic and tactical advantage.


Thus, it is no surprise to see that the overarching goal of the 2022 CDCA Defence Summit is to "achieve a National Defense tactical edge no adversary can match."
Some military conferences have focused on achieving tactical superiority in particular areas. Alamo Ace, for example, focused on winning the war in the gray zone, while the upcoming
DoDIIS conference
(at which D2iQ will also be participating) is heavily focused on leveraging artificial intelligence (AI).
Unifying the Armed Forces
As the 2022 CDCA Defense Summit agenda states, the conference "will serve as a mechanism to address current and future digital, cyber and unmanned system innovations to enhance interoperability across Defense Assets."
In his keynote address, Secretary of the Navy Carlos Del Toro will talk about "Key steps our government is taking today to ensure we are keeping up with our adversaries and effectively enhancing the agility and interoperability of our National Defense Assets."
To achieve this objective, attendees at CDCA 2022 will be looking for the best solutions to enable the U.S. military to achieve tactical superiority through
unified communications
to coordinate battlefield movements among disparate military units.
Among the topics being addressed at CDCA 2022 are how advances in technologies like AI/ML, cloud computing, quantum computing, and 5G are changing the U.S. military's approach to cybersecurity and how to conduct future defensive and offensive cyber operations.
Why D2iQ for Military Modernization?
D2iQ's military and government customers include the U.S. Department of Defense, U.S. Air Force, U.S. Navy, U.S. Department of Homeland Security, U.S. Missile Defense Agency, U.S. Space Force, and more.
Why have so many military and government agencies chosen D2iQ as their Kubernetes platform for modernizing their infrastructure? Friction-free deployment, management, upgradeability, and extensibility are key reasons.
The D2iQ Kubernetes Platform (DKP) is unique in providing extreme stability, security, observability, ease of development, openness, edge/IoT, and other advanced capabilities in a ready-to-go enterprise-level platform. To reduce the burden on developers to enforce security, DKP is secure by default, providing military-grade-security while meeting all
NSA/CISA security hardening guidelines
.
DKP gives military agencies a fully automated and production-ready Internal Development Environment (IDE) that can be installed in minutes. In essence, DKP provides instant platform engineering and a "golden path" in the form of a Kubernetes IDE.
This is why SAIC, a major military and government system integrator, chose DKP as the Kubernetes platform on which to build solutions for its military customers. As
SAIC CTO Bob Ritchie notes
, besides being a solid foundation for current and future innovation, DKP is unique in its ability to enable an air-gapped security environment to be deployed in minutes.
Meet Us at Our Booth
If you are attending
2022 CDCA Defense Summit
, be sure to stop by booth #209 to speak with some of the best minds in the Kubernetes space. Learn why so many government and military agencies are choosing the D2iQ Kubernetes platform for their modernization efforts.