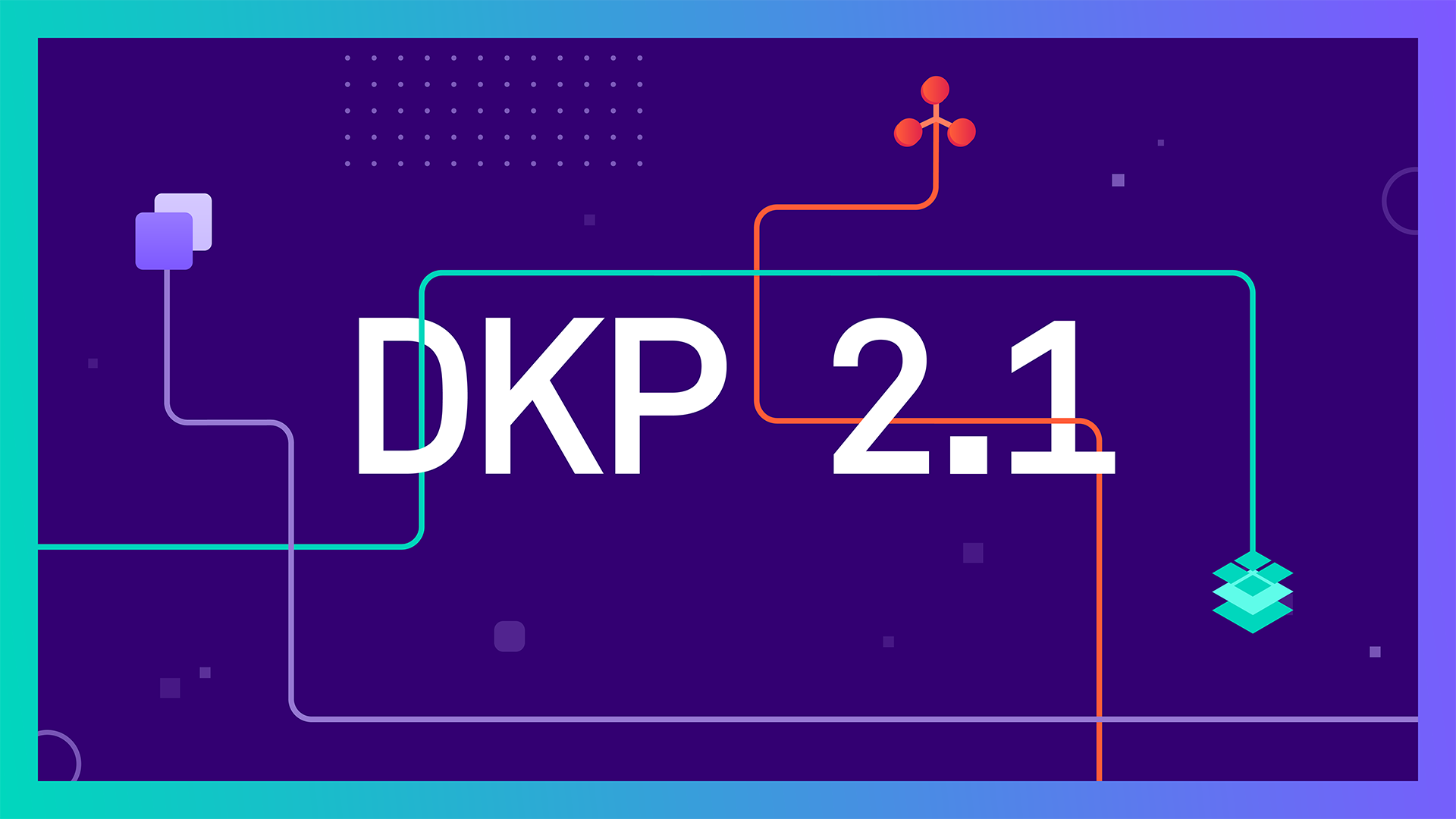 3 min read
Click here
for more information on
D2iQ Kubernetes Platform
.
Here at D2iQ, we spend a lot of time listening to our customers, and we welcome any feedback that can make it easier for organizations to get into production at scale with Kubernetes.
Today, we're pleased to announce the general availability of the D2iQ Kubernetes Platform (DKP) version 2.1, including D2iQ Konvoy 2.1 and Kommander 2.1. As a fast follow-on to version 2.0, the new release comes with improved automation for DevOps, more efficient operations, and enhanced management and control of Kubernetes through Cluster API. These changes are driven by the feedback from all of our customers. Thank you for trusting us to provide the platform to power applications across any infrastructure.
Version 2.1 contains a number of benefits for existing customers, including:
EKS/AKS Lifecycle Management: Kommander 2.1 provides customers with the ability to provision, spin up, and de-provision Amazon's Elastic Kubernetes Service (EKS) and Microsoft's Azure Kubernetes Service (AKS), in a fully automated way. The result is a consistent, repeatable approach to managing the end-to-end lifecycle of EKS and AKS clusters from a single, centralized point of control.
Integrated GitOps Workflows: Kommander 2.1 now supports continuous delivery and deployment using FluxCD, which is designed for Kubernetes and supports multi-cluster and multi-tenant use cases. Customers can configure Kommander projects with continuous deployments, which enables canary and A/B deployments, as well as roll-back. Kommander now uses a completely declarative approach, which automates many of the formerly manual processes that keep systems running and scaling.
Single Command Cluster Provisioning: Through the reduction of steps needed to provision or remove clusters, from eight steps to one, Kommander 2.1 now allows for provisioning and managing of clusters from a single command, making it easier than ever to get your infrastructure up and running quickly.
Enhanced Diagnostic Bundles: DKP 2.1 can now collect enhanced diagnostics for Kubernetes components and node-level instrumentation around CPU, memory, disk usage, and OS health, to reduce the time needed to diagnose and fix problems, resulting in less downtime for customers.
Improved Air-Gapped Installation: Rather than having to install one enormous bundle, organizations can install Konvoy, Kommander, and OS dependencies in three, separate smaller bundles that fit on a thumb drive or portable drive. This further simplifies the process of standing up Kubernetes in an air-gapped environment.
FIPS 140-2 Validation: Konvoy 2.1 can now fully validate FIPS 140-2 compliance; a key requirement for many federal agencies. This streamlines the compliance validation process without the onerous manual effort, enhancing the security and flexibility for Kubernetes.
ML in a Box with NVIDIA: DKP 2.1 provides turnkey ML capabilities with DKP certification on the NVIDIA DGX platform. NVIDIA DGX customers will get a robust Kubernetes platform (Konvoy, Kommander), a powerful ML platform (Kaptain), and the NVIDIA DGX into a certified and tested solution.
Data Pipeline Provisioning: With Kommander 2.1, customers can simplify and accelerate the provisioning of fast data pipelines, such as Spark, Cassandra, and Kafka, in all environments, including edge, from the Kommander catalog of platform applications.
We've also expanded the range of supported operating systems to include RHEL 8.4, Oracle Linux, Ubuntu 18.04, and Ubuntu 20.04, and have achieved vSphere 7 certification, all in response to customer requests, because we value your ability to do things the right way for you.
And on the advanced use cases angle, stay tuned: we'll have some exciting Kaptain news to share with you right around the New Year.