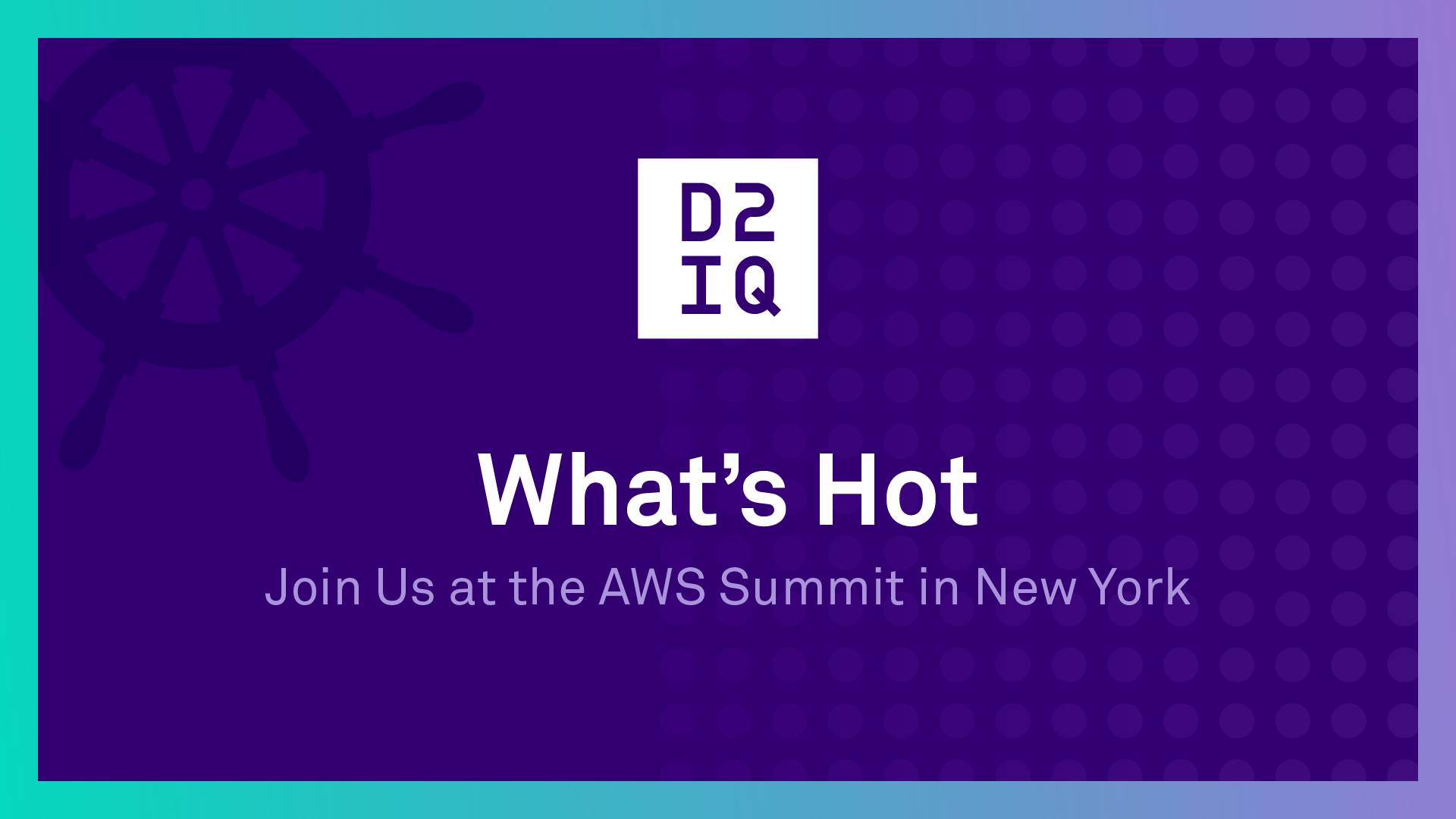 6 min read
Meet us at AWS Summit NYC!
July 12, 2022
Javits Center, New York City
Booth 751
Sign up today!
We are excited to be participating in this year's
AWS Summit in New York
as a sponsor. Like the AWS Summits in Atlanta and Washington DC, the big trends AWS is highlighting at the New York Summit are artificial intelligence (AI), machine learning (ML), analytics, business intelligence, modern applications based on containers, and the Internet of Things (IoT).

These are the same technologies (cloud native + AI) that we at D2iQ believe are the key ingredients for the next generation of infrastructures and applications, which we call smart cloud-native platforms and apps.
D2iQ CEO Tobi Knaup provides his expert insights into the rise of smart cloud-native platforms and apps in two recent articles published in
DevOps Digest
and
The New Stack
.

These smart cloud-native technologies are part of a major disruption that will touch every organization and determine every organization's ability to compete in their market sector.
Cloud Native Is the New Data Center
The rise of smart cloud-native platforms and apps is the culmination of a major trend in which cloud-native environments are replacing the traditional data center.
Gartner predicts
that "more than 85% of organizations will embrace a cloud-first principle by 2025 and will not be able to fully execute on their digital strategies without the use of cloud-native architectures and technologies."
As Gartner distinguished vice president
Milind Govekar asserts
, "There is no business strategy without a cloud strategy."
DevOps Becomes GitOps
Organizations are modernizing their IT infrastructures through cloud-native Kubernetes to achieve agility and speed to market. At the heart of all cloud-native Kubernetes deployments are DevOps. Here too, a major transition is occurring as DevOps become GitOps, chiefly through the combination of Git and Flux.
As Flux creator
Michael Bridgen explained
, "Flux was the project that gave rise to 'GitOps,' which helps teams manage the complexity of operating Kubernetes, and has potential to expand well beyond."
Security Is Key for Public and Private Sector
As Kubernetes deployments skyrocket in the private and public sectors, security is a critical concern for all organizations. As Gartner notes, "The migration to multi-cloud environments forces security and risk management leaders to rethink their network security architecture."
As
SiliconAngle recently reported
, the military's use of Kubernetes and associated open-source technologies has become so pervasive that the Department of Defense was obliged to issue a
service-wide advisory
to remind all branches of the guidelines for evaluating and acquiring open-source Kubernetes software.
This
Kubernetes security brief
explains how the D2iQ Kubernetes Platform platform meets all the NSA/CISA Kubernetes security hardening guidelines, while this
JADC2 solution brief
explains why D2iQ is unique in its ability to meet the advanced Kubernetes capabilities required by JADC2. See also this
Kubernetes Security cheat sheet
for implementing military-grade mission-critical Kubernetes security.
AWS and D2iQ: Better Together
For customers who deploy on AWS, D2iQ can not only enhance your cloud-native enterprise Kubernetes capabilities, but enable you to reduce the complexity of AI operations and get on the winning side of the smart cloud-native revolution.
If you are attending the AWS Summit in New York, stop by the D2iQ booth to learn how you can extend your AWS deployment to simplify DevOps through GitOps workflow, boost your productivity, agility, speed to market, and equip your organization to master the smart cloud-native future. Don't miss the opportunity to speak with some of the best minds in the cloud-native enterprise Kubernetes space.
Meet Us Here
AWS Summit New York
July 12, 2022
Booth 751
(Registration is FREE!)


As always, don't forget to pass this on. Tell a friend, tell your colleagues, and mark your calendars and meet us at AWS Summit New York!
If you like what you saw here, be sure to share this post with your co-workers and friends because we want to hear from you! Follow us on Twitter @
D2iQ
, find us on
LinkedIn
, or subscribe to the
D2iQ YouTube Channel
.
When posting on social media be sure to tag the AWS channel: @AWScloud and use the hashtag #AWSSummit and #AWS.