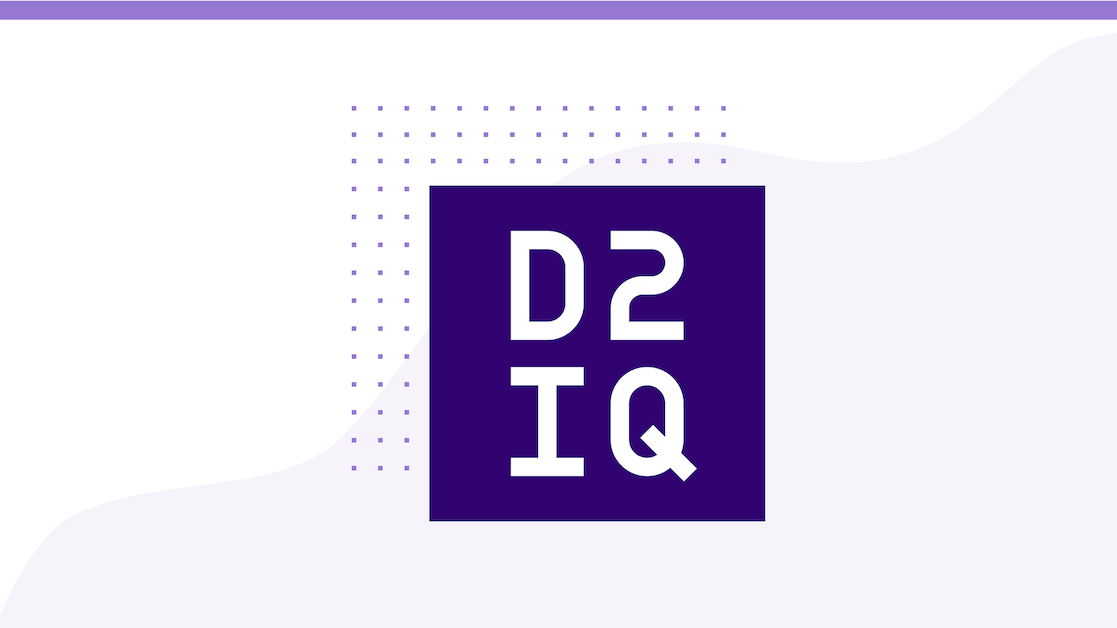 Want to see a demo of our latest release? Join our webinar June 5, 2019 at 10:00 AM PST. Register here
Innovation doesn't stand still, and neither do your competitors. The need for continuous improvement is not limited to DevOps teams, your core business needs it.
That's why today we are proud to announce the availability of Mesosphere DC/OS 1.13, the enterprise choice for hybrid and multi-cloud deployments across any infrastructure. Deliver traditional, data-driven and cloud-native applications on a single platform across your on-premise private clouds, public clouds and edge infrastructure with a consistent developer and operator experience.
Mesosphere DC/OS 1.13 builds upon our core focus of delivering enterprise-grade cloud solutions so you can optimize your IT infrastructure while also investing in innovation and digital transformation projects.
Part of our core mission at Mesosphere is to make it insanely easy for you to build world-changing applications. You don't do that if your specialist teams are spending their time focusing on the underlying plumbing.
This release focuses on making your teams even more efficient, allowing them to integrate with your existing core systems for enhanced observability, operational efficiency and a more streamlined developer experience.
Of course, a cloud platform is only as good as the services you can deploy on it. Mesosphere is committed to making it easy for you to consume the very best of today's prevailing open-source projects to make your life easier.
Enhanced Observability for Operations Teams
To paraphrase that great management consultant Peter Druker, "What you can measure, you can improve." To that end, this release builds upon the foundations of our previous release and takes it to the next level.
With an enhanced metrics pipeline to scale to even larger and more distributed deployments, we also now enable out of the box pre-configured components to integrate with an external Elasticsearch cluster.
This delivers a simple way to speed up troubleshooting and root cause analysis with log and event correlation within familiar industry-standard tools.
Additionally, we also enable pre-built Grafana dashboards for enhanced visualization of current and historical state. Rather than spend your time building dashboards with custom tools, we save you the time to focus on actually improving your application and service delivery.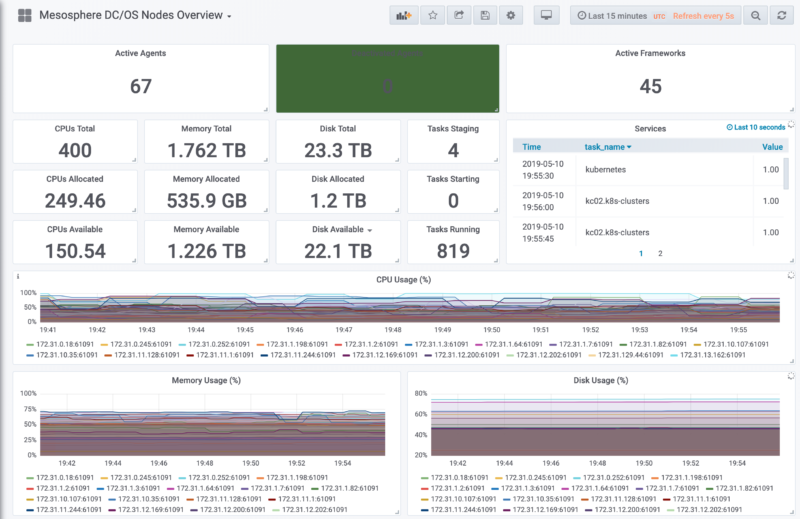 Enterprise-Grade Familiarity Meets Cloud Native Speed
Today's cloud platforms need to be fast, secure and keep your applications running. The three most important additions to this release further improve these capabilities
Many of our customers use Mesosphere DC/OS to deploy advanced artificial intelligence and machine learning workloads and rely on hardware GPU acceleration across multiple infrastructure providers. The nature of these workloads is often a long queue of batched jobs.
We've made it easier to ensure your batch jobs can take advantage of the built-in secret credential store and improved the performance for deployments that span cloud providers.
Additionally, you can now take further advantage of your powerful GPUs to accelerate more of your slower long running batch jobs.
Even in cloud environments, underlying host infrastructure maintenance is sometimes required. Especially for those customers who are in the process of migrating workloads out of private data centers and into one or more public cloud providers.
Automated workload relocation for running services is triggered when a node is decommissioned. This gives your critical applications an additional layer of protection to ensure business continuity.
Increasing Developer Productivity
Cloud Native applications are the central pillar of almost all new development and digital transformation efforts, most commonly based upon Kubernetes as a container orchestrator.
Ensuring that your users and integrated microservices can reach your newly deployed application is important, but often complicated. There are network policies, routing, bandwidth throttling, security, session management and availability concerns to keep track of. When you deploy multiple Kubernetes clusters on the same nodes, this challenge can be further exacerbated.
That is why we are previewing the DC/OS Kubernetes Load Balancer (DKLB) to deliver an API enabled load balancer for your Kubernetes clusters that seamlessly integrates with the Mesosphere EdgeLB service.
Keep your developers focused on your application instead of network traffic while also ensuring your security policies are enacted.
Staying on the topic of productivity, it is important for both developers and operations teams to get accurate and timely information about your application and services state. Previously the GUI provided a summary of this information, and to get more detailed information you needed to use the CLI.
With this release, there is now fidelity between the GUI and CLI with respect to status and Plan State so you can easily see exactly what is happening.
The last feature, while seemingly small, is one that will ease lifecycle management of your Mesosphere DC/OS deployments. We have separated the GUI from the core platform to enable individual updates. This allows us to deliver continuous improvements to your user experience without requiring a platform upgrade.
Curating The Very Best Open Source Services
The core of us making it insanely easy for you to build world-changing products with DC/OS is powered by the Service Catalog.
A curated selection of the very best prevailing open-source projects that enable you to build data-driven and cloud-native applications.
This release also sees significant updates for distributed data services and artificial intelligence services:
For those who may be interested in learning more about DC/OS, click here to request a demo and we will be glad to assist you with your needs.
With DC/OS 1.13 we are proud of the work done by our engineering teams to ensure your developers can focus on building value-added cloud-native applications instead of infrastructure deployments.