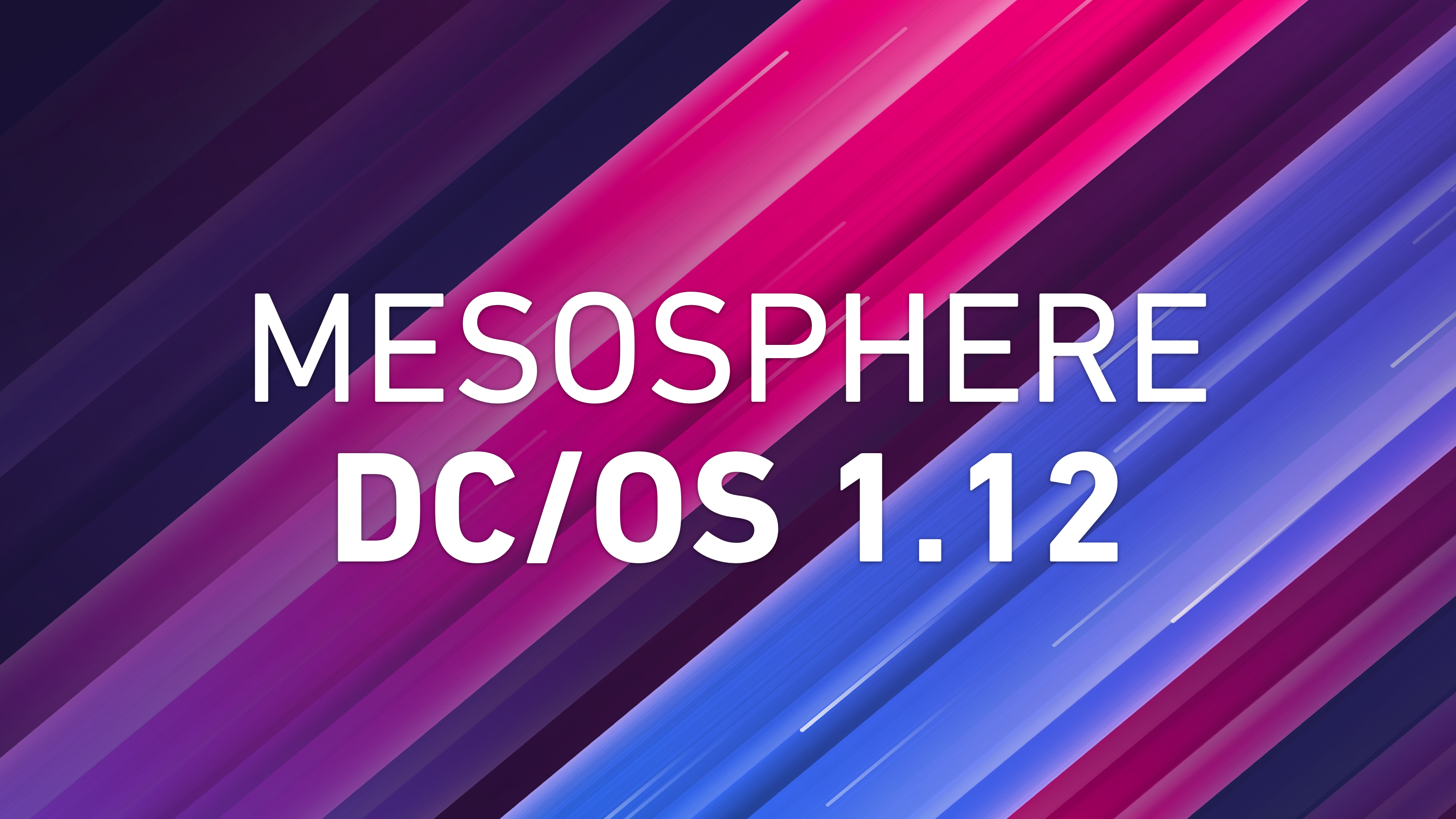 To stay relevant in today's competitive landscape, your organization's IT infrastructure must be agile enough to respond quickly to changing business demands.
Today, we are excited to announce the availability of Mesosphere DC/OS 1.12, an enhanced cloud platform for enterprises to run traditional, cloud-native, and data-driven applications on multi-cloud and edge infrastructures.
We are also announcing Mesosphere Kubernetes Engine (MKE), which makes it easy for Enterprise IT organizations to orchestrate Kubernetes infrastructures with breakthrough levels of efficiency using high-density multi-cluster pooling.
And we're not stopping there - also in beta availability is the Mesosphere Jupyter Service (MJS), which accelerates machine learning projects at lower costs.
The Cloud Platform for Enterprise Multi-Cloud Operations
Mesosphere DC/OS (Distributed Cloud Operating System)has long been about bringing consistent automation to different infrastructures. According to our recent Cloud Native Ecosystem Survey Report, multi-cloud adoption has experienced a 2x increase in the last two years alone. Today, one out of four Mesosphere users are running on multiple cloud providers.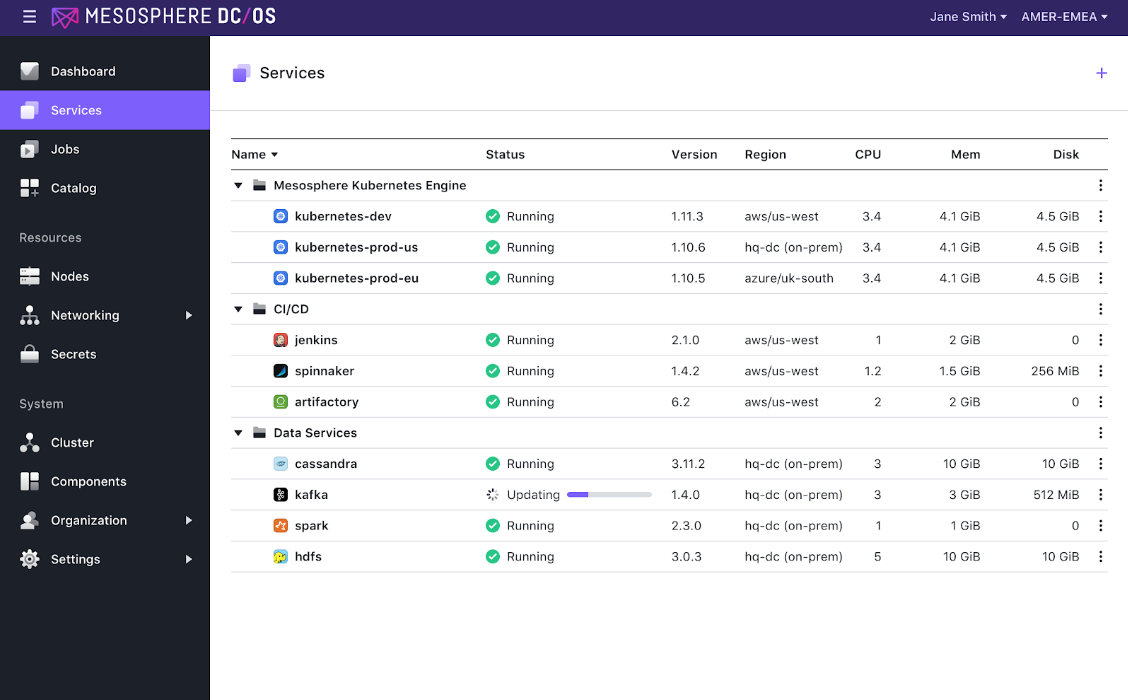 On prem infrastructure isn't going away anytime soon either. In fact, Mesosphere users are now more hybrid than cloud-only. This means delivering what you need for hybrid operations, and bringing the benefits of cloud services to datacenter. In addition to reliability and performance improvements, we've also added some great new features to 1.12. Below are a few highlights: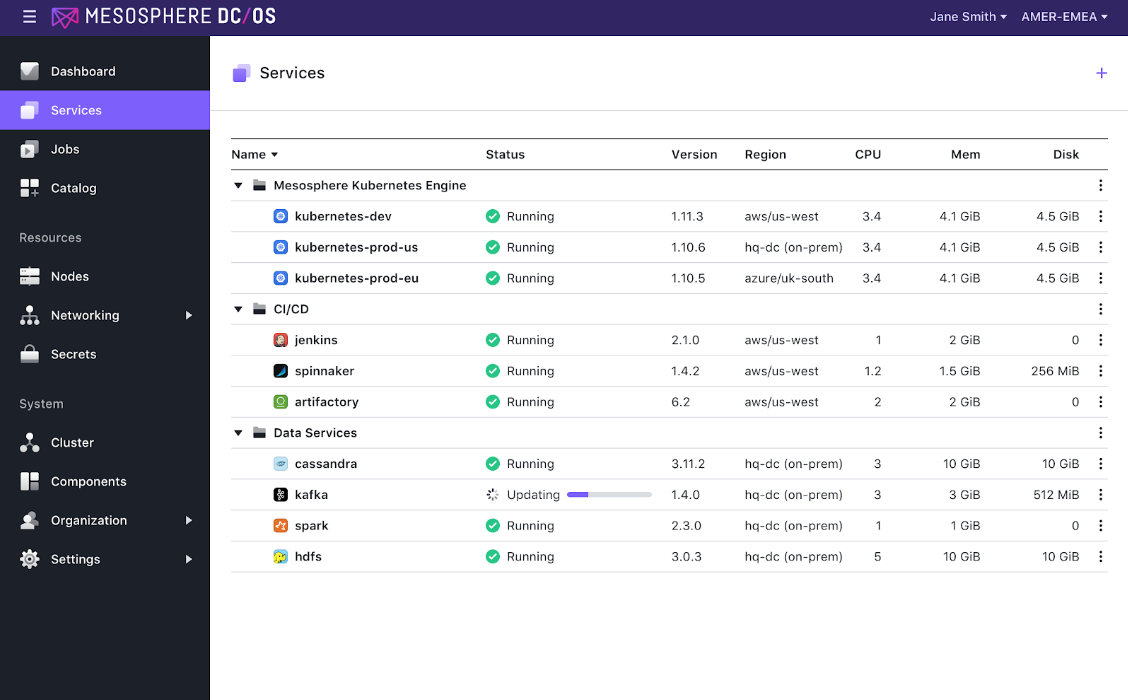 Edge and Multi-Cloud Management
Today's organizations require a simple and consistent experience across multiple public cloud providers, on-premise data centers and edge environments to respond quickly to changing business demands. Mesosphere DC/OS provides a consistent, secure and scalable operator and developer experience, no matter where you deploy. New with DC/OS 1.12 is the Universal Cloud Installer, which offers an intuitive, streamlined installation to spin up a DC/OS cluster with four easy steps in 10 minutes. Upgrading is just as easy.
Secure User and Software Control
Enterprises today need to securely protect themselves from threats and respond quickly to organizational changes - all while ensuring software packages and versions comply with company standards. DC/OS introduces the Private Package Registry, that enables you to maintain and curate an internal service catalog that's completely air-gapped. Developers have instant access to software while IT maintains control. By delivering deeper integration with enterprise directory systems and simple private registry deployments, you can automate access control and ensure software policy compliance. DC/OS 1.12 adds LDAP integration improvements including dynamic synchronization, and anonymous binding.
Real-Time Operational Visibility
Applications, both microservices and traditional, have increasingly complex dependencies and data workflows. Gaining insight into these environments is challenging but critical to ensuring performance goals are met, reducing troubleshooting time and enhancing capacity planning. DC/OS 1.12 improves the internal metrics service, leveraging well-known collection, shipping, and aggregation frameworks, like Telegraf and Prometheus. This means metrics can be consumed across clusters in real-time, so you can make the right decisions faster.
Mesosphere Kubernetes Engine (MKE)
Development teams are selecting Kubernetes as their preferred platform to help innovate and drive business value. This proliferation of Kubernetes clusters across public, private and edge infrastructure has resulted in numerous unique solutions, many of which fall outside the visibility of central IT. The result is increased infrastructure and operational costs, increased security risk, and dependency on specialized hard to find talent.
Now, Mesosphere Kubernetes Engine allows IT to centralize scattered and sprawling Kubernetes clusters on a bare-metal, virtualized, or public cloud infrastructure, so you can reduce operational overhead, tighten security controls, and dramatically cut infrastructure costs.
Consolidated Multi-Kubernetes Management
A centralized self-service control plane for IT organizations to manage multiple Kubernetes clusters, on multi-cloud, datacenter, and edge infrastructures
High Density Multi-cluster Pooling without Virtualization
Multiple Kubernetes components, including different clusters, can fit in single server, VM, or cloud instance allowing for 2x or more reduction in infrastructure.
Kubernetes Lifecycle Automation
Automagically applied best practices for Kubernetes installation, upgrade, high availability, performance and security.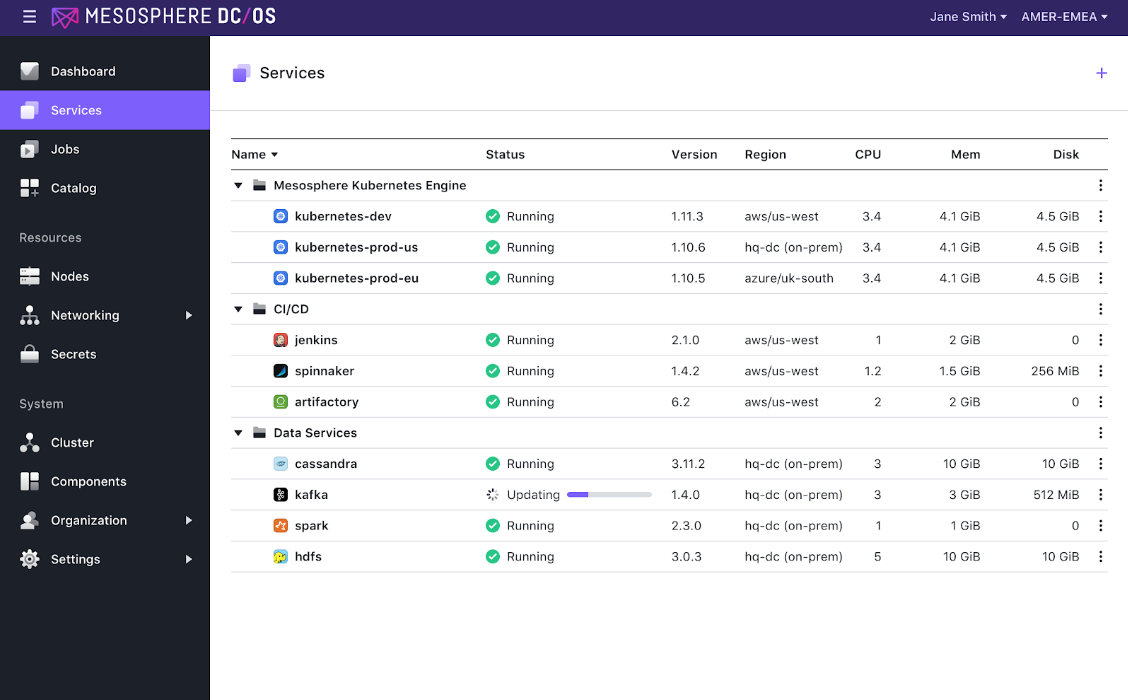 Accelerate machine learning projects with lower costs
It all starts with the data, which The Economist proclaimed is the new oil. If data is the new oil, then machine learning is the process of extracting and refining the oil so it becomes useful. Just collecting and sitting on data doesn't create new value streams. The challenge is delivering machine learning models requires specialized tools, and tremendous computational resources processing massive data sets. These challenges slow down progress and increases the risk of data leaks. That's not to even mention highly-paid data scientists that are inefficiently utilized.
Mesosphere Jupyter Service Beta (MJS) gives data scientists on-demand access to the popular Jupyter interactive computing environment. MJS pre-integrates all the tools data scientists need to be productive, and lets them work directly against enterprise data sources on any infrastructure. Data scientists can use high performance infrastructure for model development, securely share research, and confidently push models to production.
Jupyter Notebooks-as-a-Service
Instead of waiting for tools and infrastructure, data scientists can hit the ground running on day one with a fully functional, interactive Data Science development environment (Jupyter Notebooks), delivered as-a-Service, pre-configured with all the tools, frameworks and libraries required.
Instead of downloading data to their laptops for analysis, data scientists work directly on shared infrastructure, this means IT can leverage integrated security controls permitting fine-grained access to notebooks and data sources.
Machine Learning Acceleration
DC/OS replaces isolated gateway nodes typically used for model training with a general purpose resource pool, which means notebooks are integrated with high performance cluster-computing resources and distributed analytics engines to accelerate model training.
To get started with Mesosphere Kubernetes Engine, Mesosphere Jupyter Service (Beta), or DC/OS 1.12 dcos.io, click here to sign up for a demo.