Product
2018 Mesosphere Cloud Native Ecosystem Report | D2iQ
Kubernetes is the fastest growing workload on the Mesosphere platform.
Each year, we survey Mesosphere users to get insight into usage statistics and key industry trends. To get a better sense of what changed and what stayed the same, this year's report included 744 responses from 2016 and 2018. We also incorporated monthly download statistics to determine which services--like Kubernetes, Kafka, Spark, and more--are being leveraged by our users. To learn more about what we uncovered, check out the full
Mesosphere 2018 Cloud Native Ecosystem Report
.
This year's survey results have clearly highlighted growth in two key areas--multi-cloud and Kubernetes. For this initial blog post we will focus on the growth of Kubernetes, which reigned supreme as the most popular ecosystem workload that Mesosphere users are launching on our platform today.
Kubernetes is the Most Popular Ecosystem Workload
The average user of Mesosphere runs three or more services on the platform, with some running more than 11 different services in one cluster. Within one year, the volume of the Kubernetes workloads launched on Mesosphere has skyrocketed to become our most popular workload. The growth of Kubernetes usage on Mesosphere clearly echoes its popularity in the market.
Big data services, such as Kafka, Cassandra, and Elastic are also all very popular, followed directly by analytics and machine learning (including Spark and TensorFlow)--with over 68% of respondents using at least one of these services.
Check out the chart below to see how all of these workloads staked up.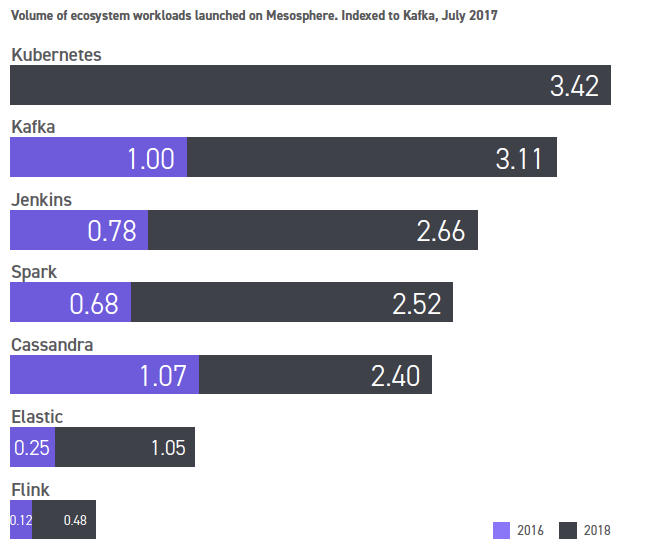 Companies Run Kubernetes on Mesosphere to Simplify Automation and Management
To dig further into these stats, we asked our survey participants what is driving interest in Kubernetes on Mesosphere. Ninety-seven percent of respondents chose simplifying deployment as the top reason, followed by ease of upgrade, scaling out, and administrative support. This isn't a huge surprise since Kubernetes implementation and management is known to be difficult and resource intensive.
Clearly, the main drivers for implementing Kubernetes on Mesosphere are around simplicity, scale, and flexibility. These drivers are especially critical for enterprise organizations and companies who need to operate multiple Kubernetes clusters. Take a look at the chart below to see the breakdown around what attracts people to run Kubernetes on Mesosphere.