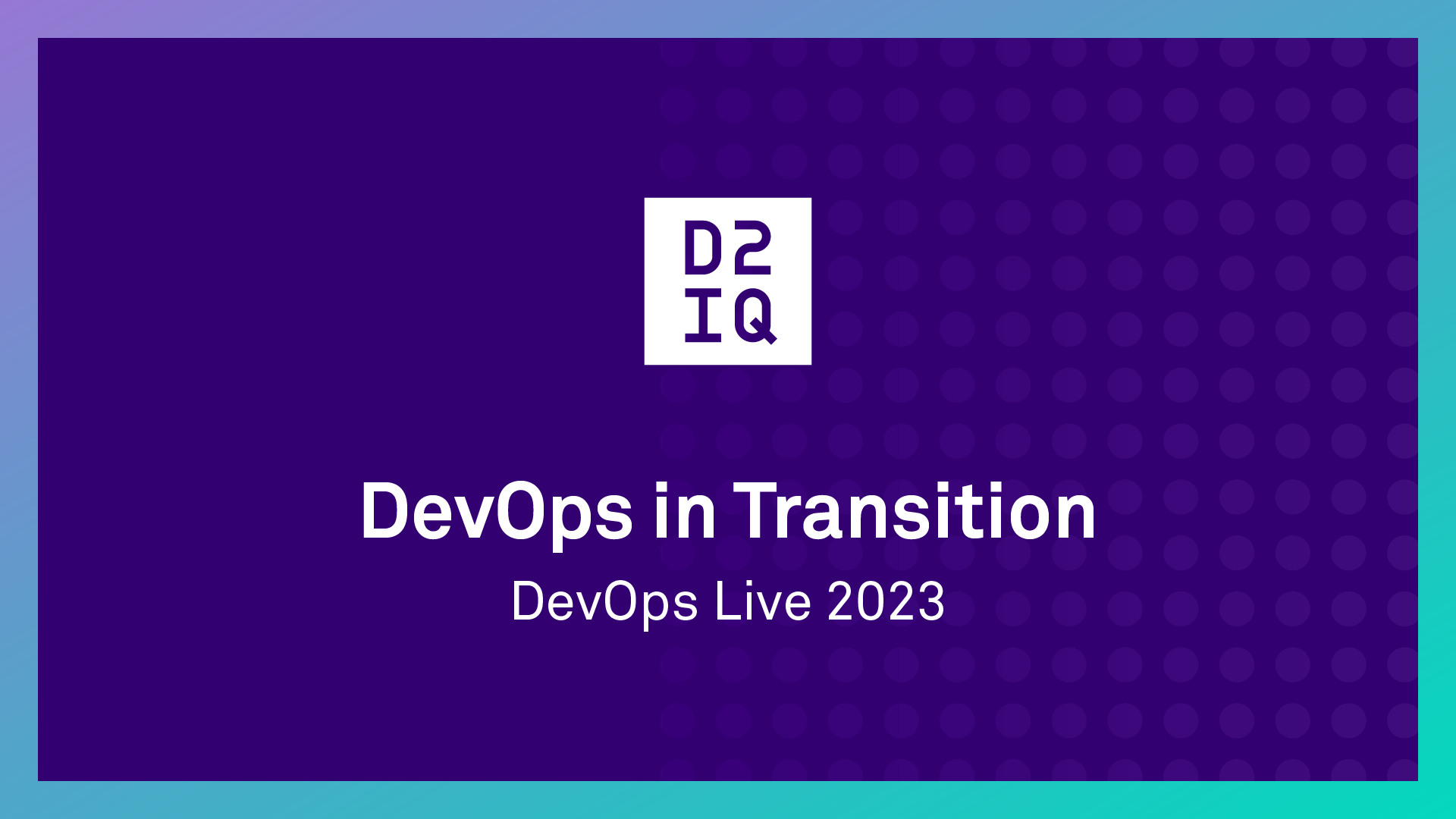 D2iQ is pleased to announce that we will be exhibiting at DevOps Live 2023 in London, March 8-9, 2023. A highlight of the conference will be D2iQ Principal Software Engineer Jimmi Dyson as a featured speaker presenting "
How Kubernetes Is Transforming DevOps
."
Jimmi's topic complements the main themes of this year's DevOps Live, which are:
DevOps in the Enterprise
DevSecOps
Cloud Native DevOps
Skill, Talent & Culture
Besides Jimmi's session, attendees will be able to learn how D2iQ addresses all these themes from the D2iQ experts who will be onsite at the conference.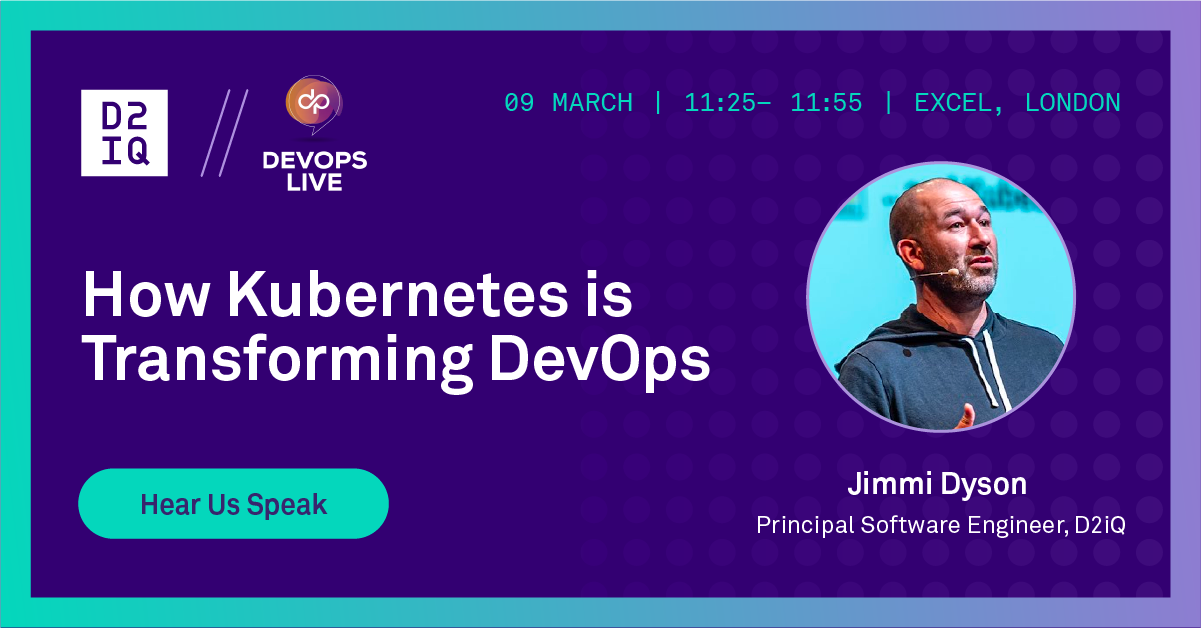 Death Knell for DevOps
The practice of DevOps has been under heightened scrutiny in recent months as the idea of platform engineering as a replacement for DevOps has come to the fore.
As Humanitec's "
State of Platform Engineering Report
" relates, "Platform engineering is one of the hottest trends in DevOps and infrastructure. And for good reason: platform engineering is the next evolution of DevOps."
Humanitec goes as far as to assert that "DevOps is dead, long live platform engineering!"
D2iQ CEO Tobi Knaup
also predicts
that "platform engineering will soon phase out traditional DevOps approaches, aided by an internal development platform that provides a 'golden path' to 'more easily deploy, manage and scale Kubernetes and applications on top.' "
Platform engineering emerged as a trend at KubeCon 2022, where
Intellyx principal analyst Jason English stated
that if there was one big takeaway from the conference, "it would be the reemergence of the platform paradigm in cloud-native clothing."
In his article entitled "
Instant Platform Engineering for the Cloud
," Tobi Knaup explains how platform engineering takes the burden of managing Kubernetes infrastructure off the shoulders of DevOps teams. "Rather than having to understand the inner workings of the IT infrastructure," he explains, "developers can focus on writing and shipping code in an efficient and reliable manner."
Tightening Security with DevSecOps and Zero Trust
As the DevOps Live agenda notes relate, of particular interest this year is the notion of open-source security, with processes and checks to ensure it's safe. "To that end," says the conference notes, "we will be looking at how Zero Trust frameworks can help DevOps teams build and maintain software more securely."
Here too, DevOps Live attendees can glean some valuable advice and best practices from D2iQ experts. D2iQ CTO Deepak Goel's article "
Implementing Zero Trust on Kubernetes
," which was named Best of 2022 by
Container Journal
, offers three best practices for implementing zero trust.
"Following this zero-trust approach," says Deepak, "will free developers and operators from worrying about cluster and infrastructure security issues while enabling security teams to focus on security instead of getting lost in Kubernetes configurations."
As a chief designer of the D2iQ Kubernetes Platform (DKP), Deepak oversees the military-grade security that is built into the D2iQ Kubernetes platform to meet stringent government requirements. This is why the U.S. Department of Defense, U.S. Air Force, U.S. Navy, U.S. Missile Defense, U.S. Space Force, and U.S. Department of Homeland Security have chosen DKP as the Kubernetes platform on which they are modernizing their infrastructures.
Overcoming Kubernetes Management Challenges
D2iQ CEO Tobi Knaup also offers valuable advice on how to reduce the complexity of managing a Kubernetes environment. In his article "
Cloud agnosticicm: the role of Kubernetes
, Tobi explains why declarative APIs and GitOps are the best ways to reduce the complexity of managing a Kubernetes environment.
"GitOps plus declarative APIs, one of the key innovations in Kubernetes, can be used to manage the entire stack," says Tobi, adding, "We think that gives you the best way to run resilient infrastructure, and it really cuts through all that complexity in the Kubernetes ecosystem."
In his article on the CNCF blog, "
Pure, upstream Kubernetes is the best Kubernetes
," Tobi describes the portability, manageability, security, and upgradeability problems that can result from deploying platforms based on forked Kubernetes versions, all of which can be avoided by deploying a Kubernetes version that complies with the pure CNCF version.
The manageability, security, and openness of DKP are major reasons why system integrators like Northrop Grumman, Lockheed Martin, GDIT, and SAIC have made DKP the standard on which they are creating Kubernetes management solutions for their clients.
As
SAIC CTO Bob Ritchie
noted, "D2iQ has found a way to hit the sweet spot of democratization of Day-2 operations in Kubernetes while still getting the value of upstream open-source CNCF. Those two things together, plus the built for air-gap capability, makes it a no-brainer."