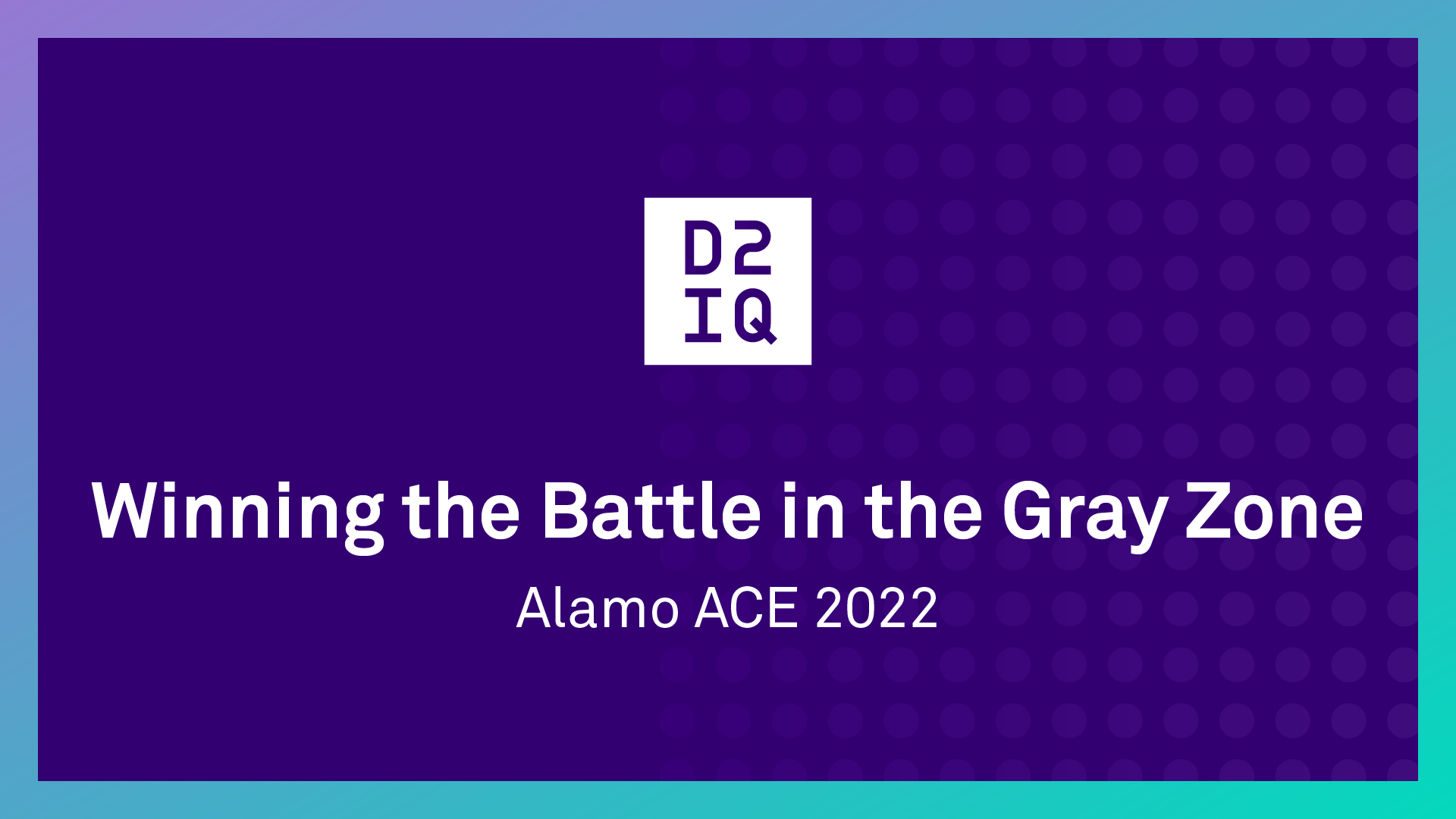 D2iQ is pleased to be exhibiting in partnership with Norseman Defense Technologies at
Alamo ACE 2022
. This is the annual military-focused conference sponsored by the Alamo Chapter of the AFCEA, taking place in San Antonio from November 14-18.
This year's Alamo Ace conference agenda is focused heavily on the "gray zone" in which the lines between war and peace, and between military and non-military actions, become blurred. Gray zone activities can include influence operations, cyberattacks, mercenary operations, assassinations, and disinformation campaigns. Although these gray zone activities might be considered acts of war, they are not legally acts of war.
Alamo Ace sessions that are focused on the gray zone include:
"How the Army Is Leveraging New Technologies to Operate in the Gray Space"
"Gaining Actionable Threat Intelligence in the Gray Zone"
"Leveraging the Seventh Joint Function to Win in the Gray Zone"
"How Total Force Can Be the Game Changer in the Gray Zone"
"Innovative Education for Gray Zone Cyber Ops"
Military Modernization Platform of Choice
As AFCEA conferences worldwide have shown, this has been a watershed year for military and government adoption of cloud, Kubernetes, AI, and edge technologies as part of widespread military modernization.
U.S. Department of Defense modernization strategy
calls for the adoption of open source software, AI and edge technology, and a keen focus on cyber security.
At the edge alone, military use cases include communications and weapon systems, vehicles, aircraft, ships, missile systems, radar systems, sensors, and soldier wearables. D2iQ's unique ability to support the edge, AI, and other advanced capabilities that are critical to the JADC2 unified communications initiative is described in this
solution brief
. A companion brief describes how D2iQ meets the needs of the Space and Missile Defense mission to deliver synchronized
communications at the tactical edge
during battlefield conditions.
Leading system integrators like Norseman Defense Technologies, SAIC, and Empower AI are adopting the D2iQ Kubernetes Platform (DKP) as the basis for the solutions they create for their military and government clients because of its openness, production-readiness, automation, ease of management, and built-in security capabilities. As
SAIC CTO Bob Ritchie notes
, D2iQ is unique in its ability to enable an air-gapped environment to be easily deployed in minutes.
The DoD Software Modernization Strategy sets a path for "technology and process transformation that will enable the delivery of resilient software capability at the speed of relevance."
The unique ability of D2iQ to support military modernization programs has been recognized by our roster of military and government customers that includes the U.S. Department of Defense, Air Force, Navy, Department of Homeland Security, Missile Defense Agency, Space Force, and more.
Meet Us Here
If you are attending the upcoming Alamo ACE conference, be sure to stop by booth #93 to learn why so many government and military agencies are choosing the D2iQ Kubernetes platform for their modernization efforts. Don't miss this opportunity to speak with some of the best minds in the Kubernetes space who can help make your deployment a success.