Events, Kubernetes, GitOps, Cloud Native, Hybrid Cloud, Multi-Cloud, Multi-tenancy, Container Management, Enterprise Kubernetes, Kubernetes Governance, Multi-cluster Management, Air-Gapped Deployments, Edge/IoT, DevOps
A Watershed Kubernetes Moment for ContainerDays 2022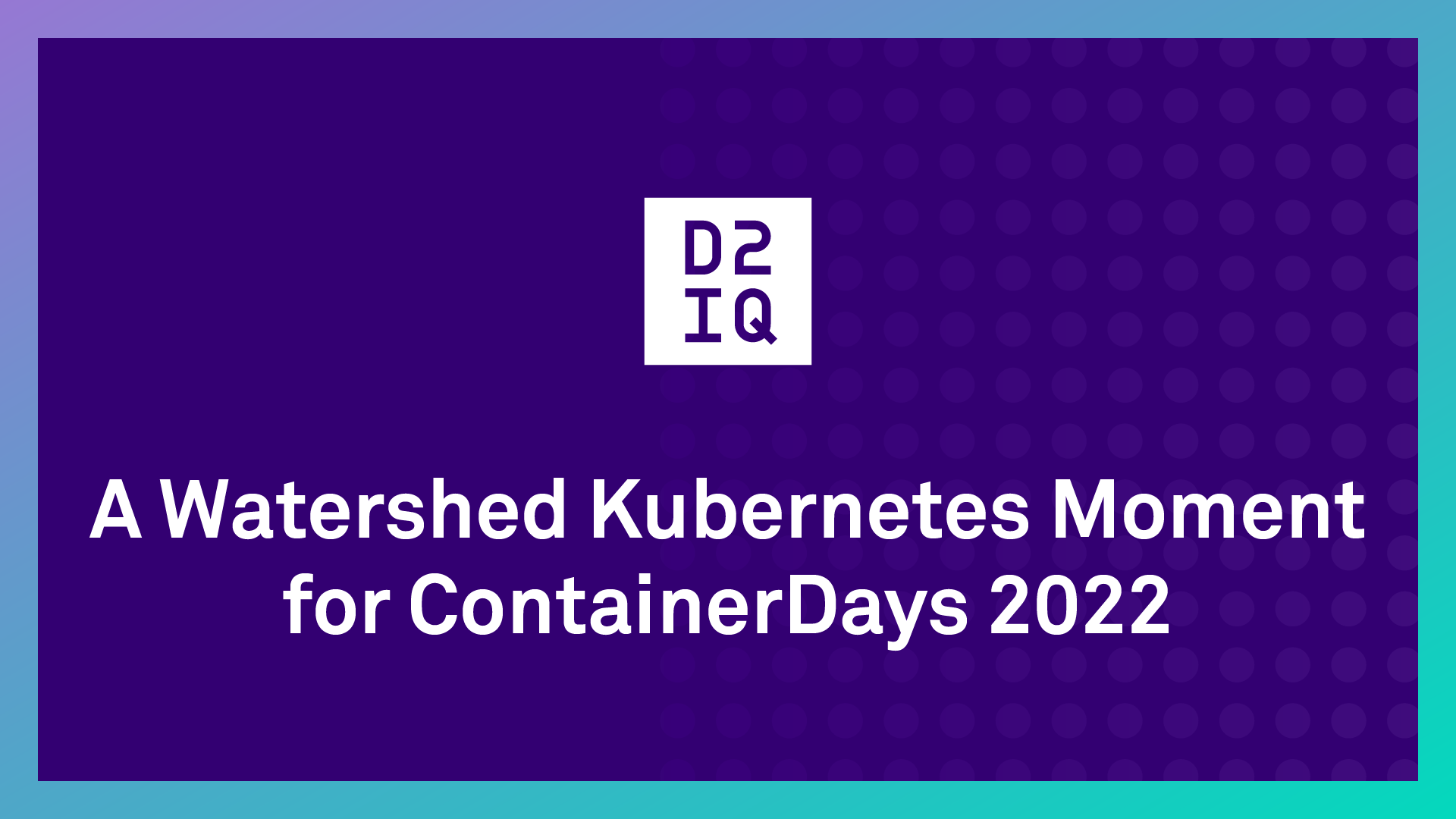 5 min read
Meet Us Here
Hamburg, Germany
Booth #B1


D2iQ is excited to be participating in ContainerDays 2022 in Hamburg as a sponsor, with two of our Kubernetes experts speaking and hosting a workshop.
This year's ContainerDays takes place at a historic moment in which the The Cloud Native Computing Foundation (CNCF) declared that Kubernetes had crossed the chasm and become mainstream. The
CNCF Annual Survey 2021
found that 96% of organizations were using or evaluating Kubernetes.
The key takeaways from the CNCF survey were the following:
Container Adoption and Kubernetes have truly gone mainstream – usage has risen across organizations globally, particularly in large businesses.
With this de-facto status, Kubernetes is now going "under the hood," similar to Linux, with more organizations leveraging managed services and platforms.
CNCF is also starting to see organizations move up the stack – adopting less mature but innovative projects to tackle challenges, including monitoring and communications.
Likewise in
five Kubernetes trends to watch in 2022
, author Kevin Casey writes that Kubernetes is becoming the "platform for everything" as more organizations bring their mission-critical applications to Kubernetes. Casey also points out that even though Kubernetes has matured, plenty of companies are still getting started.
These trends set the stage for what promises to be a highly relevant and informative ContainerDays 2022 that will focus on Kubernetes, cloud native, DevOps, GitOps, edge computing, and more.
As the ContainerDays 2022 agenda relates, this is an opportunity to meet and exchange with other cloud native enthusiasts from across the globe in person or in the virtual world.
Container Management Done Right
As Gartner notes in its
2022 Market Guide for Container Management
, "infrastructure and operations leaders must navigate the complex container management marketplace to support agility, modernization, and transformation."
For organizations looking to gain all the advantages that Kubernetes has to offer in terms of business and developer agility and modernization, D2iQ is excited to show how the D2iQ Kubernetes Platform (DKP) can deliver these advantages in the easiest and most cost-effective way.
Besides our growing roster of customers, DKP's unique container management capabilities were recognized by Gartner in its
2022 Market Guide for Container Management
and by the Evaluator Group in its
2022 EvaluScale Insights report
.
Gartner named D2iQ a Representative Vendor for container management, while the EvaluScale report named D2iQ a Leader in Container Management Platforms for the IT enterprise in two major categories, Container-Forward and Fast-Track Win.
As Gartner notes, DevOps is the key to gaining business agility through containerized Kubernetes deployments. "The combination of DevOps and container technology can be a powerful enabler for application development agility and speed," says Gartner, "making DevOps skills the critical factor to deployment success."
These findings align with our core tenet that "Declarative APIs + GitOps = Kubernetes done right." It is the reason DKP is architected around Cluster API (CAPI) and includes FluxCD to enable GitOps workflow, all to enable Kubernetes deployment and management easier for DevOps teams.
Meet Us Here
If you are attending
ContainerDays 2022
, be sure to stop by the D2iQ booth (#B1) to learn more about why so many organizations are choosing the D2iQ Kubernetes platform and how D2iQ can help you make your project a success. Don't miss this opportunity to speak with some of the best minds in the public sector Kubernetes space. And don't miss the presentation session of D2iQ's Kim-Norman Sahm.