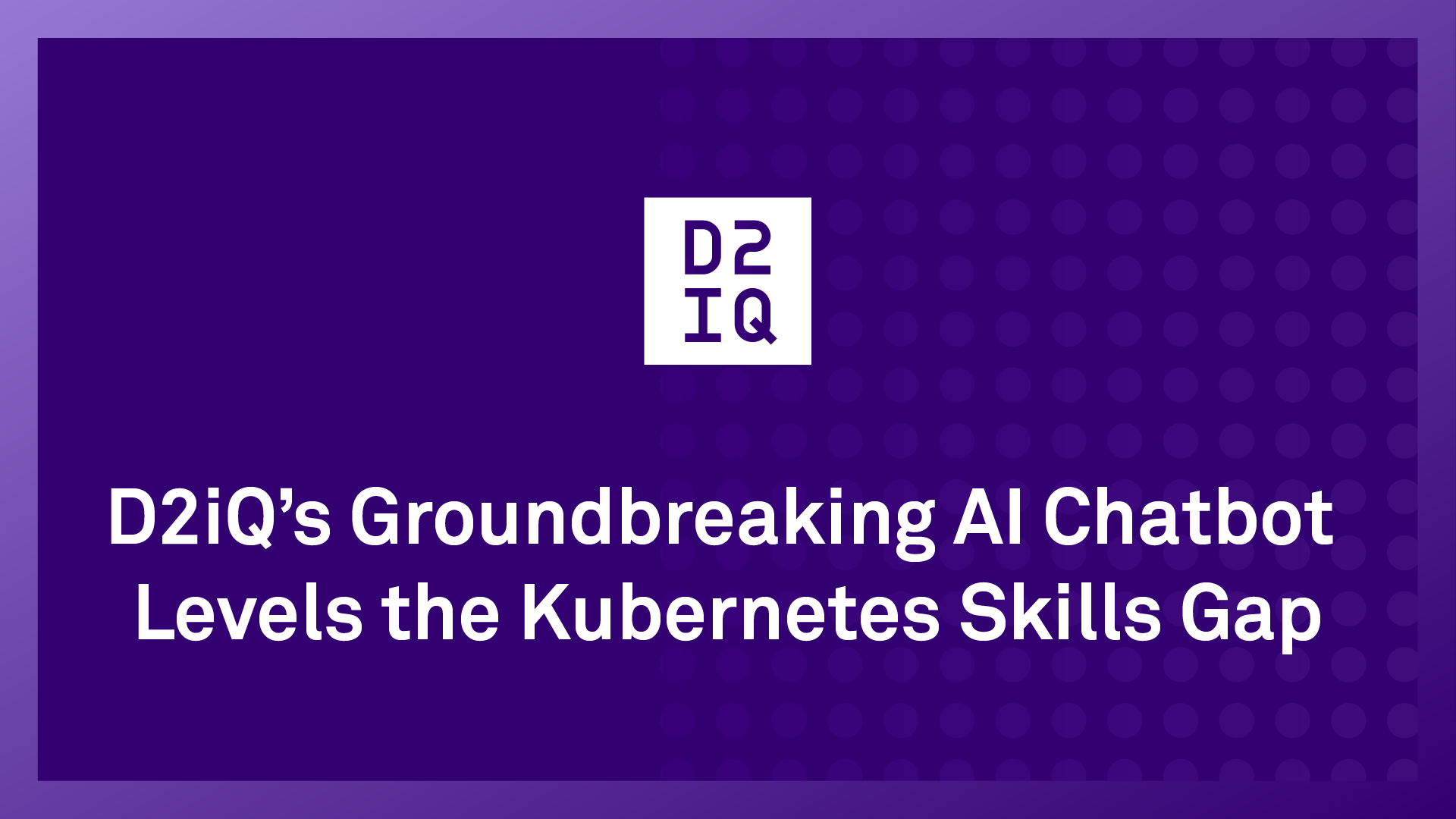 4 min read
D2iQ announces the launch of
DKP AI Navigator
, a natural-language AI assistant that simplifies Kubernetes management and enables DevOps teams to solve the most complex problems with greater ease.
D2iQ has introduced an AI assistant that helps organizations resolve problems more quickly and easily, including coding errors and system failures. The new DKP AI Navigator can help reduce the duration and cost of system and application bottlenecks, misconfigurations, and downtime, and ultimately help organizations overcome the Kubernetes skills gap.
As Forbes noted in Addressing the Kubernetes Skills Gap, "The Kubernetes skills shortage is impacting companies across sectors." At the most recent KubeCon Europe 2023 conference, the keynote address identified three "complexities" that need to be mitigated:

Managing configuration complexity at a global platform scale
Painful Kubernetes upgrades
Multi-cluster management
DKP AI Navigator can help organizations overcome all these problems by bringing the accumulated knowledge of the world's leading Kubernetes experts into D2iQ customers' environments.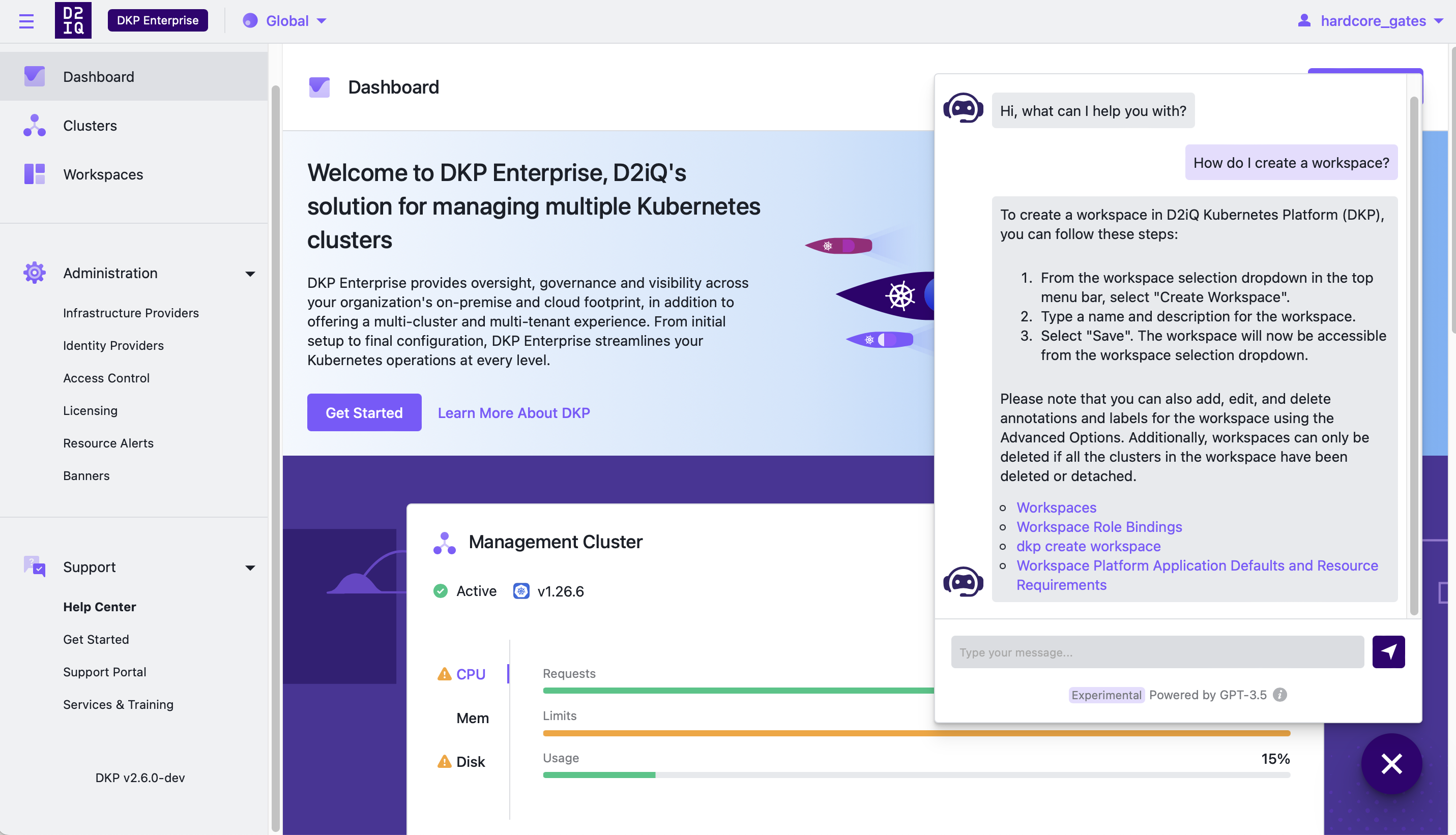 Unique Data Set Delivers Unique Value
Being trained on D2iQ's expert knowledge base is the key differentiator that gives DKP AI Navigator its unique value. Unlike AI apps like ChatGPT, which draw data from the public Internet, DKP AI Navigator uses the data housed in D2iQ's internal knowledge base. This enables organizations to harness more than a decade of D2iQ's experience and expertise in managing large container-based deployments.
DKP AI Navigator is integrated directly into the D2iQ Kubernetes Platform (DKP), giving users the ability to manage Kubernetes fleets via a single pane of glass. The net effect is like having an expert co-pilot at your side to help solve problems as they arise.
Significant Savings
The average cost of downtime across all industries has historically been about $5,600 per minute, but recent studies have shown this cost has grown to about $9,000 per minute. For Fortune 1,000 companies, downtime could cost as much as $1 million per hour, according to an IDC survey. Long outages also can cause an organization's reputation to take a big hit.
Timely resolution can minimize these costly interruptions. DKP AI Navigator can help DevOps teams avoid or reduce the duration of business interruptions, resolve coding and configuration issues more quickly and easily, and reduce risk. Spending less time resolving gnarly technical problems translates into greater efficiency and productivity.
Award-Winning Support at Your Fingertips
D2iQ's award-winning support team handles inquiries with a more than 99% satisfaction rating, and the solutions to difficult problems are continually added to the D2iQ support knowledge base. All this knowledge is anonymized and made available to DKP managers through the DKP management plane.
DKP AI Navigator gives DevOps teams instant access to solutions to the thorniest problems that customers have encountered in production. For example, DKP AI Navigator can help DevOps teams:

Repair misconfigured clusters
Resolve upgrade failures
Identify and correct YAML coding errors
Trace and correct system failures
Besides the D2iQ knowledge base, DKP AI Navigator has been trained on DKP product documentation, so cloud-native beginners can use it as a tutor.
To learn more about DKP AI Navigator, read the full press release.
To learn how D2iQ's leading Kubernetes platform and award-winning support team can give your business greater agility and a competitive edge, speak with the experts at D2iQ.