Use Cases
Overcoming Hurdles to Running Production Workloads in Containers
Build enterprise-grade container infrastructure with Mesosphere, Hedvig, and HPE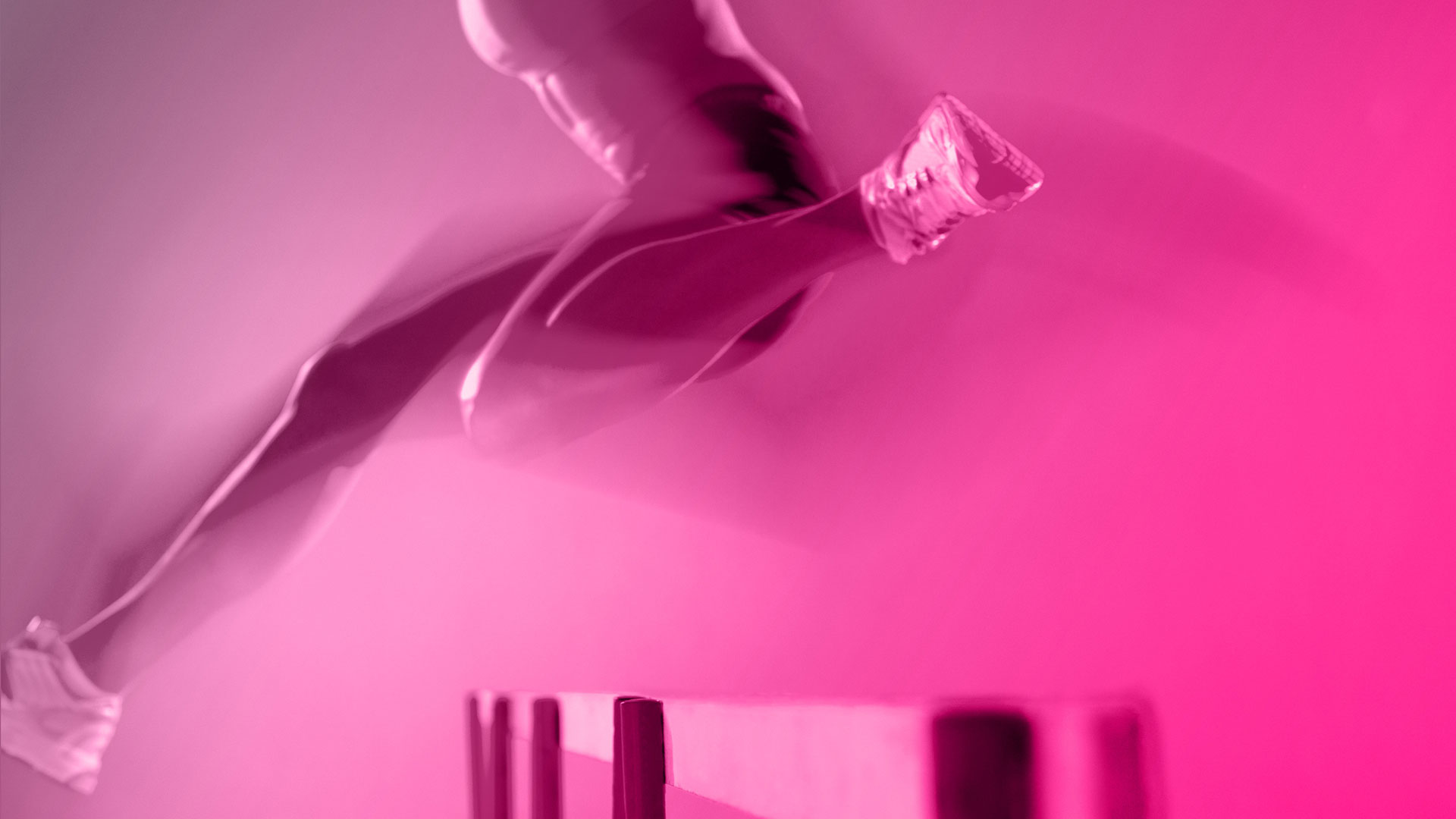 Containers have already proven that they are capable of running any application at scale. The preferred tool for cloud resource virtualization and cross-cloud connectors, they are continuously enhanced by a large community of motivated developers. So why are there still doubts about the capability of containers to run workloads in production? We'll address three major hurdles and what has transpired in the past few months to alleviate these fears and the accompanying skepticism.
Container Hurdle 1: Support for Traditional and Modern Workloads
The first hurdle in containerization is the coexistence of traditional and modern workloads. As containerized applications make inroads in an enterprise infrastructure, IT teams need to concurrently support virtualized, bare metal, and cloud applications. This is where Mesosphere helps to bridge the gap and consolidates disparate workloads. Mesosphere lets you run large-scale data processing applications, such as Apache Spark™, Kafka, and Cassandra, while allowing for cluster utilization by other workloads, such as Web Servers and Java applications.
If Kubernetes is your choice of container orchestration, but you have concerns about the high availability of a Kubernetes cluster, Mesosphere has now solved that problem as well -- with the recent announcement that
Kubernetes-as-a-Service
is now generally available on DC/OS. Operations teams can now deploy and manage a
CNCF certified
, highly available Kubernetes cluster anywhere, with a single command or button push. To provide truly simple management, the numerous monitoring tools, developer tools, and other solutions required for Kubernetes are easily accessible from the
DC/OS service catalog
.
Why Mesosphere?
High-resource utilization and mixed workload colocation
Container orchestration and extensible resource isolation
Stateful storage support
Single-click cluster provisioning for pure upstream Kubernetes
Container Hurdle 2: Support for Enterprise-Class Persistent Storage
The second hurdle preventing containerization from going mainstream is enterprise-class persistent storage. Enterprise storage has evolved from tape and DAS to NAS/SAN and hyperconverged solutions, but for the past decade, all storage innovation has been done with virtualization in mind. Stateful containers pose a new set of challenges to the storage layer with the demand for dynamic and frequent volume provisioning, container-affinity for volumes, and location-agnostic storage availability. The
Hedvig Distributed Storage Platform
solves that problem by bringing enterprise tested and production-hardened software-defined storage to the container world. It provides container-native and container-aware storage, along with enterprise storage features, such as deduplication, compression, encryption, replication, and more.
Why Hedvig and Mesosphere?
Application-tailored storage dynamically provisioned for containers
Data persistence and always-available volumes, even if a container is migrated
Hedvig's support for containers, VMs, and bare metal, which eliminates the need to rip-and-replace or introduce another storage silo
Hybrid cloud and multi-cloud applications built with Hedvig's storage cluster spanning distant sites and clouds
Container Hurdle 3: Enterprise-grade Installation, Delivery, and Support
The third hurdle is the installation and delivery model and enterprise-grade support for a container infrastructure. HPE solves that problem by making sure you can leverage one-stop shopping for building an entire solution using Mesosphere, Hedvig, and HPE hardware. Mesosphere and Hedvig partnered with HPE to provide a joint solution and to deploy a completely software-defined modern infrastructure for building mission-critical applications. As a consumer, you need not worry about dealing with multiple vendors anymore, and you can rely on HPE for worldwide 24x7 technical support.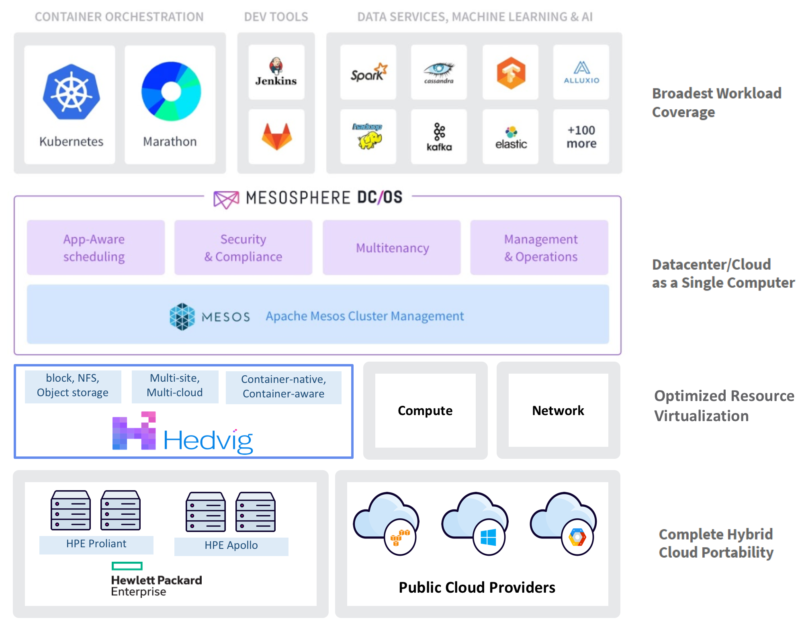 Why HPE, Hedvig, and Mesosphere?
Transform to a hybrid infrastructure with the power of public cloud services and the control to run on-prem — your cloud, your choice
Deploy a production-ready infrastructure for stateless, as well as stateful, applications
Move, integrate, and deliver applications across multiple environments
Protect your digital enterprise with zero downtime and government–grade security
Empower the data-driven organization and deliver a complete cloud-native platform that runs both containers and data services
Accelerate time-to-market for new services and increase developer productivity
Mesosphere, HPE, and Hedvig for Enterprise-Grade Container Infrastructure
By unifying the delivery and support model, adding an enterprise-class persistent storage layer, and integrating it with both traditional and modern workflows, you can overcome the challenges of adopting containers for your production workloads.