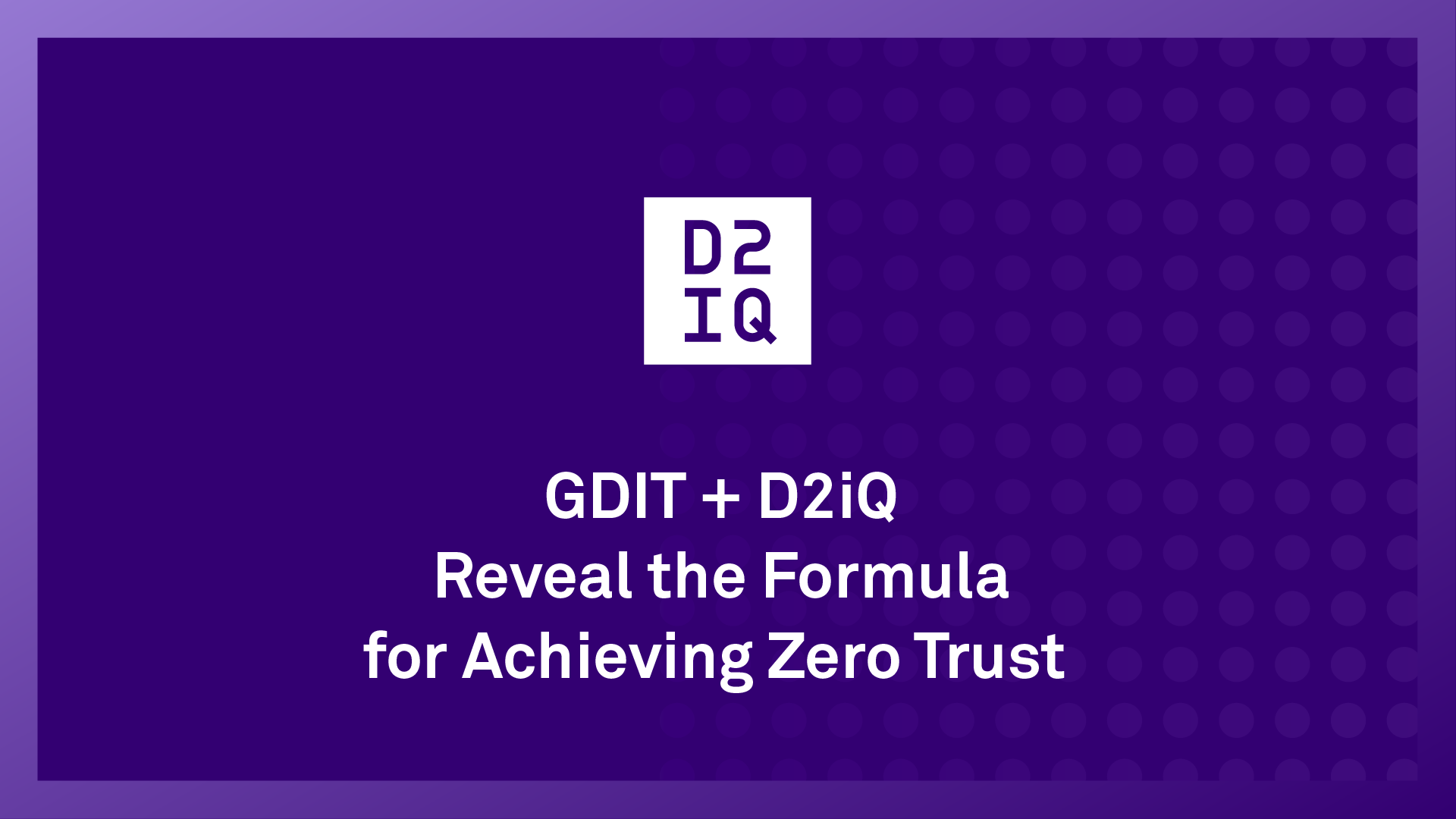 5 min read
Webinar
How to Meet Zero Trust and Other High-Level Government Security Standards
May 25, 2023 at 1:00 PM EST
Featuring GDIT and D2iQ


Join us for a
must-see webinar
in which Kubernetes and DevSecOps experts from D2iQ and General Dynamics International Corporation (GDIT) share their insights on how to achieve zero trust security within a Kubernetes environment as part of government modernization.
GDIT is among the major system integrators that have chosen D2iQ as the Kubernetes management platform on which they are creating highly secure Kubernetes solutions for their government clients.
In this webinar (May 25, 1:00 pm EST) you will learn from GDIT DevSecOps experts why DKP enables system integrators to more easily provide military-grade security, including zero trust.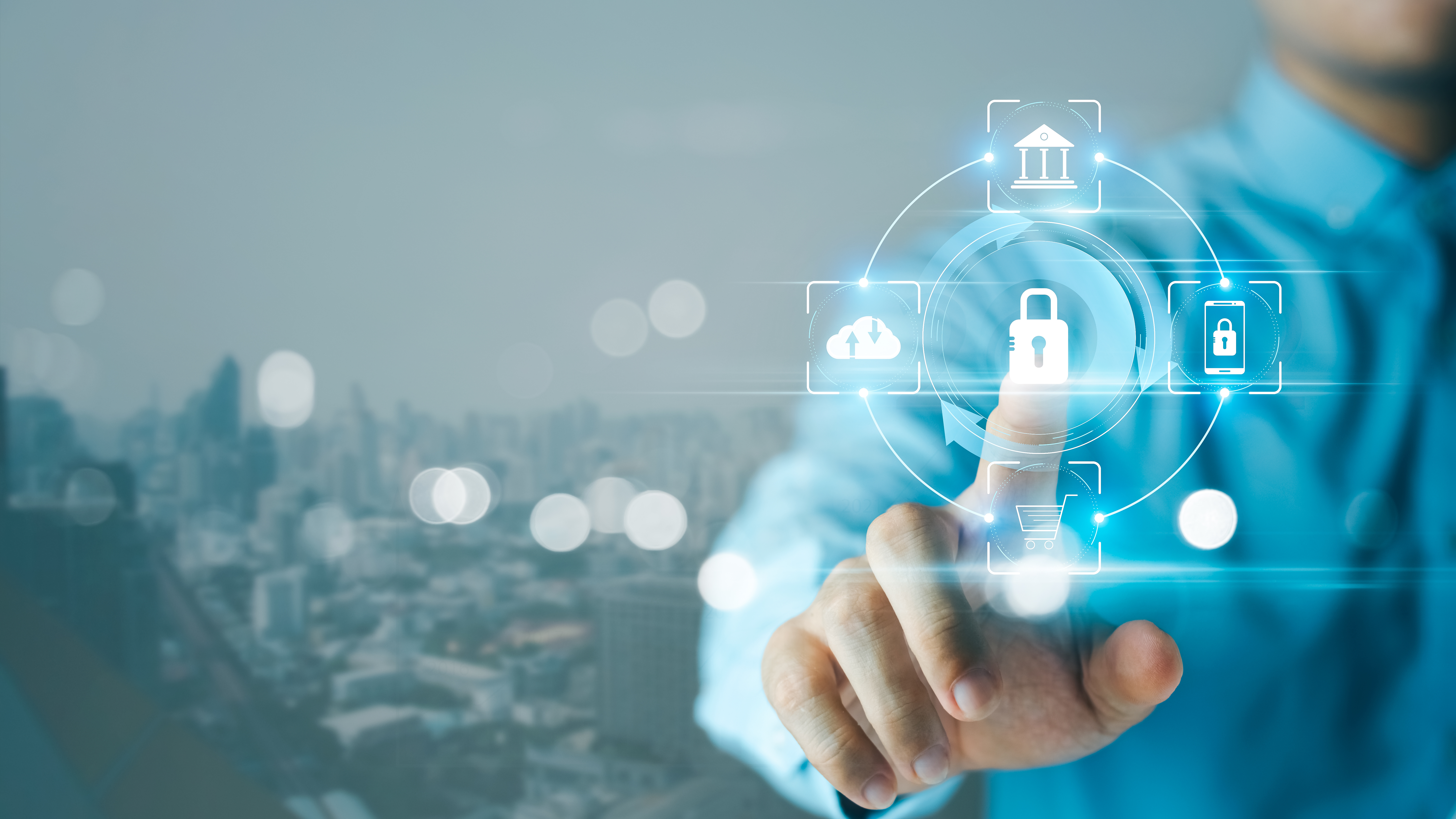 Zero Trust: A Government Imperative
As
Forbes notes
: "It's no surprise that Zero Trust continues to be a driver for federal cybersecurity."
Kubernetes Is the Foundation for Military Modernization
The
National Cybersecurity Strategy
asserts that the U.S. government's cybersecurity goals cannot be achieved unless Federal systems are modernized. This means replacing legacy infrastructures with cloud-native Kubernetes management platforms, which is what GDIT and other system integrators are working with military agencies to accomplish.
As
SiliconAngle reported
, the military's use of Kubernetes and associated open-source technologies has become so pervasive that the Department of Defense was obliged to issue a
service-wide advisory
to remind all branches of the guidelines for evaluating and acquiring open-source Kubernetes software.
"For us, Kubernetes is becoming the foundation of all the software we do on jets to bombers to ships and, let's face it, to nuclear," said Nicolas Chaillan, then chief software officer of the U.S. Air Force and Space Force,
in a CNCF presentation
. (See also D2iQ CEO Tobi Knaup's interview with Nicolas Chaillan on
In the Nic of Time
.)
Kubernetes Security Challenges
Broad and rapid adoption and an increasingly sophisticated threat landscape have made Kubernetes more vulnerable to attacks. Developers and security experts are now tasked with extending Kubernetes' built-in security to effectively protect against cyberattacks that are more complex, volatile, and frequent.
The previous "trust but verify" approach in many instances has proven ineffective for the complex distributed nature of cloud computing, so
Kubernetes
security is being elevated to the "never trust, always verify" ideology of the
zero-trust model
to provide greater protection.
Insider Scoop
This webinar will identify the challenges associated with implementing zero trust security in Kubernetes environments and will offer best practices for achieving zero trust from leading Kubernetes and DevSecOps experts.
You will learn:
Basic concepts of the zero-trust model
Three best practices for achieving zero trust
How to create a zero-trust security culture
Don't miss this rare opportunity to gain cybersecurity insights that could help your organization harden its security and avoid the losses that can result from security breaches!
Join Us Here
May 25, 2023 at 1:00 PM EST
Presenters:
Dan Ciruli, VP of Product Management at D2iQ
Dr. John Sahlin, VP of Cyber Solutions at GDIT
David Sperbeck, Application Services DevSecOps Capability Lead and Principal Solutions Architect at GDIT
Moderator:
Diego Laje, Senior Reporter at SIGNAL Media
As always, don't forget to pass this on. Tell a friend, tell your colleagues, and mark your calendars and meet us at a screen near you!
Looking forward to seeing you there!