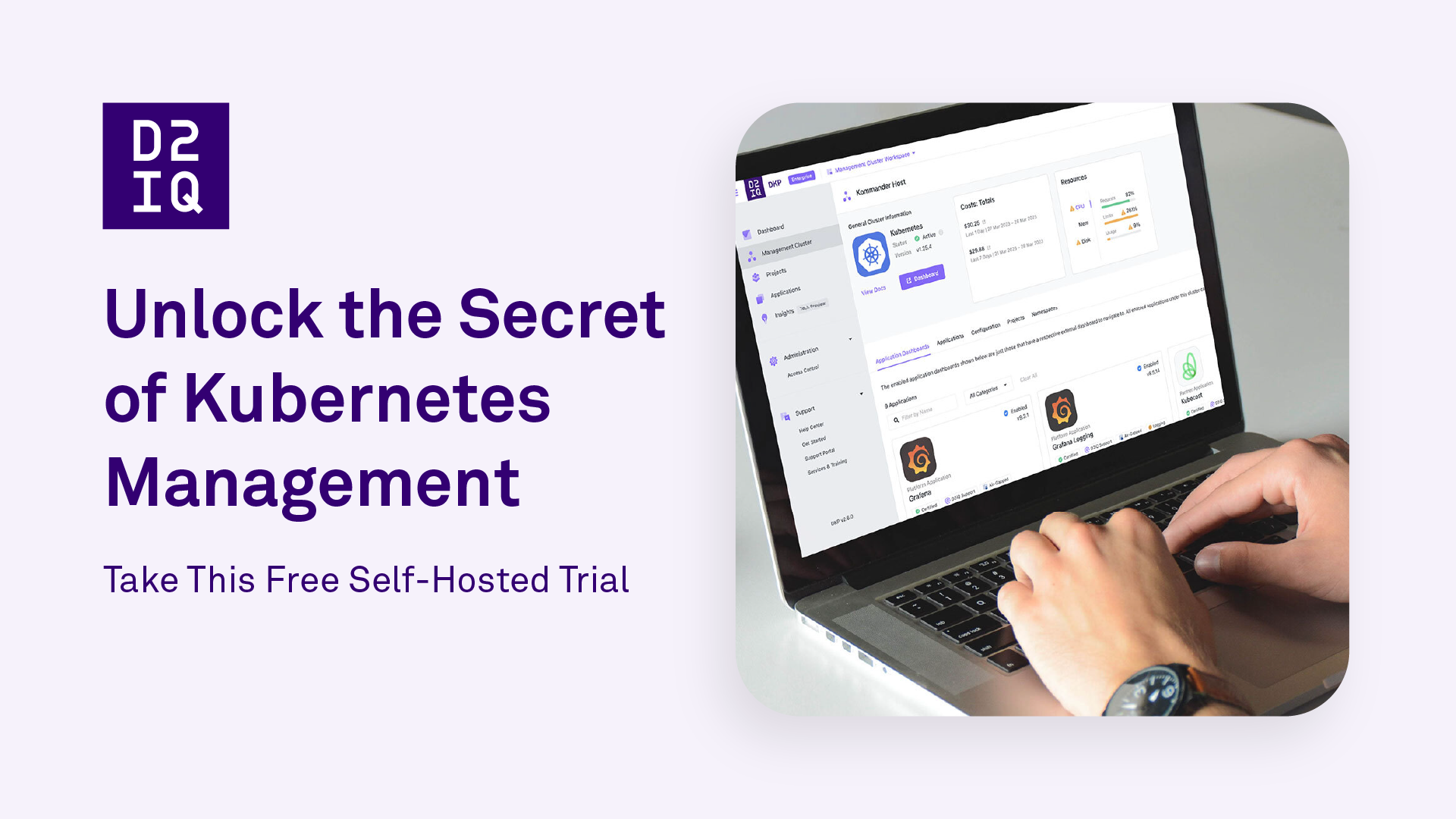 D2iQ is pleased to offer AWS members a self-hosted free trial of the D2iQ Kubernetes Platform (DKP) on AWS. All that is required is an active AWS account. Once you qualify, you will receive all the directions and credentials you need.
Surveys show that the top challenges organizations face in deploying Kubernetes and cloud-native technologies are complexity, security, and a skills gap. The latest CNCF annual survey, for example, found that lack of training was the most significant barrier inhibiting container adoption.
The Pepperdata State of Kubernetes 2023 report found that the top Kubernetes challenges included a "steep learning curve," while the Flexera 2023 State of the Cloud report found that the top challenges for cloud computing included "lack of expertise."
DKP enables you to overcome all of these challenges through the following features and capabilities:
Simplification through automation
Deploy in minutes, manage with ease
Declarative APIs for consistency and standardization
Centralized multi-cluster, multi-cloud fleet management
Integrated cost control
Air-gapped deployment in minutes
Unified Amazon Web Services, Microsoft Azure, Google Cloud Platform management through the centralized management plane.
What Makes DKP So Special?
The guiding principle of DKP's design is ease of use. To this end, D2iQ engineers take great pains to make DKP as easy to manage as possible. At the same time, the platform is feature-complete and production-ready out of the box.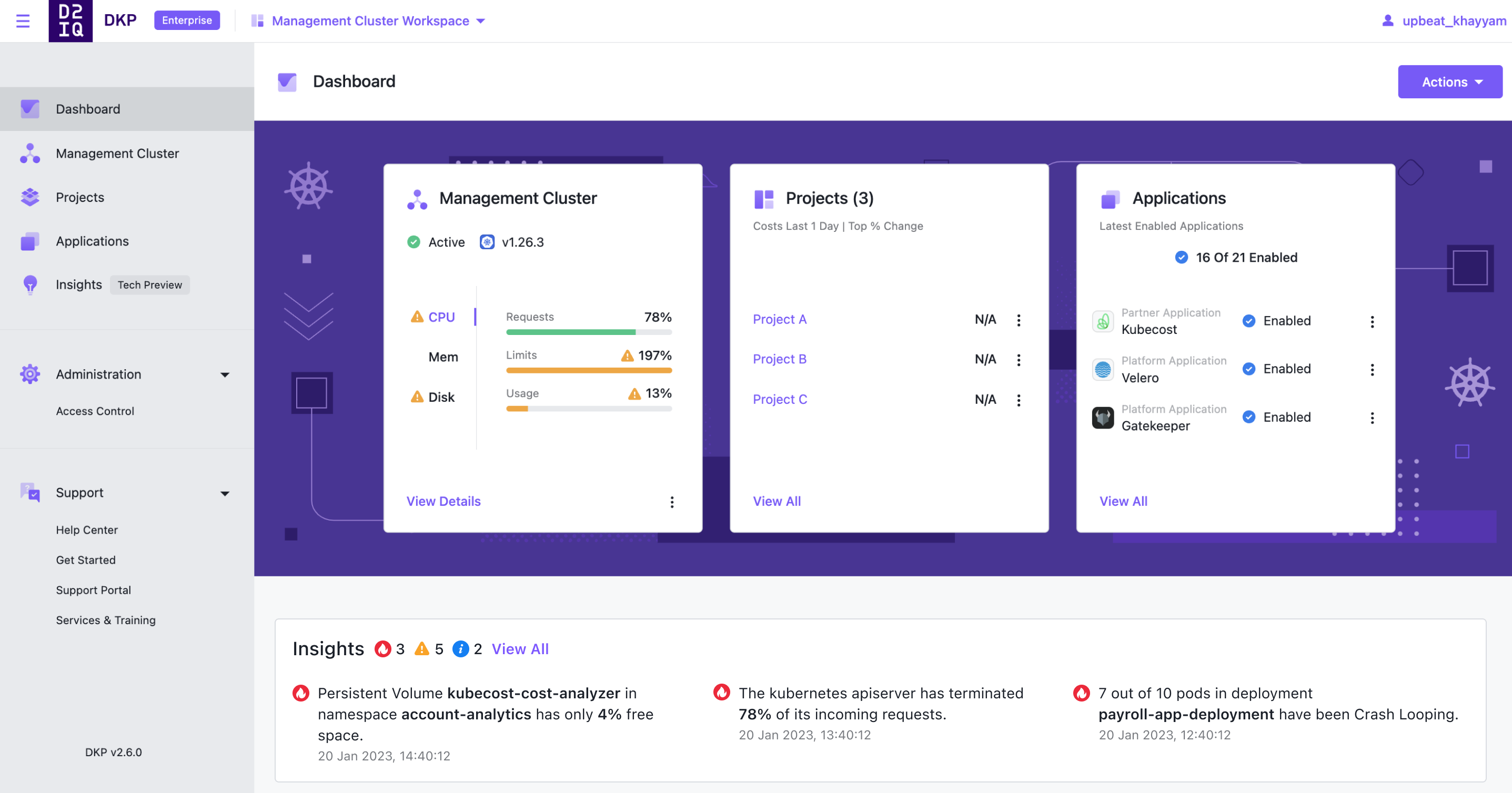 No other Kubernetes management platform can be deployed as quickly and easily with complete production-readiness and enterprise scalability. No other Kuberbetes platform enables you to deploy an air-gapped environment as quickly and easily.
No other Kubernetes platform enables you to manage all your clusters and cloud instances centrally with as much ease, including those residing on the top three cloud provider services–Amazon AWS, Microsoft Azure, and Google Cloud Platform. Moreover, DKP is unique in its ability to elevate the Kubernetes services of these cloud providers to production-ready platforms.
All of these capabilities have been validated by major system integrators who have tested and benchmarked DKP against competing platforms and chosen DKP as the basis for the Kubernetes solutions they are creating for their customers.
Take the Challenge!
Kubernetes is complex, which is why D2iQ has worked so hard to simplify Kubernetes management in DKP. An experienced Kubernetes admin can deploy a cluster in an hour or less.
Through a combination of DKP automation and D2iQ expert training, we have enabled DevOps teams with no Kubernetes experience to quickly become skilled Kubernetes platform managers.
Take the challenge! D2iQ expert help is available if you get stuck or have questions at any point during your free trial.
Enjoy your journey and please reach out if you have any questions.
Apply for your self-hosted free trial of DKP.