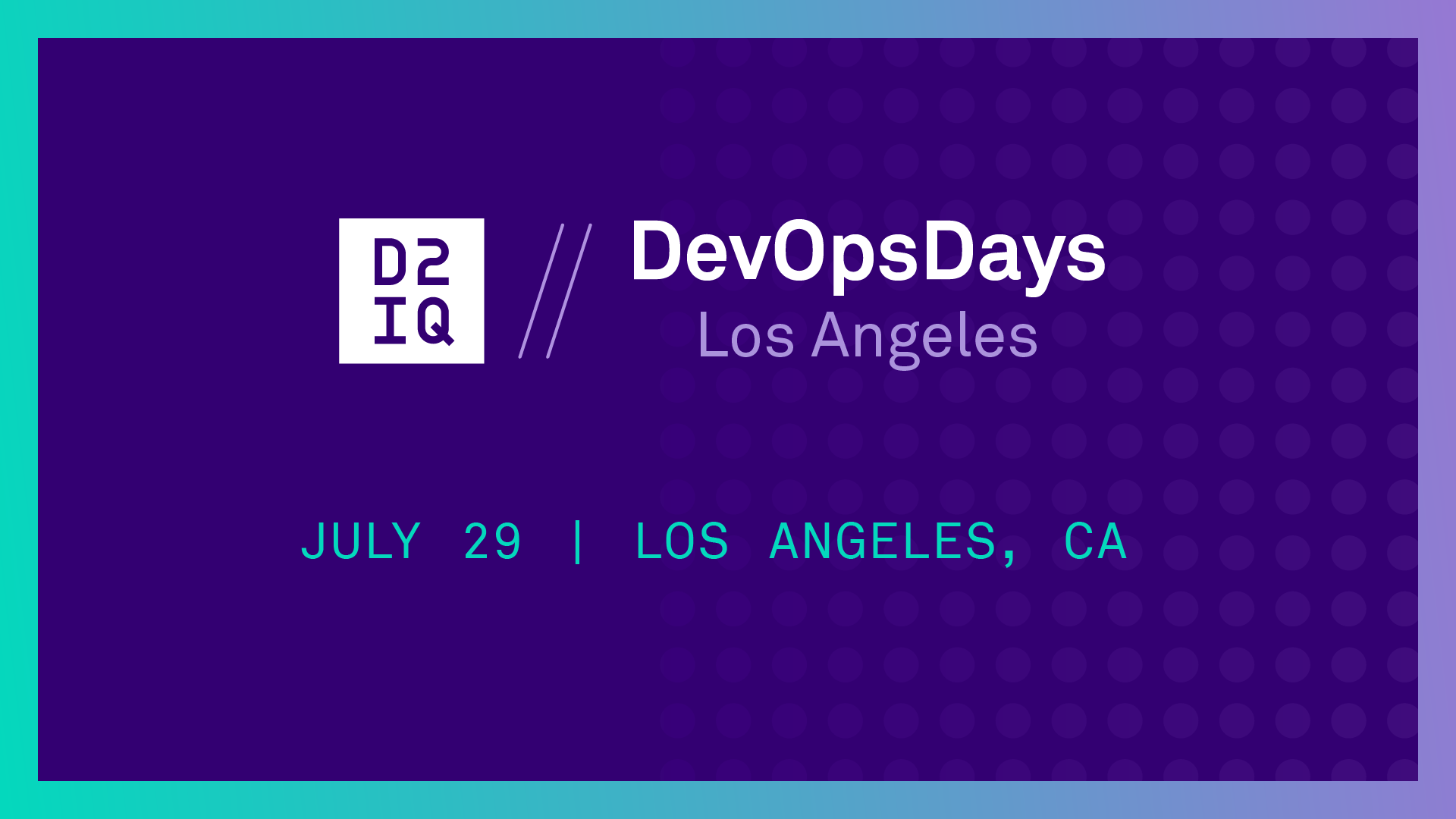 We are excited to be participating in DevOpsDays LA 2002 as a sponsor. This year's conference comes at a disruptive time in which the data center is moving to the cloud and DevOps is being transformed into GitOps.
As
Gartner reports
, "The cloud will be the centerpiece of new digital experiences. For businesses that means it's time to adopt a cloud-first approach, or risk languishing in an on-premise data center.""

Similarly, 451 Group asserts that, "We are entering an era in which cloud will no longer be seen as a separate IT category: Quite simply, it is the IT."
GitOps Powers the Next-Gen Data Center
As cloud-native Kubernetes becomes widespread, GitOps has emerged from the CNCF incubation program to enable DevOps teams to more easily manage cloud-native environments.
As D2iQ CEO Tobi Knaup explains in a recent webinar entitled "
Three Trends Driving Cloud-Native Adoption
," GitOps is the most bulletproof way to manage a cloud-native infrastructure. This is why D2iQ has integrated GitOps workflow into DKP based on FluxCD and Cluster API (CAPI).
To enhance its GitOps capabilities,
D2iQ has partnered with GitLab
to further automate and simplify the deployment of cloud-native Kubernetes workloads.
Security a Major Concern
Although there are a wide range of cloud-native and open-source topics covered in the DevOpsDays LA conference workshops and sessions, one of the hottest topics is Kubernetes security.
Numerous surveys show that Kubernetes security is a top priority among organizations and that securing their environments is a problem.
The state of the art in cyber security is the zero trust model, which restricts access to all resources and data within an organization. In the zero trust model, verification is required from anyone trying to gain access to resources on the network.
You can find zero trust principles explained in more detail in this Kubernetes
security cheat sheet
, which also explains how D2iQ customers enjoy military-grade security that adheres to zero-trust principles.
This
solution brief
explains how the D2iQ Kubernetes Platform platform meets the Kubernetes security hardening guidelines published by the NSA/CISA in response to the widespread adoption of Kubernetes among public sector and private sector organizations.
To learn how SAIC has gained Kubernetes deployment capabilities for its clients,
watch this webinar
in which
SAIC Shares Military-Grade Kubernetes Best Practices for Digital Transformation.
If you are attending DevOpsDays LA 2022, be sure to stop by the D2iQ booth to learn more about GitOps workflow, the D2iQ Kubernetes platform, and how D2iQ can help make your DevOps team, Kubernetes deployment, and smart-cloud native initiatives a success. Don't miss this opportunity to speak with some of the best minds in the Kubernetes space.
Meet Us Here
29 July
We can't wait to see you at DevOpsDays LA!
As always, don't forget to pass this on. Tell a friend, tell your colleagues, and mark your calendars and meet us at
DevOpsDays LA!
If you like what you saw here, be sure to share this post with your co-workers and friends because we want to hear from you! Follow us on Twitter @
D2iQ
, find us on
LinkedIn
, or subscribe to the
D2iQ YouTube Channel
.
When posting on social media be sure to tag the DevOpsDays LA channel:
@SoCalDevOps
and use the hashtag #DevOpsDays.