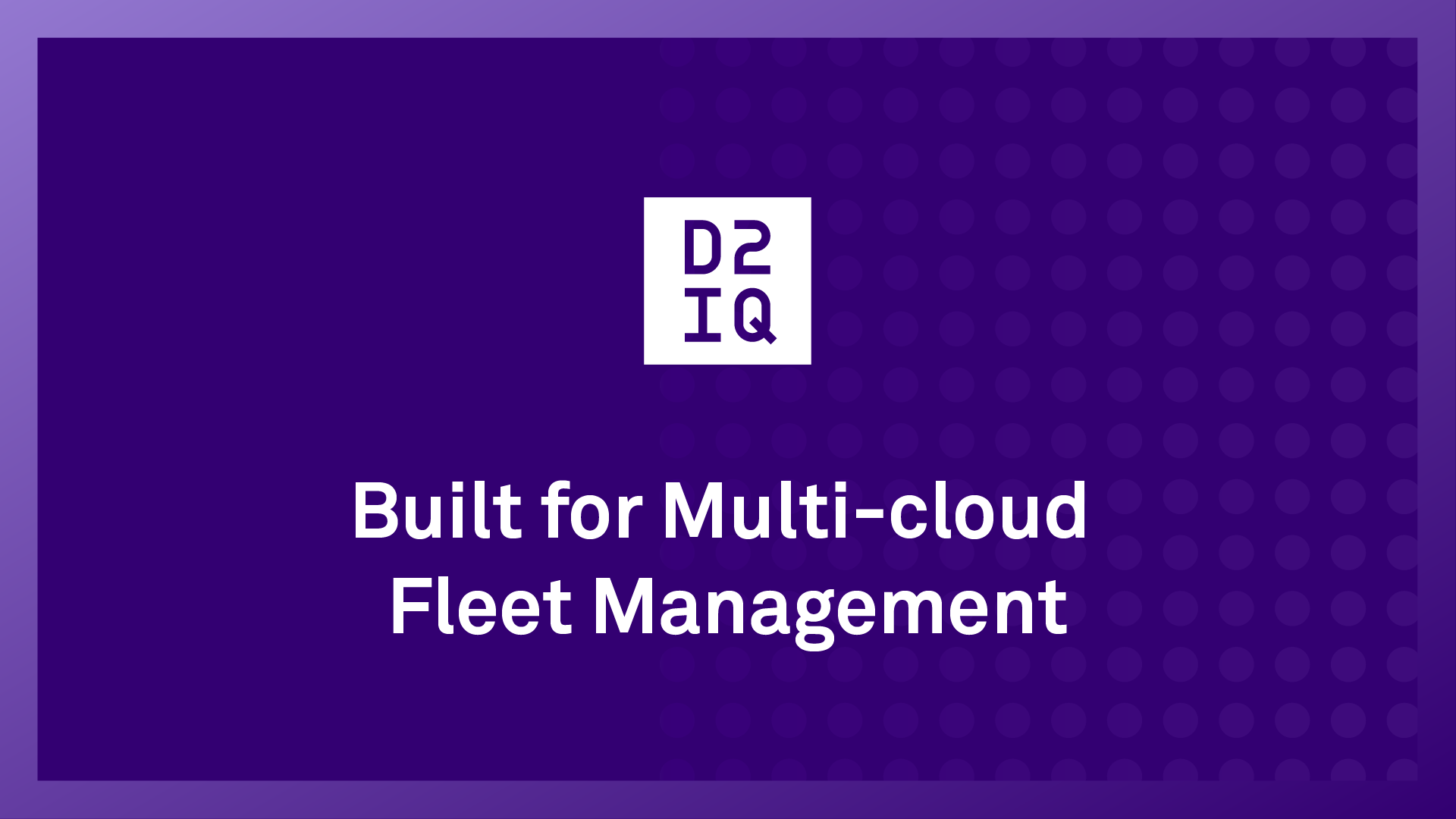 As the latest surveys show, organizations are struggling to manage multiple clouds and to realize the expected benefits of moving to the cloud. In the
Flexera 2023 State of the Cloud Report
, for example, enterprises cited managing cloud spend and managing multi-cloud environments as their top cloud challenges.
The root of these problems can be traced to cloud and cluster sprawl and the complexity of managing Kubernetes. The best way to tame cloud and cluster sprawl is through automation and centralized multi-cloud and multi-cluster fleet management. This is where the D2iQ Kubernetes Platform (DKP) Enterprise version shines.
DKP Enterprise was purpose-built for Kubernetes fleet management on any deployment pattern. Multi-cloud and multi-cluster management is enabled through a "single pane of glass" that provides observability, command, and control.
Simplification Through Automation
Automation is the key
to simplifying multi-cloud management. In DKP Enterprise, automation enables operational efficiency and consistency of all aspects of Kubernetes management across the entire fleet. This includes:
Portability. DKP truly is a "write once and deploy anywhere" solution.
Agility. Workloads get into production faster and with less effort, enabling businesses to respond to opportunities and threats faster.
Consistency. Applications can be added as custom catalog objects, enabling them to be deployed declaratively as part of an infrastructure as code (IaC) approach.
DKP automation includes a top-to-bottom declarative approach to Kubernetes through Cluster API (CAPI) and integrated FluxCD. With cloud-native GitOps for application and infrastructure management, platform engineers can deliver developer self-service and automation by offering a consistent and flexible developer experience.
Optimized workflows reduce the cognitive load and levels of effort and expertise required to manage complex environments. This translates into reduced manual error, reduced risk, and reduced operational costs.
Simplicity and standardization eliminate errors, save time and money, and promote operational excellence. The reduced burden gives platform and DevOps teams more time to focus on higher-value business-related tasks.
DKP Insights Brings a New Class of AIOps
Further simplification is being achieved by incorporating intelligent troubleshooting capabilities into DKP. Currently available as a technical preview, DKP Insights provides automated root cause analysis (RCA), predictive measures to avoid problems, and automated problem resolution. This can prevent costly downtime and speed up time to resolution.
Building this type of intelligence into DKP is in line with
Gartner advice
"to deploy infrastructure automation tools to ensure that infrastructure provisioning and management is automated and streamlined to account for the dynamic nature of containerized workloads."
Instant Platform Engineering
DKP is a Day 2 production-ready platform that installs quickly and easily–in minutes rather than weeks and months. The platform consists of a carefully curated set of open-source components from the Cloud Native Computing Foundation (CNCF) ecosystem that gives customers a feature-complete solution that is ready to go right out of the box–in effect, providing a golden path through
instant platform engineering
.
The best-of-breed components are tightly coupled and fully load tested. DevOps teams do not have to invest time wrangling with Kubernetes infrastructure and can instead focus on building platforms that deliver higher value to the organization.
Pure Open Source Kubernetes Makes a Difference
There are a number of problems customers can avoid–and advantages they can accrue–by deploying a Kubernetes platform based on
pure CNCF-conformant open-source software
. Kubernetes management platforms that are riddled with dependencies and forked versions of Kubernetes present problems with portability, patching, bug fixes, security, upgrades, and the ability to add new features.
With DKP, customers can avoid these problems while enjoying easy fixes, seamless upgrades, portability, and the ability to easily accommodate all the innovation that emerges from the open-source community. D2iQ was a founding member of the CNCF and is a CNCF embargo partner that assists with the development of fixes. Those fixes are deployed to DKP immediately, often before the CNCF releases them.