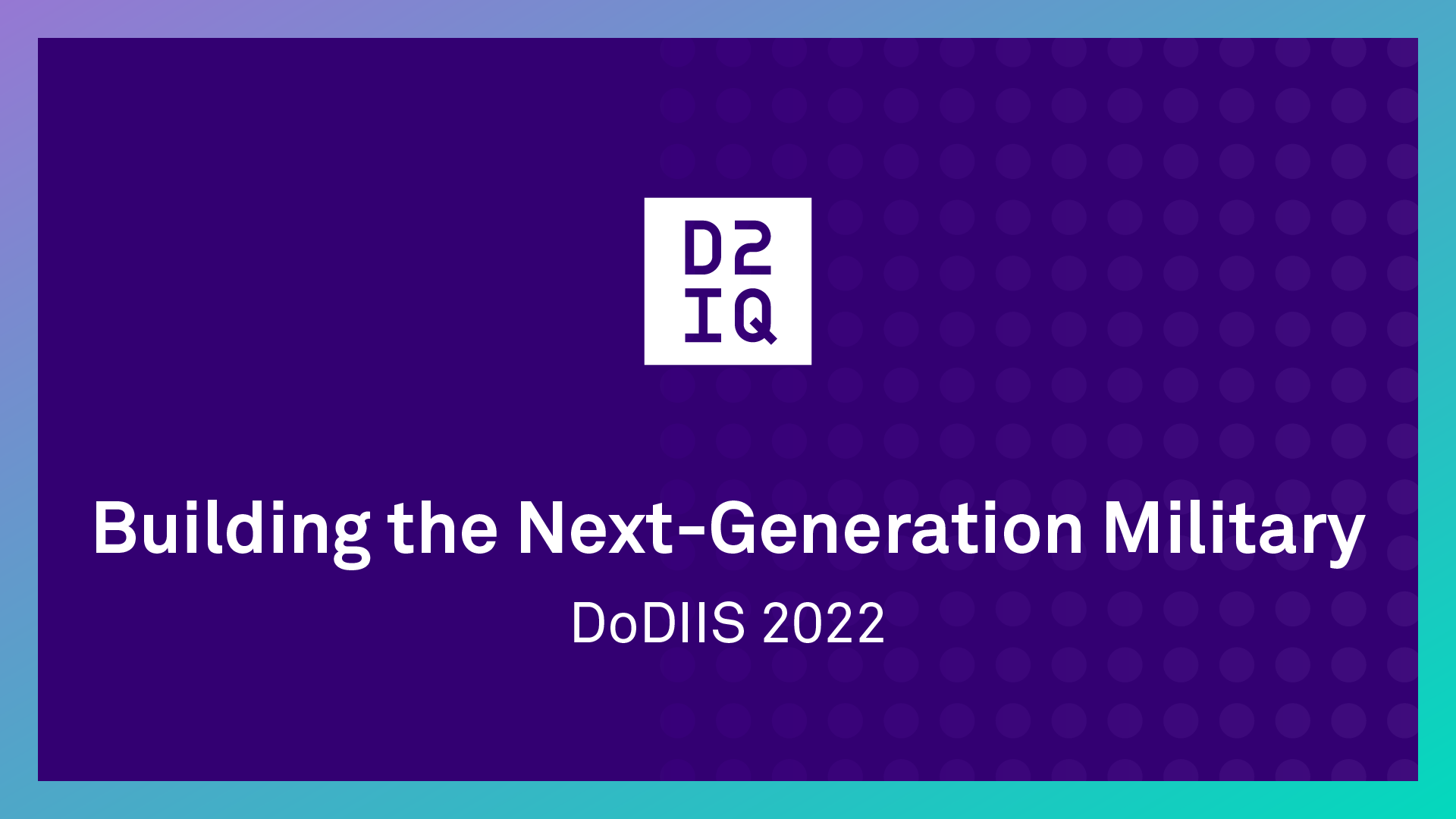 D2iQ is pleased to announce that we will be exhibiting in partnership with TD/Synnex Public Sector at the 2022 Department of Defense Intelligence Information System (DoDIIS) Worldwide Conference in San Antonio, Texas, December 12-15.

The theme of this year's
DoDIIS conference
is "Transcending Strategic Competitors through Innovation, Adaptation, and Collaboration." While the cloud and Kubernetes are cornerstone technologies for military modernization, this year's DoDIIS agenda is focused heavily on AI technology.
For example, speaking session include the following topics:


"Modernizing IT Service Delivery - Accelerating Mission Outcomes through AIOps"
"DCSA's AI Cloud Infrastructure: Supporting Insider Threat and Industrial Security Operations at the Speed of War"
"Strategic AI Lifecycle Framework for Rapid AI Implementation"


In its
Final Report
, The National Security Commission on Artificial Intelligence (NSCAI) concludes that "the United States must act now to field AI systems and invest substantially more resources in AI innovation to protect its security, promote its prosperity, and safeguard the future of democracy."
To this end, Deputy Secretary of Defense Kathleen H. Hicks
issued a memorandum
in February 2022 establishing the formation of the DoD Chief Digital and Artificial Intelligence Officer (CDAO). "The Department of Defense," she wrote, "must become a digital and artificial intelligence (Al)-enabled enterprise capable of operating at the speed and scale necessary to preserve military advantage."
As the movement to containerization in the cloud sets the stage for next-generation intelligent infrastructures, D2iQ CEO Tobi Knaup explains why
Kubernetes and AI are an ideal match
.
Why the Military Chooses D2iQ for Modernization
D2iQ's unique ability to support AI and other advanced capabilities is a major reason for the expanding adoption of the D2iQ Kubernetes Platform (DKP) among U.S. military and government organizations, including the U.S. Department of Defense, U.S. Air Force, U.S. Navy, U.S. Department of Homeland Security, U.S. Missile Defense Agency, and U.S. Space Force.
DKP was chosen by all of the above-mentioned agencies after evaluation against competing Kubernetes solutions. DKP's stability, ease of management, and advanced capabilities meet not only the current needs of those agencies, but also the requirements of a host of DoD strategic initiatives under development, including the JADC2 unified communications program.
Ensuring strict military-grade security is one of the key requirements of the DoD's modernization strategy. Not only does DKP meet all NSA/CISA Kubernetes hardening guidelines, but as
SAIC CTO Bob Ritchie notes
, DKP is unique in its ability to enable an air-gapped environment to be easily deployed in minutes.
Meet Us at Our Booth
If you are attending DoDIIS, be sure to stop by booth #1229 to speak with some of the best minds in the Kubernetes space and learn why so many government and military agencies are choosing the D2iQ Kubernetes platform for their modernization efforts. In addition, you are cordially invited to join us for an abundance of beverages, food, and good company at our Tuesday evening reception (see details below).


Enjoy Some Social Recreation at Our Reception!
If you are attending DoDIIS, join us for a reception hosted by D2iQ and TD/Synnex Public Sector on Tuesday, December 13, 5-7 pm, at the San Antonio Marriott Rivercenter Grand Ballroom Salons J&K. Enjoy live music, cocktails, and great conversations. We look forward to seeing you there!