Security, Kubernetes, GitOps, Hybrid Cloud, Multi-Cloud, Multi-tenancy, Public Cloud, Container Management, Kubernetes Governance, Multi-cluster Management, Cost Management, Air-Gapped Deployments, Public Sector
DKP Gov Kubernetes Management Platform Sets Standard | D2iQ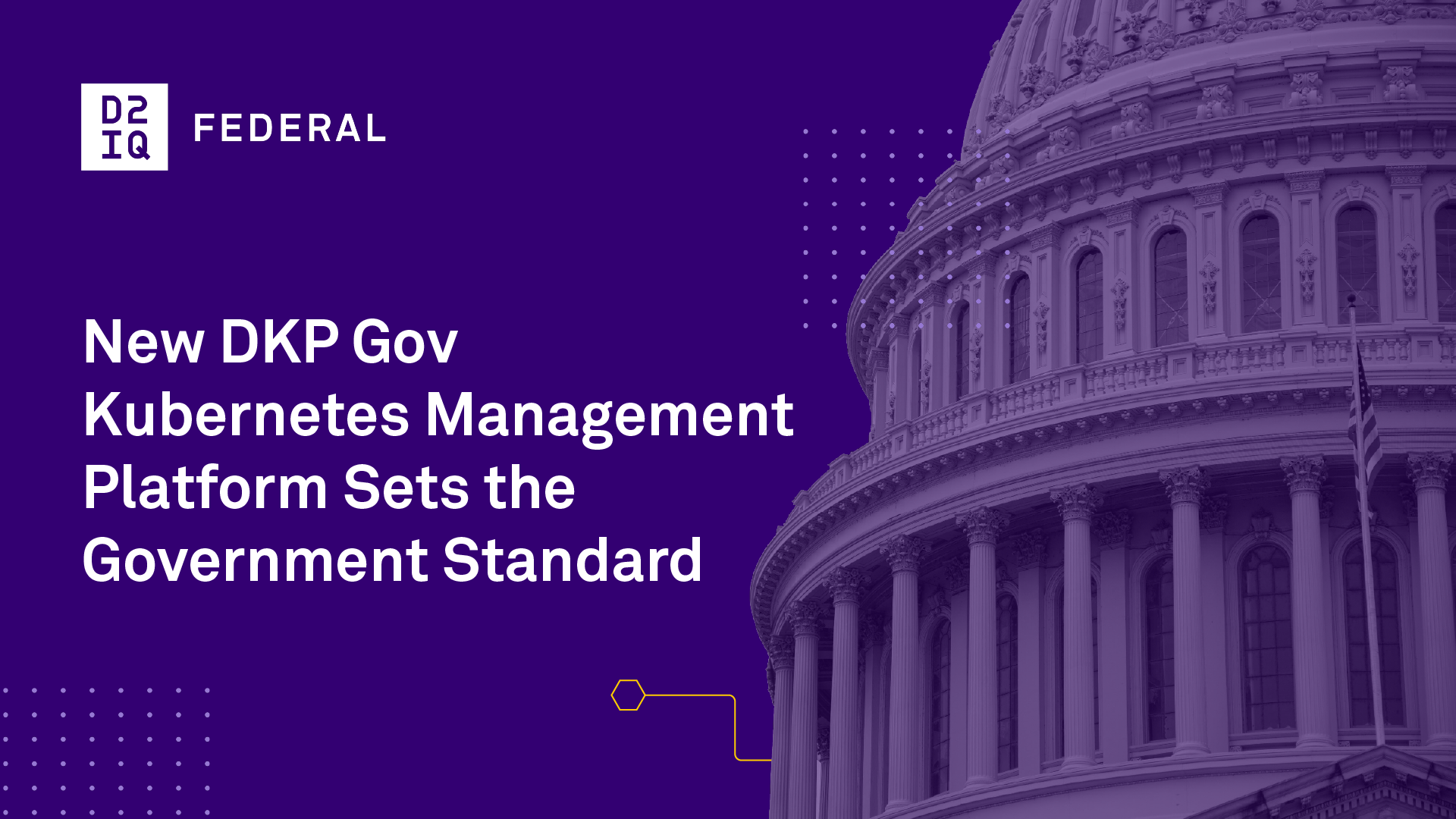 6 min read
DKP Gov provides the most advanced and fully automated cloud-native container-management platform for government modernization initiatives.
D2iQ is excited to announce the introduction of DKP Gov, a new solution optimized for the government sector.
DKP Gov addresses the needs of government military and civilian agencies that are under continual pressure to innovate and adopt new technologies to keep pace with technology advances and gain strategic and tactical advantages.
As Gartner notes, "The top 2023 priorities of federal and national government CIOs are digital transformation and improved use of data across the organization."
However, as government agencies attempt to accelerate their modernization programs by adopting cloud and Kubernetes technologies, they are encountering the same stumbling blocks as are organizations across all major industry sectors.
The digital transformation challenges that government agencies face include:
Meeting zero-trust and other high-level security standards
Integration with existing systems
Deploying air-gapped environments
Securing the supply chain
Overcoming the skills gap
Challenges specific to the government sector include achieving and maintaining Authority to Operate (ATO), Continuous Authority to Operate (cATO), and conformance to the Cyber Threat Framework (CTF). ATO is a government seal of approval for an IT solution to operate on government networks. It signifies that software is functional and secure. A continuous ATO (cATO) is a continuous monitoring capability to keep security practices up to date.
The CTF was developed by the U.S. government to enable consistent characterization and categorization of cyber threat events, and to identify trends or changes in the activities of cyber adversaries.
Military agencies also face modernization challenges associated with initiatives such as JADC2 and those involving tactical edge weapons system support, such as those used by Joint Force Commanders to neutralize threats in "denied, degraded, intermittent, or limited (DDIL)" communications environments.
Enter DKP Gov
D2iQ has been helping government agencies overcome these challenges for more than a decade, beginning with U.S. Intelligence agencies that were seeking secure and reliable container-management solutions.
Over time, the adoption of the D2iQ Kubernetes Platform (DKP) has had successive deployments within the U.S. Department of Defense (DoD), U.S. Air Force, U.S. Navy, U.S. Missile Defense, U.S. Space Force, U.S. Department of Homeland Security, and more.
The adoption of DKP continues to spread through deployments by major government system integrators like Northrop Grumman, Lockheed Martin, GDIT, and SAIC. These government contractors have tested and benchmarked DKP against every major competing platform and have made DKP the Kubernetes management platform on which they are building container-management solutions for their government clients.
Setting the Standard for Kubernetes Management in the Public Sector
The strong demand for D2iQ solutions in the government sector has led D2iQ to create DKP Gov, a dedicated Kubernetes management platform that is focused on public sector use cases, along with support services devoted to serving the specific needs of government military and civilian agencies.


Based on the state-of-the-art D2iQ Kubernetes Platform (DKP), DKP's unique capabilities have established the platform as the Kubernetes management platform of choice for major system integrators and a broad array of government agencies.


The key features and benefits that DKP Gov brings to the public sector include:
Single-cluster or multi-cluster management, hybrid multi-cloud management, multi-tenancy, vSphere, GovCloud, and bare metal support
Hybrid-cloud lIfecycle cost management
Full support for physically and logically air-gapped clusters
Tactical edge weapons system support (DDIL)
Centralized multi-cloud, multi-cluster fleet management
Continuous delivery (CD)
IL 2-6+ (JWICS), FENCES, C2S, SC2S, C1D, SIPR/NIPR
ATO on government platforms, cATO
FIPS 140-2 certified
Confirmed Stateside Support (24/7/365 support, ITAR and Data Integrity Compliant)
Pure upstream CNCF-conformant Kubernetes
Production-ready (Day-2) platform applications
Enabling microservice architecture for hybrid environments at scale
Unified Amazon Web Services, Microsoft Azure, Google Cloud Platform support

DKP Gov customers will enjoy the capabilities inherent in the DKP architecture, including:
Centralized Multi-cluster, Multi-cloud Fleet Management. With top-to-bottom declarative workflow, D2iQ provides centralized multi-cluster fleet management across any environment, including cloud, hybrid cloud, on-premise, air-gapped environments, and at the edge.
Pure Upstream CNCF-Conformant Kubernetes. This enables customers to avoid the portability, manageability, upgradeability, and security issues associated with forked Kubernetes versions and dependencies.
Military-Grade Security. DKP Gov can be configured to meet defined security standards. Each component is tested and certified before release.
Supply-Chain Security. DKP Gov meets all key NSA/CISA hardening guidelines, including supply chain security. D2iQ is a CNCF embargo partner and can respond rapidly to Day 0 security exploits through software patches. DKP goes through vigorous and continuous vulnerability scanning with every point release.
DevSecOps Simplification. By providing a fully automated and integrated Kubernetes stack that is secure by default, DKP eases the burden of DevSecOps.
Multi-cluster Platform Lifecycle Management. This feature enables complete lifecycle management (provision, update, delete) of clusters through the central management plane.
Real-Time Cost Management. There is cost visibility up to the level of individual applications, but at the same time also provides comprehensive cost visibility for your entire infrastructure.
Greater Speed to Deployment with Cluster API (CAPI). DKP Gov is designed around Cluster API, which enables simplified infrastructure management using GitOps. This enables government agencies to manage a fleet of clusters across multiple infrastructure providers with consistent API. This is superior to solutions that use infrastructure-specific, imperative, and brittle scripted deployments. DKP Gov's use of CAPI features a consistent interface for deployment regardless of where it is running, which means greater speed to deployment.
GitOps Workflow. Integrated FluxCD enables GitOps workflow. Customers can configure projects with continuous deployments, which enables canary and A/B deployments, as well as roll-back. This enables you to rapidly build, test, and deploy applications at scale, without requiring configuration changes.
Service Catalog. You can quickly and easily deploy applications and complex data services from a centralized service catalog to specific or multiple clusters, with governance. This simplifies and accelerates the provisioning of fast data pipelines such as Apache Spark, Apache Cassandra, and Apache Kafka in all environments, including at the edge.
Based on input from government customers, DKP Gov delivers ease of management, enhanced productivity, advanced capabilities, high scalability, and lower total cost of ownership for Kubernetes deployments, giving government civilian and military agencies all the capabilities needed to fulfill their mission-critical modernization initiatives.


All-in-all, DKP Gov provides the most advanced and fully automated cloud-native container-management platform for government modernization initiatives.
DKP Gov is available in single-cluster and multi-cluster versions named DKP Gov Essential and DKP Gov Advanced, respectively, and is generally available now.


To learn how D2iQ can help your agency achieve its modernization goals, speak with the government sector experts at D2iQ.