D2iQ's Dispatch is built on a cloud native foundation, leveraging Tekton and Argo CD to simplify running CI/CD on Kubernetes with a simplified user experience.
Responsibilities are shifting between software developers and operators due to the increasing adoption of agile development practices, DevOps, and GitOps. This makes it challenging for developers and operators to effectively collaborate in order to increase developer agility and productivity. D2iQ's Dispatch is built on a cloud native foundation, leveraging Tekton and Argo CD to simplify running CI/CD on Kubernetes with a simplified user experience. Dispatch supports developers and operators in their cloud native CI/CD journey by empowering them with tremendous control and flexibility. Dispatch enables a clear separation of responsibilities between developers and operators, so that developers can publish and operators can deploy in sync.
With Dispatch, users can choose from the most commonly used code repositories, in conjunction with multiple CI pipeline languages, without having to slow down or learn another language. Developers can work with their favorite repository tools, enabling code portability and preventing lock-in to a single solution. As a cloud native application development platform with support for Git, developers can use GitHub, GitLab and Bitbucket (Bitbucket's source code managed services Bitbucket Cloud or Bitbucket Server). Dispatch also enables working with declarative languages like Starlark, Cue, JSON or YAML. This significantly increases the developer's flexibility and enables seamless methods of integrating hosted and on-premise repositories into their workflows.
Dispatch also provides automation strategies for developers with its pull request (PR) merge and pipeline scheduling strategies, enabling easier and consistent deployments. Thus, developers can schedule CI pipelines that build, test and validate applications, thereby increasing code velocity and predictability of releases to a cadence, such as daily or weekly releases.

Dispatch automatically triggers the deployment of an application, making it easier for empowered developers that practice Continuous Deployment to rapidly deliver software at scale. Developers can easily push applications to Kubernetes clusters, without requiring manual approval of a GitOps repository pull request. Dispatch also accelerates CI/CD pipelines and helps developers improve build times and runtime performance with its Buildkit support. Buildkit's built-in caching features improve Docker image build times, thereby reducing the time to build applications. By prioritizing elements, such as automation and build time improvement, Dispatch enables developers to focus on high-value activities, like improving time to market for new applications, features, or capabilities. The rate at which developers can do their work has a significant impact on how an organization maintains their competitive edge, disrupts their market, and enters new markets.
Dispatch enables developers to manage and operate progressive deployments by providing support for ArgoCD 1.5.7 and upstream support for ArgoCD's command line interface (CLI). Developers can choose between Dispatch's `Gitops` CLI commands or ArgoCD's native CLI to manage and operate their progressive deployments. Progressive deployment is an advanced deployment method that allows control over the release process, ensuring safety when delivering the new version to production. This form of zero downtime deployment allows the operator to manage how traffic to the new version of the application is made available to end users. Traffic may be cutover to the new version over time and rolled back if an issue is encountered.
Dispatch partners with ShiftLeft and Alcide for application vulnerability detection and reporting solutions to help developers build out their DevSecOps processes. While ShiftLeft focuses on scanning the application for vulnerabilities as part of the CI pipeline (source code etc), Alcide provides vulnerability detection and remediation on the CD side and operational phases of the application's lifecycle. By leveraging an open source, multi-scanner based design, ShiftLeft Scan can detect various kinds of security flaws in the application and infrastructure code in a single fast scan. With Alcide, images are scanned in-flight to deployment, potentially preventing vulnerable applications from being deployed. Then the application and the underlying cluster are continuously scanned for both application and cluster vulnerabilities.
Dispatch continues to make general usability improvements in the Dispatch UI to improve navigation, configuration, and troubleshooting for developers. This includes security based optimizations, such as validating secrets prior to saving them and other navigational improvements.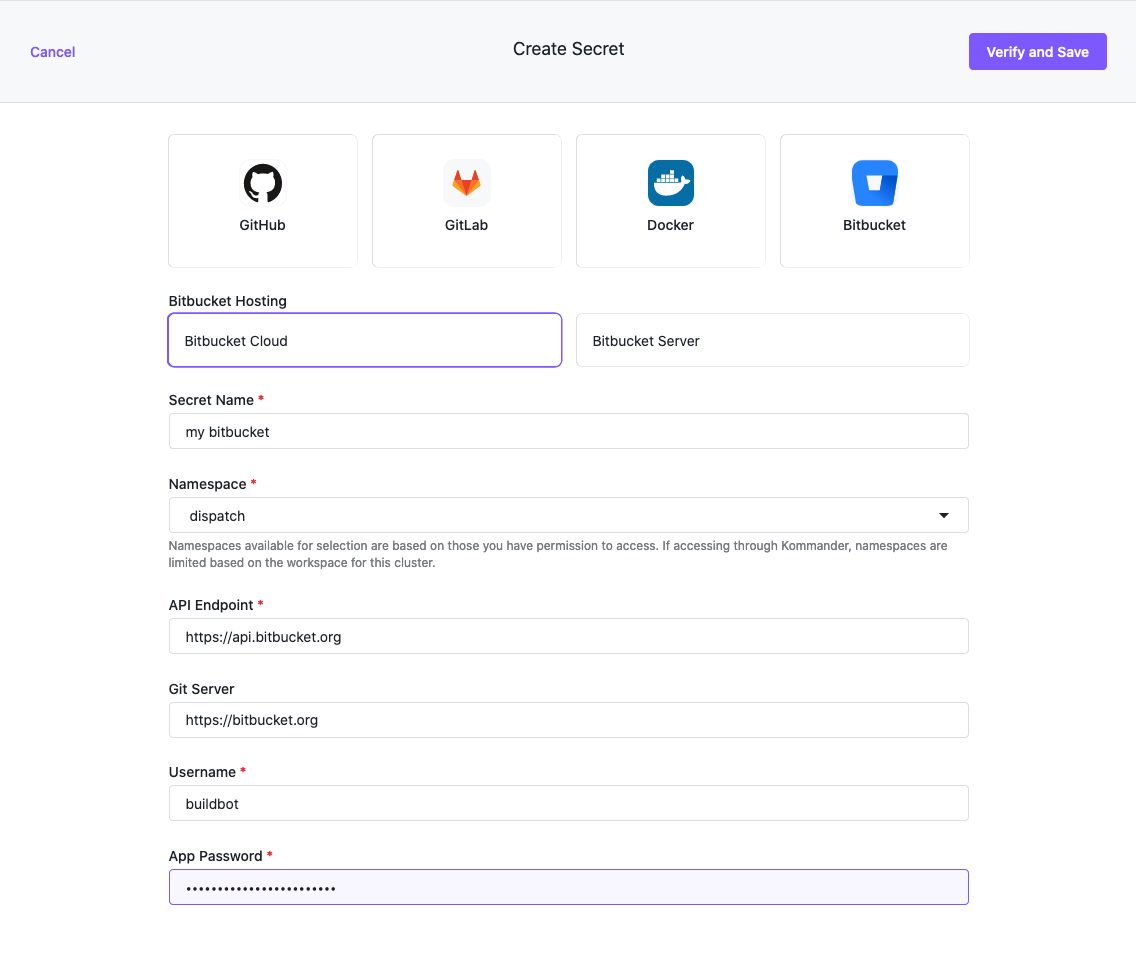 Dispatch comes bundled with D2iQ's Kubernetes distribution, Konvoy, so you have everything you need for enterprise-grade GitOps. To test drive Dispatch and Konvoy together, sign up for a 90-day free trial. Please also refer to the latest documentation for more information.