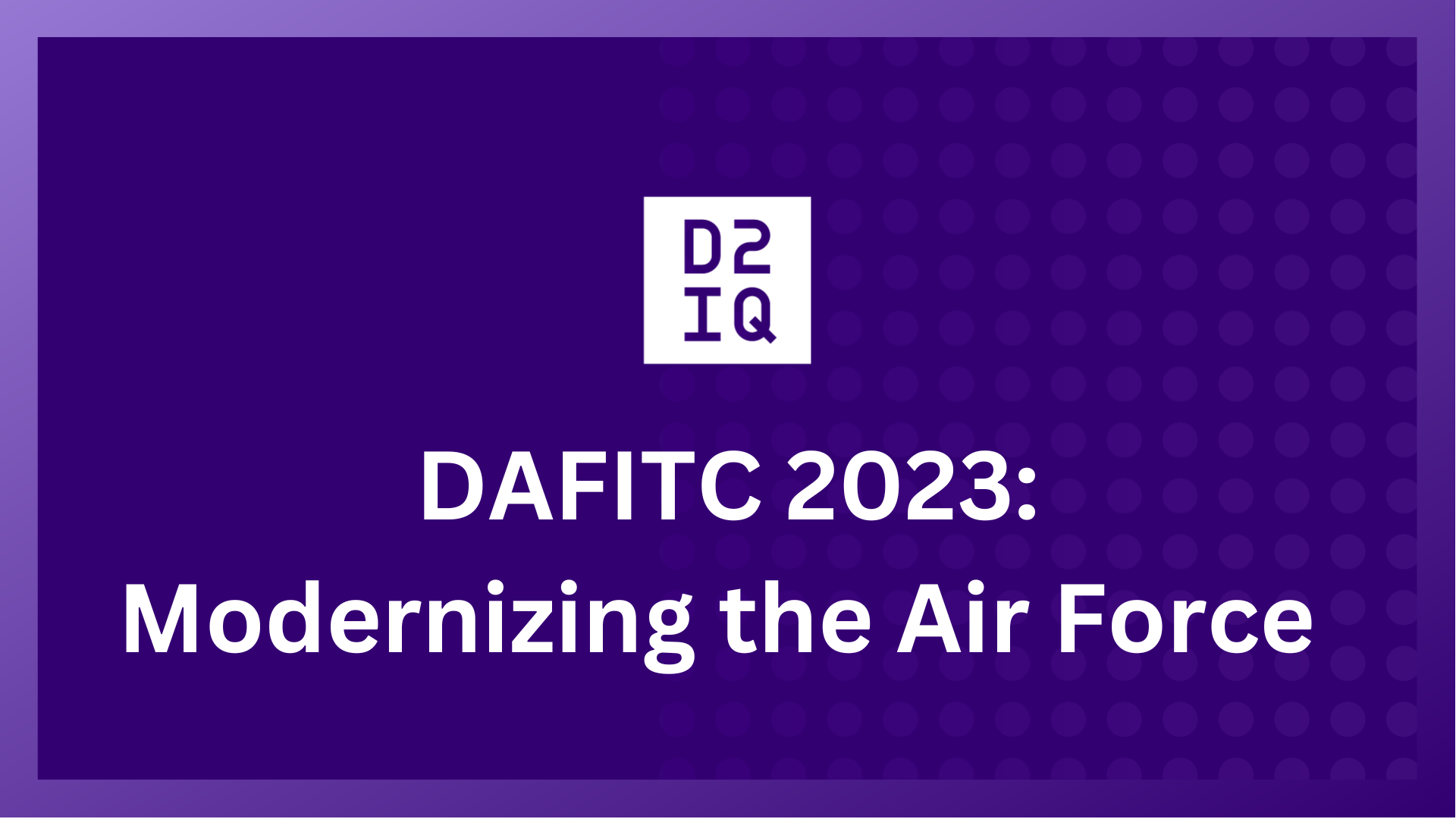 3 min read
Meet Us at DAFITC 2023!
Booth #219
Aug. 28-30
D2iQ is excited to be participating in the Department of the Air Force Information Technology and Cyberpower (DAFITC) 2023, in Montgomery, Alabama, from August 28-30. The theme of this year's DAFITC conference is "Digitally Transforming the Air & Space Force: Investing for Tomorrow's Fight."
Digital transformation of the Air Force and Space Force is part of a wider modernization effort that is accelerating across all U.S. military sectors to maintain strategic and tactical advantages. This includes the adoption of Kubernetes platforms, the acquisition of AI capabilities, and a keen focus on cybersecurity, particularly zero trust.
At DAFITC 2023, aspects of modernization will be discussed in sessions that include:
Digital Transformation
C3BM, JADC2, and the Future Fight
Holistic Cybersecurity for the DAF: Transforming Cybersecurity & Cyber Defense
Success in the Mission with D2iQ
Attendees at DAFITC 2023 can learn why the D2iQ Kubernetes Platform (DKP) is seeing widespread adoption among system integrators and government agencies, including the U.S. Air Force, U.S. Army, U.S. Navy, U.S. Marines, and U.S. Space Force.
The demand for D2iQ solutions in the government sector led D2iQ to create a dedicated DKP Gov Kubernetes solution optimized for deployment by government and military agencies.
In March, the Air Force outlined a new DAF Battle Network as Its contribution to the JADC2 initiative. DKP Gov's advanced capabilities, including edge and AI workload support, make it uniquely capable of supporting CJADC2 and the Space and Missile Defense mission.
Elevating Cybersecurity
The U.S. government's next-generation security strategy calls for achieving zero trust capability by the end of Fiscal Year 2024. The strategy has been updated, most recently in a National Cybersecurity Strategy document released in March 2023.
Military-grade security is among the reasons major government system integrators like Northrop Grumman, GDIT, Lockheed Martin, and SAIC have chosen the D2iQ Kubernetes Platform as the foundation for the solutions they are building for the modernization efforts of their government clients.
As SAIC CTO Bob Ritchie notes in SAIC Shares Military Grade Kubernetes Best Practices for Digital Transformation, besides being a solid foundation for current and future innovation, DKP is unique in its ability to enable an air-gapped security environment to be deployed in minutes.
Security is a top concern across the U.S. military, and D2iQ security experts have made available a host of briefs, articles, cheat sheets, and videos that provide best practices for achieving zero trust, air-gapped deployment, shift-left security, successful DevSecOps, and more, all of which can be found on the D2iQ Security Hub.
Meet Us Here
If you are attending DAFITC 2023, be sure to stop by the D2iQ booth (#219) to learn more about why so many government and military agencies are choosing the D2iQ Kubernetes platform and how D2iQ can help you make your project a success. Don't miss this opportunity to speak with some of the best minds in the public sector Kubernetes space.
To book a one-on-one meeting or jumpstart your Kubernetes conversation, contact the experts at D2iQ.