Which Kubernetes solution is right for you? We identify the top capabilities to consider while evaluating Rancher and D2iQ so you can choose the best enterprise Kubernetes solution that adapts to your requirements.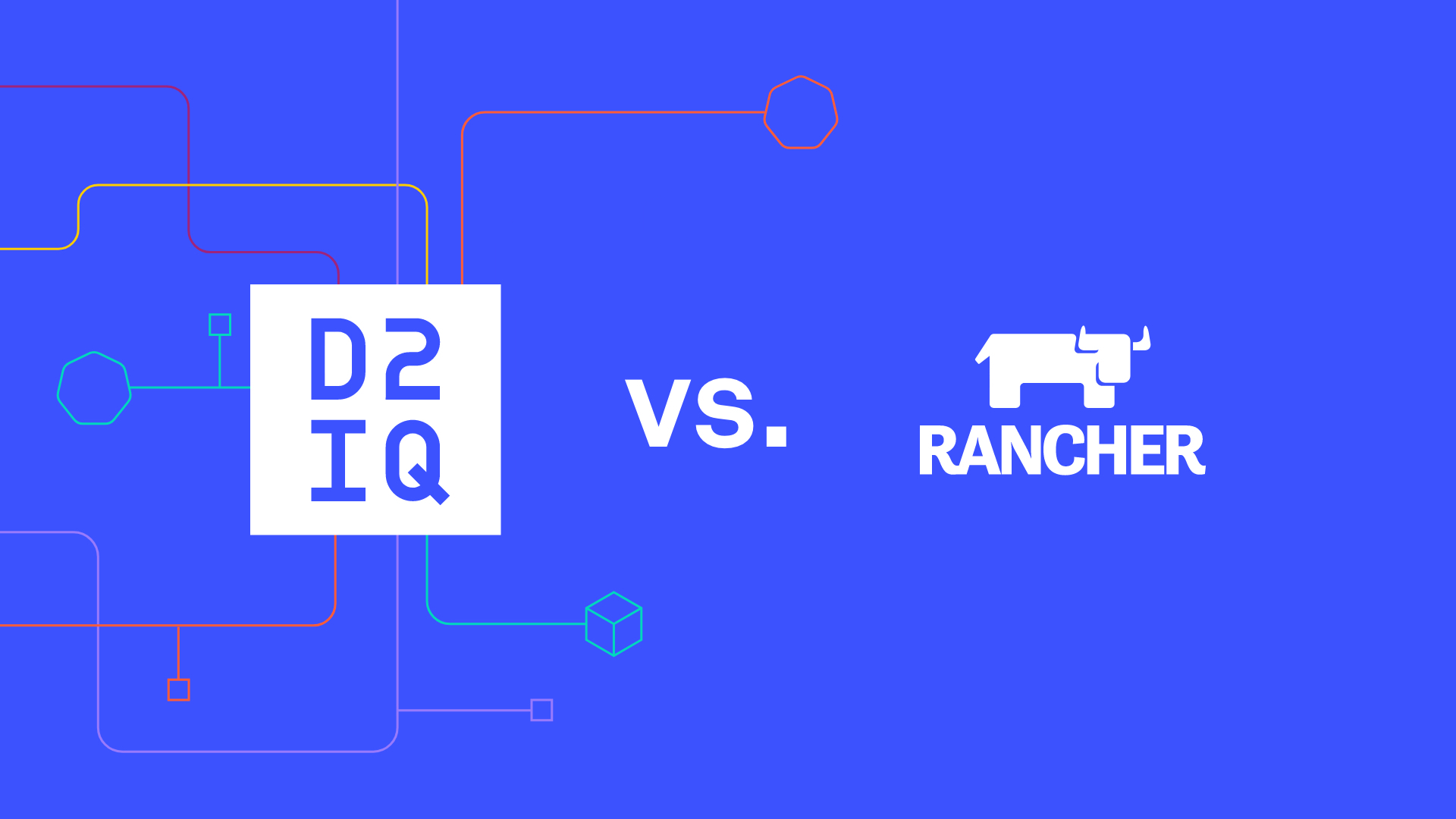 In a relatively short amount of time, Kubernetes has evolved from an internal container orchestration tool at Google to the most important cloud-native technology across the world. Its rise in popularity has made Kubernetes the preferred way to build new software experiences and modernize existing applications at scale and across clouds.
As the adoption of Kubernetes continues to grow, so does the number of Kubernetes distributions, solutions, and platforms—making it difficult to evaluate and choose from the large pool of vendor offerings.
To get you started on the right track, we compare Rancher and
D2iQ Kubernetes Platform (DKP)
across the top production-grade capabilities to consider while evaluating an enterprise Kubernetes solution. Key capabilities you should be looking for when adopting Kubernetes, include:
1) Multi-Cloud Portability
When it comes to Kubernetes deployments, organizations need the ability to build, deploy, and manage Kubernetes and their cloud-native applications on any infrastructure of their choosing. Unlike Rancher, DKP provides a reliable and scalable environment to deploy stateful applications across the cloud, on-prem, air-gapped, bare-metal, at the edge, or any combination of them.
2) Enterprise-Grade Interoperability
Impeccable orchestration of Kubernetes is linked to the interoperability, scale, and security testing of your cloud-native stack. DKP delivers a cloud-native workload testing methodology and process to ensure continuous interoperability of your desired stack of technologies. This approach stands in stark contrast to Rancher who does not conduct security, scale, and workload testing of their products, which can lead to an increase in failures and downtime.
3) Unmodified Open-Source (OSS)
Enterprises want the freedom to leverage ongoing open-source innovation immune to the lock-in of proprietary solutions. Although Rancher provides a stack of cloud-native services, they include proprietary modifications that prevent you from integrating with other open-source technologies. DKP is built on pure upstream open-source Kubernetes and works out-of-the-box so you can plug and play with other open-source technologies and avoid lock-in.
4) Broad Workload Coverage
Your Kubernetes platform should allow you to run complex, mission critical services and machine learning use cases. Unlike Rancher who does not offer a stand-alone product for machine learning, DKP provides an end-to-end machine learning solution powered by Kubeflow, to enable far greater ease, efficiency, and effectiveness on machine learning applications.
5) Scalability
Many enterprises adopt Kubernetes to rapidly build and deploy applications with significant scale, but are struggling to get into production at any scale. Because Rancher's products are not scale tested, former customers of theirs saw performance degrade quickly over 30 nodes, resulting in a huge uptick in downtime and operational costs. DKP conducts mixed workload validation and performance testing to ensure your stack of services scale effortlessly, reliably, and provably.
6) Vendor Independence
Make sure your Kubernetes platform enables your long-term independence and does not include proprietary updates that lock you into versions or builds of components. While SUSE aims to be a true open-source company, Rancher's products include proprietary modifications that prevent you from integrating with other upstream projects from the CNCF ecosystem. DKP was engineered from the beginning to be an open platform. Our independence provides us the agility to focus on the success of our customers with a lower Total Cost of Ownership (TCO).
To learn more about Rancher vs D2iQ, and see a detailed comparison of how each provider measures up, click
here
.