"Cloud-native technologies are becoming the preferred way for enterprises to modernize applications at scale," said Lee Sustar, Principal Analyst at Forrester Research.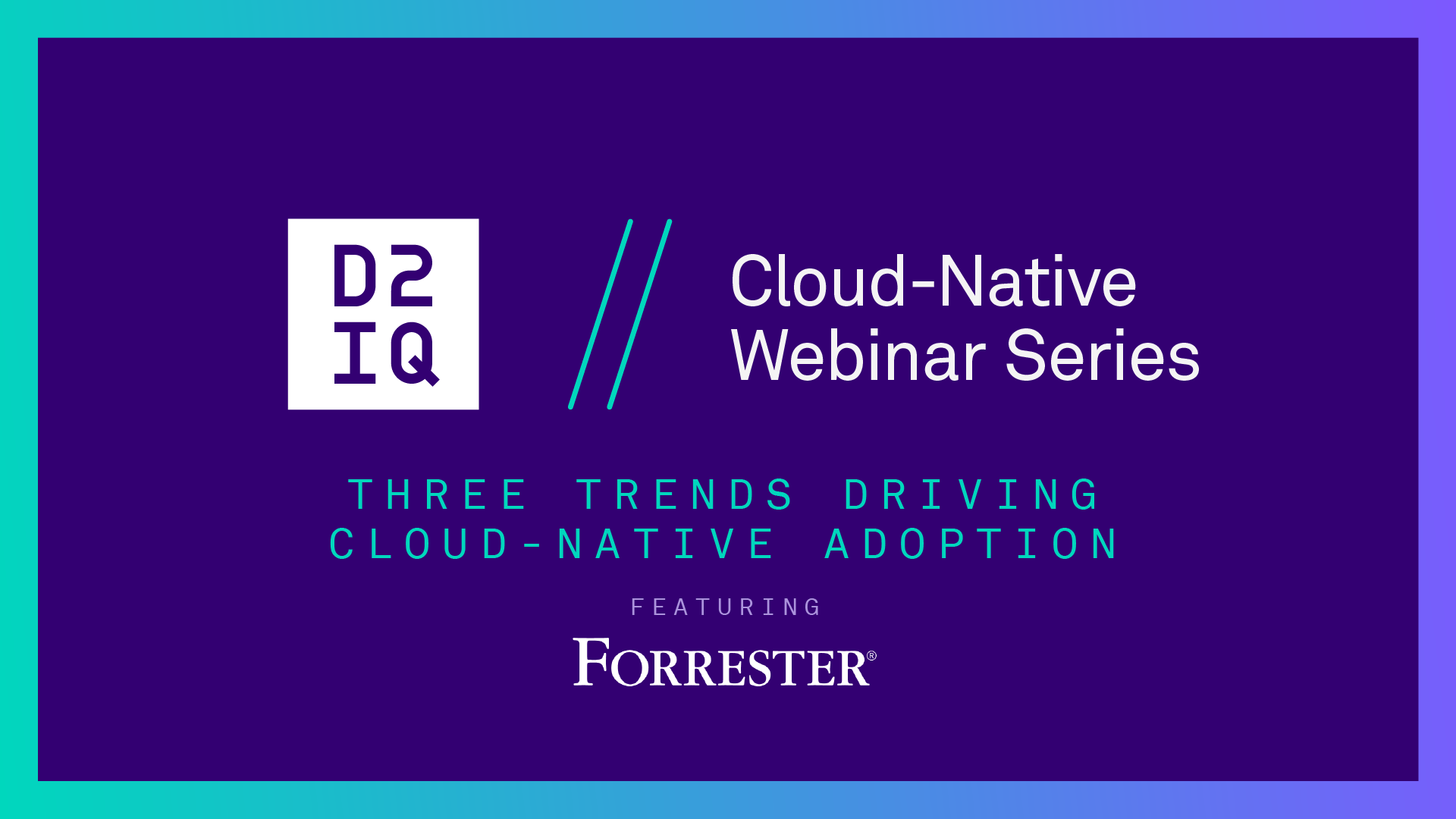 You won't want to miss our upcoming webinar entitled "Three Trends Driving Cloud-Native Adoption" in which featured speaker Lee Sustar shares his insights on key cloud-native trends, the Kubernetes landscape, and Kubernetes and AI adoption as a mutually reinforcing trend.

These trends are of immense importance for organizations around the world to adopt cloud-native technologies to build next-generation infrastructures and products, as well as to gain the agility needed to stay ahead of their competition.

As D2iQ CEO Tobi Knaup explains in this recent interview and video presentation, digital experiences that are powered by AI and are self-improving will be the defining attributes of the next generation of winning products in all industries. We call these smart cloud-native applications because they have AI built in.

This is a rare opportunity to hear one of the industry's leading independent research firm's experts reveal his most recent research findings around cloud-native and AI, as well as offering valuable tips and a roadmap for mastering the smart cloud-native future.

The time is now for establishing smart cloud-native capabilities or risk falling behind your competitors.

In this webinar, you will learn:
Why cloud native will dominate IT infrastructure
Why timely and efficient cloud-native adoption will be a marker of enterprise IT maturity
Why AI will be central to Kubernetes adoption going mainstream
How to modernize your existing applications in the cloud, including building modern applications on AWS, with a real-world use case

A D2iQ viewpoint and lively Q&A will follow Lee's presentation. This webinar is brought to you by D2iQ, an AWS APN Partner.


Meet Us Here
Three Trends Driving Smart Cloud-Native Adoption
April 27 at 8:00 AM PT / 11:00 AM EST / 16:00 BST
As always, don't forget to pass this on. Tell a friend, tell your colleagues, and mark your calendars and meet us at a screen near you!
If you like what you saw here, be sure to share this post with your co-workers and friends because we want to hear from you! Follow us on Twitter @D2iQ, find us on LinkedIn, or subscribe to the D2iQ YouTube Channel.