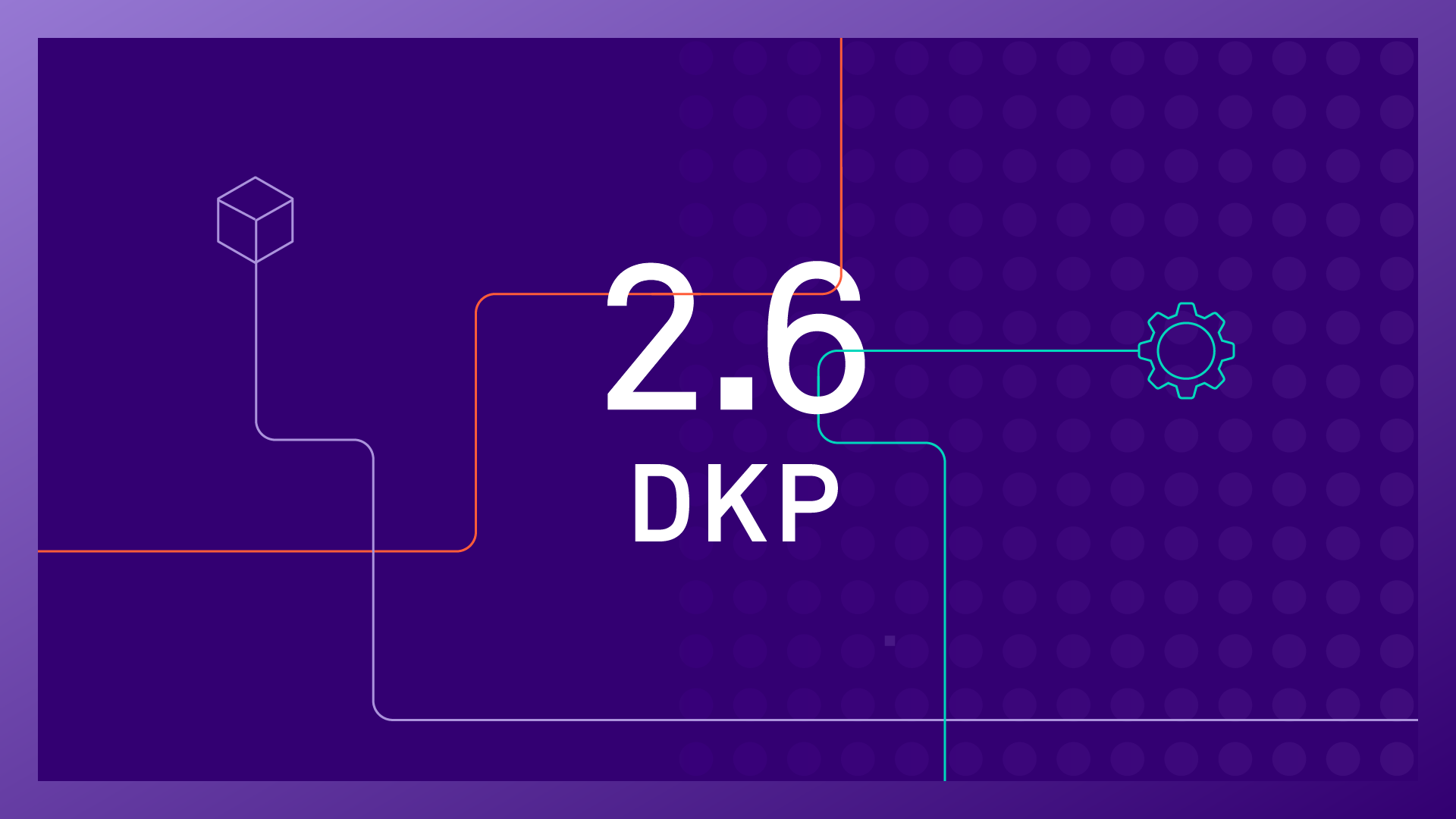 5 min read
Read the full DKP 2.6 press release
here
.
The latest release of the D2iQ Kubernetes Platform (DKP) represents yet another significant boost to DKP's multi-cloud and multi-cluster management capabilities. D2iQ Kubernetes Platform (DKP) 2.6 features the new DKP AI Navigator, an AI assistant that enables DevOps to more easily manage Kubernetes environments.

As Forbes noted in Addressing the Kubernetes Skills Gap, "The Kubernetes skills shortage is impacting companies across sectors."
AI Navigator can help enterprise organizations overcome the Kubernetes skills gap by giving Kubernetes DevOps teams expert advice at their fingertips. Further easing Kubernetes management are enhancements to DKP Insights, an automated troubleshooting tool that can identify problems and provide recommendations to resolve the issues.

Unique Data Set Delivers Unique Value
Being trained on D2iQ's expert knowledge base is the key differentiator that gives DKP AI Navigator its unique value. Unlike AI apps like ChatGPT, which draw data from the public Internet, DKP AI Navigator uses the data housed in D2iQ's internal knowledge base. This enables organizations to harness more than a decade of D2iQ's experience and expertise in managing large container-based deployments.
DKP AI Navigator is integrated directly into the D2iQ Kubernetes Platform (DKP), giving users the ability to manage Kubernetes fleets via a single pane of glass. The net effect is like having an expert co-pilot at your side to help solve problems as they arise.

Solving Multi-Cluster Complexity Through Deeper Insights
DKP 2.6 includes an enhanced DKP Insights version (currently in technology preview) that gives customers self-service troubleshooting capability. With this update, enterprises and public sector organizations can obtain a Cluster Insight Report on issues related to the health of clusters and vulnerabilities in the installed containers. This gives organizations reassurance on the health of their clusters and peace of mind knowing that any potential issues will be identified quickly, along with recommended remediation steps.
Additional DKP 2.6 enhancements include:
Enhanced Air-Gapped Security with Support for AWS Elastic Container Registry (ECR). Support for AWS ECR enhances security and streamlines the process of deployment for any customers running on AWS.
Provisioning DKP Using Podman Rootless. Podman containers can be run without giving them root access, meaning that even if the container engine or runtime is compromised, the attacker does not gain root privileges on the host.This gives customers improved security and isolation through individual container engines, reducing the risk of vulnerabilities and breaches.
Enhanced Monitoring and Observability of Edge Systems. Providing visibility into edge/firewalled systems from a single DKP console, DKP now gives customers greater insight into the status of systems that might be network restricted.
Support for High Availability of DKP Core Components. DKP 2.6 enables customers to set DKP components to higher priority levels, ensuring that they are running during times of resource scarcity and guaranteeing that the platform is available and reliable.
Customizable Banners. Ideal for public sector organizations and MSPs, DKP 2.6 includes customizable banners that enable customers to add information such as system classification and company brand and logos, enhancing the end-user experience and assisting with compliance and security issues.

Overcome the Skills Gap with Instant Platform Engineering
Many enterprises have encountered project delays, says Forbes, "because operationalizing Kubernetes with the right level of automation and governance requires time and a healthy influx of experienced engineers."
DKP helps organizations overcome the skills gap by providing instant platform engineering that features state-of-the-art automation, centralized multi-cloud and multi-cluster management, and intelligent assistants. Rather than wrestling with complex Kubernetes infrastructure, DKP 2.6 provides a production-ready platform to enable teams to devote their energies to higher-value business activities.
Read the full DKP 2.6 press release here.
See how DKP provides multi-cluster management in the D2iQ Engineering Blog.
To learn more about how your organization can benefit from a DKP 2.6 deployment, speak with the experts at D2iQ.