According to CNCF's survey in Aug 2018, Cloud usage in Asia has grown 135%, Kubernetes usage has grown 11%, and serverless technology usage has spiked 100%, compared to March 2018. Through these incredible numbers, we see an increasing number of Asian enterprises beginning their journey of digital transformation and cloud-native technologies. It is no surprise that DC/OS and Mesos user groups continue to grow in Asia.
In April, we successfully hosted two DC/OS Conferences in Korea and China, attended by over 100 people from Korea's biggest brands and 50 executives from Chinese leading companies across Telco, Banking, Internet, Automotive, Manufacturing, and other industries.
Esteemed guest speakers from Uber; GE Transportation, a Wabtec Company; MaibornWolff, China Unicom; Sany Heavy Industry; and PanSoft, provided their insight and experience. Our attendees had the rare opportunity to learn about world-changing technologies and more importantly gain lessons learned from those global innovators.
In this recap, I'll share highlights from these two amazing events. Strap in!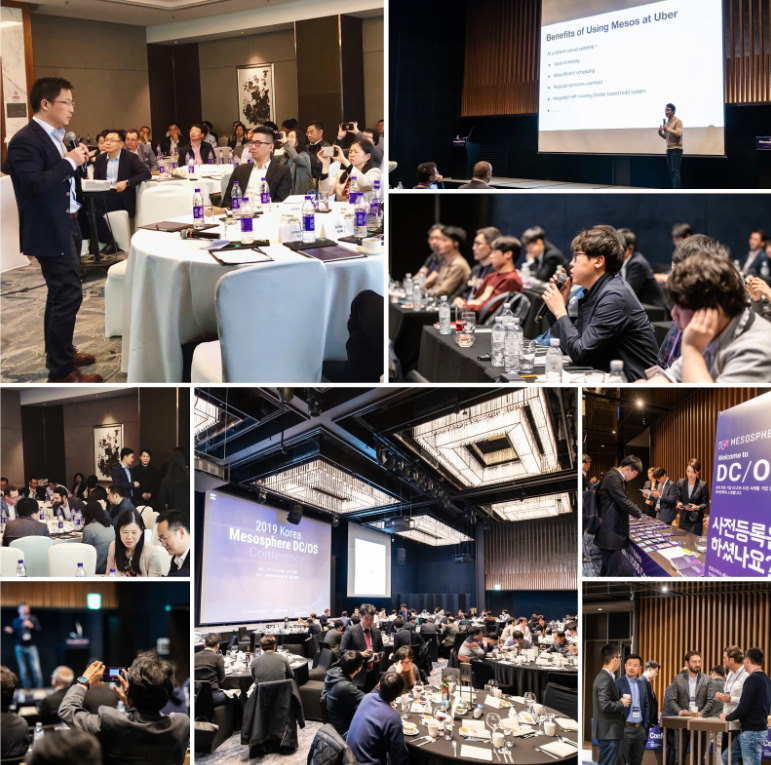 Mesosphere DC/OS Conference Korea 2019
"South Korea is known as one of the IT giants in the world, but there are still many technology deficiencies in the fourth industrial revolution, among which cloud and container technologies are still in their infancy compared with the overseas market," says YongHyuk Lee, CTO of KBSYS in the interview by Korea IT News.
The 2nd Mesosphere DC/OS Conference Korea was hosted on April 15-16 in Seoul, by Mesosphere and KBSYS (Mesosphere business partner). The goal was to introduce worldwide practical use cases and exchange inspiring ideas with Korea market.
There were eight sessions delivered by DC/OS & Mesos end users, Mesosphere, KBSYS, and HPE Korea, among which I'd love to share more about the spectacular speeches as follows.
Building an IoT data analytics platform with DC/OS for the automotive sector
Marc Jackle, the Executive IT Architect of MaibornWolff, talked about how they set up a big data cluster for an automotive IoT project and shared their experience with Mesosphere DC/OS.
Even SMACK is not enough for IoT initiatives because for a complete data analytics stack other technologies like Elasticsearch or tools for data analytics and machine learning engineers are needed, which further complicate the entire technology stack. MaibornWolff adopted DC/OS as a tool to handle all the complexity and support all production workloads. The proven reliability of DC/OS enables MailbornWolff to quickly provision their tech stack through simplified installation and operations of frameworks.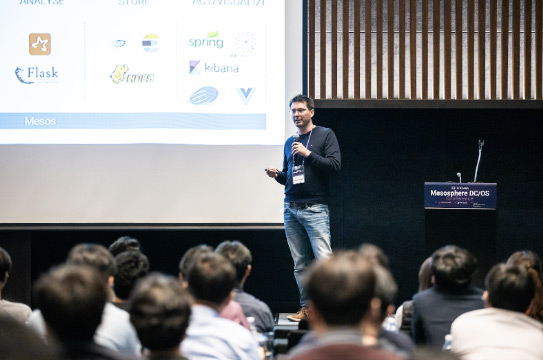 The Best Practices Of Using Mesos At Uber
Yunpeng Liu, Sr. Software Engineer at Uber introduced how they use and operate Mesos at scale, the benefits of using Mesos, and the lessons they have learned.
n 2016, Uber integrated Mesos with their customized in-house E2E deployment platform to have the capabilities of scalability, auto-scheduling and auto-balancing. With the outcomes of good scalability, more efficient scheduling, reduced operation overhead, Uber started to expand their use cases by running stateful workload--Cassandra and batch workload--Peloton on Mesos. (Peloton is the Unified Resource Scheduler of Uber for collocating heterogeneous workloads in shared Mesos clusters, which is an open-sourced project based on Golang.)
Up to the end of 2018, Uber runs 2 digits of Mesos clusters distributed in multiple AZs across multiple regions. The majority of their production Mesos clusters are on about multiple thousands of agents per cluster. As the total Mesos agents can range up to hundreds of thousands at peak times, the fleet scale of Mesos clusters at Uber is too large to manage manually. They invented Cluster Lifecycle Management (CLM) to enable centralized automation for host and cluster management at scale. As a result, the fleet management workload reduced by 90%, engineers involved in fleet management reduced by 70%, and the fleet size of Uber computer platform has scaled up to 300% yoy.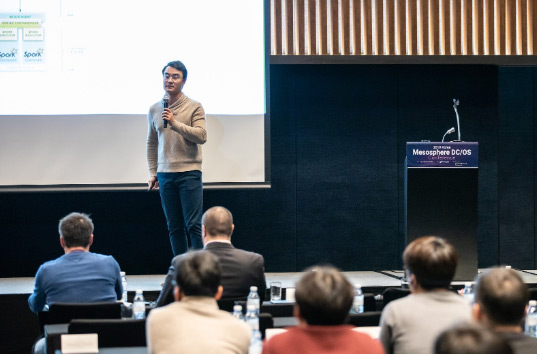 Mesosphere DC/OS VIP Event China
China has the world's fastest growing public cloud market - in 2018, it grew 76.5% year on year to US$7.2 billion, according to data from IDC. Particularly, there are also lots of investments in AI and IoT initiatives since 2017.
On April 20, we invited the emerging technology pioneers in China - China Unicom, Sany Heavy Industry, and PanSoft to share their DC/OS practices and digital transformation experience. (Check the event recap in Chinese here)
After a rousing welcome, Mesosphere President & COO Will Freiberg opened up the conference with a keynote on Worldwide Enterprise IT Trends and Mesosphere Technologies. Steve Davito, the Worldwide Customer Success SVP at Mesosphere introduced Mesosphere customer success and global service portfolio.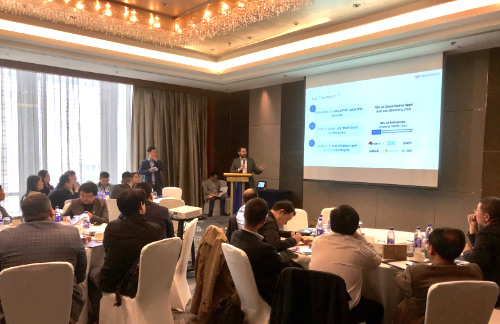 The Best Practices of DC/OS at China Unicom
Mr. Xiangdong Geng, GM of China Unicom Software Research Institute, was the first customer speaker. As the second largest Chinese wireless carrier, China Unicom has subsidiaries in 31 provinces in China and overseas operations in around 15 countries and regions. To provide constant services across 31 provinces, China Unicom was determined to start Internet-oriented transformation and to develop a unified and centralized IT management platform.
In 2016, China Unicom chose Apache Mesos, Marathon, and DC/OS to build up their microservices architecture. In 2017, after integrating new features by self-developing and jointly innovating on top of DC/OS, China Unicom launched Tiangong Platform, which has become the world's largest private cloud platform for running business support system by scale.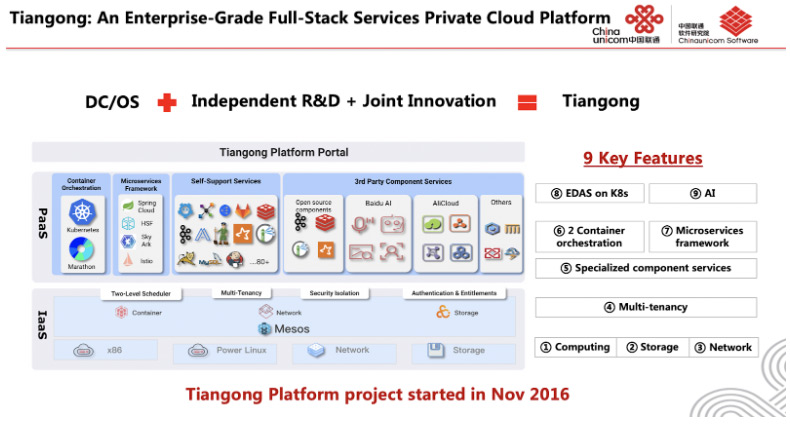 Currently, Tiangong platform is supporting more than 284 million subsidiaries across 31 provinces in China.
China Unicom's DC/OS Practice:
5 data centers in China
10K+ nodes
85K+ containers
60% resources have been moved to cloud
Containerized delivery time <1 Hour
Supporting 16 Unicom Subsidiaries projects, 25 HQ projects, 35 provinces' projects,4 government-enterprise projects
Projects running on DC/OS:
cBSS1.0 Containerization

7 application categories; 55 applications; 81K+ containers
Platform version release in minutes; Application's startup and shutdown in seconds; Application scaling up in minutes
Resource utilization increased > 30%; Investment saved > 38 million USD

cBSS1.0 Microservices Transformation

16 service centers; 900+ services; 1400+ containers
Connecting to 79 systems; 90 million+ callings per day; Calling efficiency >20%
Avg platform updates 600 times/day; Gated launch; Version rollback in seconds
Service control: fusing, degrading, flow limitation, call chain analytics

AI Customer Service

6 service centers; 200+ services; 870+ containers
Intelligent voice response 120s→15s; Intelligent response interception 50%; Outbound call intelligent filtration 73%
100 Intention scenarios; Intentions identification>90%; Front-end problem solving 98%

cBSS2.0

EDAS on K8s on DC/OS
23 systems; 5000+ VMs; 900 million+ callings/day
Pilot project review: 46 services, 230+ containers, 2 million+ callings/day; 0 application reformation, imperceptible application transfer, 0 breakdown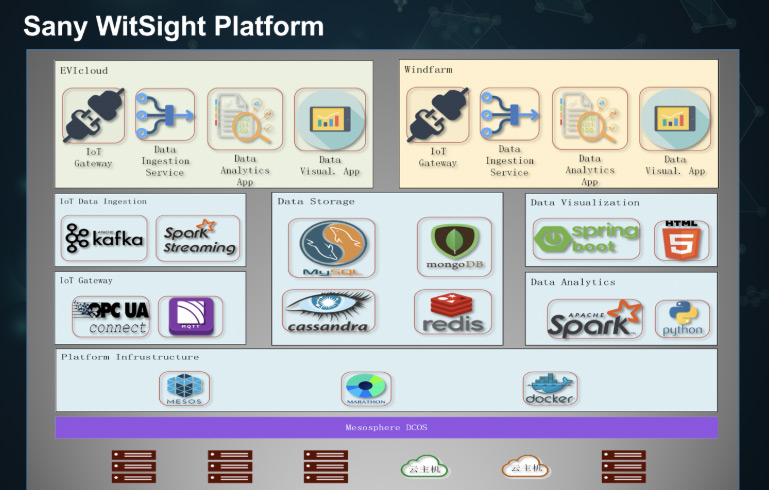 The Best Practices of DC/OS at Sany Heavy Industry
Mr. Jian Huang, the R&D Director from Sany Heavy Industry has led the WitSight Platform, Windfarm, EVIcloud IoT projects for Sany. In his session, he introduced the industrial Internet journey of Sany and the practices of DC/OS in IoT and Big Data initiatives.
As China's largest and the world's fifth engineering machinery manufacturer, Sany headed China's industrial Internet transformation and has successfully integrated Internet, Big Data and AI technologies with heavy construction machines. In March 2019, Sany robotic excavator showed up in the TV programs on CCTV and Zhejiang TV. With a series of incredible fluent and accurate operation, it shaped a picture of how will Sany revolutionize manufacturing by AI technologies.
In 2016, Sany started to build its industrial big data cloud platform - WitSight. Facing the challenges of leveraging complex cloud-native applications, low utilization of resources, lack of assurance in network and data security, and difficult development process, Sany decided to utilize DC/OS as a single control plane to support the variety of applications, tools, and tasks in a hybrid cloud environment.
They use DC/OS to leverage real-time data analytics tools, such as Kafka, Spark, Cassandra. The platform now processes data from 300,000 online heavy construction machines in microseconds, the volume of which is 200 GB per day and 70 TB per year.
The Best Practices of Mesos and Marathon at PetroChina and China State Construction Engineering Corporation
Mr. Shouqiang Li, the CTO of Pansoft, shared the PetroChina and China State Construction reference cases. PetroChina operates many oil and gas cooperation zones across the Americas, Africa, and Asia. To deliver world-class intelligent global sharing services, they leveraged Mesos and Marathon to build a complete and unified financial system, which is the largest one in China by scale.
PetroChina's financial information sharing platform is composed of front-end business services, middle-stage shared operations, background core system, based on a microservices architecture.
Practices of Mesos and Marathon on PetroChina's private cloud services platform
Hardware resource pooling:
Unified hardware resources (virtual machines, physical machines, etc.) management
Real-time status and occupation monitoring
Dynamic scheduling according to requirements
Resource pooling: dynamically allocate resources according to requirements to realize fine-grained resource sharing
Blue-Green deployment: upgrading quickly online completes without the user awareness
Intelligent operation and agile delivery
Practices of Mesos and Marathon on the unified financial platform of China State Construction Engineering Corporation (CSCE)
CSCE used Mesos, Marathon and Kubernetes to build a visualized technology development platform with the features of:
The enhanced flexible scalability
An agile and efficient mode of rapid iterative development
Supporting step-by-step implementation, continuous optimization and rapid iterative configuration and development mechanism
Assurance of the stable operation of centralized deployment in production
More Things Ahead
Feel sad about missing those incredible keynotes? Don't worry! Save the dates for KubeCon + CloudNativeCon Shanghai from June 24-26 and don't miss our joint talk with China Unicom on June 26. We are planning a bunch of activities in APAC this year. Stay tuned!