Mesosphere sponsors three regional MesosCons per year: Asia, North America, and Europe. MesosCon Asia was held in Beijing in late June and MesosCon North America will be held in Los Angeles from September 13th to 15th. The North America schedule has been published and standard registration will remain open until August 14th, so register today! We're really excited about the upcoming North America and Europe events and can't wait to see you there!
MesosCon Asia was held for the second time in under a year from June 20th to 22nd in Beijing, China. The Mesos and DC/OS community is alive and growing in Asia and at this year's conference it was amazing to see almost half of the presentations come from users discussing their production use of the technology! Some of these users included:
Two Chinese state-owned telecommunications operators, China Unicom and China Mobile. Xiaodong Geng, VP & GM of China Unicom, updated us on the workloads China Unicom is running, and the benefits they see from their DC/OS production cluster, comprised of thousands of nodes. Xiaozheng Wang, GM of China Mobile, also introduced the advances DC/OS brought to their business. China Mobile plans to scale its cluster to several thousand nodes and used the metaphor of a dancing elephant in their talk to convey the size of their infrastructure and the flexibility that DC/OS has helped them achieve.
China SINOPEC–the major state-owned petroleum energy company–discussed how oil exploration, development, and production are data-driven and data-intensive processes. They outlined how DC/OS helps them run video monitoring, automatic alarming, and data analysis pipelines, while increasing reliability and saving money.
Douban–the popular social networking website and long-time user of
Mesos–gave an overview of its Mesos-based core infrastructure where
It runs state-of-art big data and machine learning workloads.
Users like China Mobile, China Unicom, and Douban are household names in China and it's incredibly rewarding to see organizations like that get real value from the technology! We're so impressed with how Mesos and DC/OS are being used in China that we'll be featuring many of these organizations, including Douban, Dangdang, China Unicom, China Mobile (CMCC), SINOPEC, H3C, and more in a series of Q&A posts! Keep an eye out for those!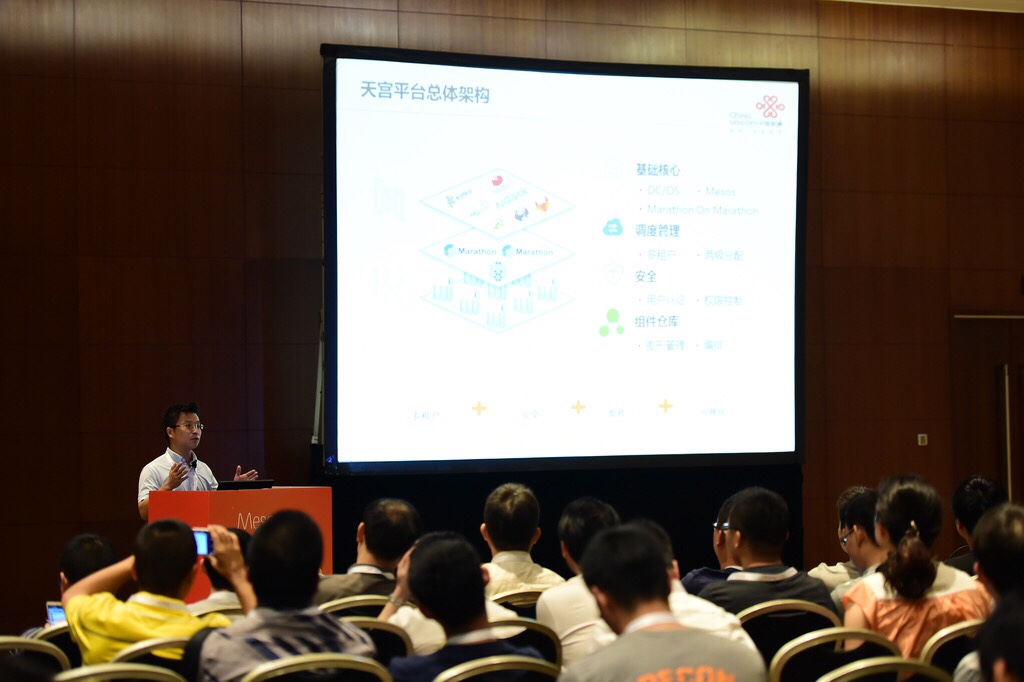 XiangDong Geng, VP & GM, China Unicom. Photo courtesy of the Linux Foundation under an Attribution 2.0 Generic (CC BY 2.0) Creative Commons license.
To support the growing community of Mesos and DC/OS users in China we also launched the DC/OS Alliance during MesosCon Asia. The DC/OS Alliance is a not-for-profit alliance of Chinese companies and organizations in the DC/OS and Mesos ecosystem. It helps Mesosphere understand and meet the requirements of Chinese markets and organizations such as OSCAR (Open Source Cloud Alliance for industRy, a Chinese government based alliance for promoting open source technologies and setting industry standards). Alliance board members, who have committed to running meetups, helping to translate solution briefs, and support other community-building activities in China, include JD Cloud (a cloud services provider that dedicated to building an ecosystem at JD), and H3C Group (an innovative IT infrastructure solution provider).
Want to see more? Check out the MesosCon Asia slides and event pictures, and watch the talk recordings (many of the talks are in Chinese). If you're sad that you missed the year's first MesosCon, don't worry. North America and Europe are just around the corner.